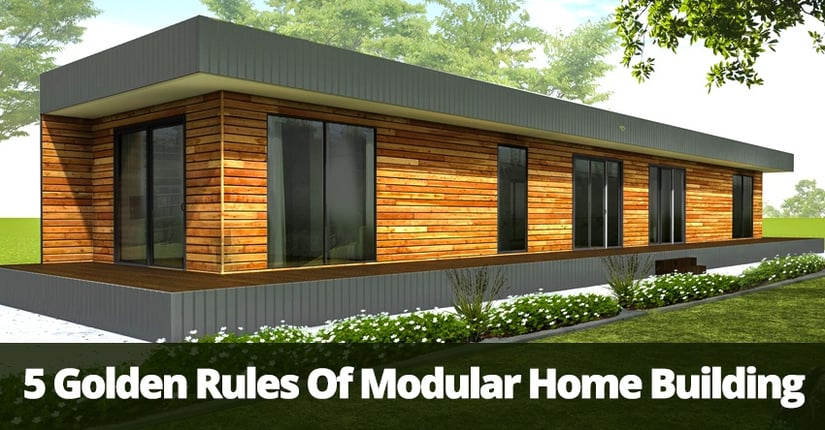 If you're looking for a fast and affordable way to build your new home, modular homes can be a great option. But just like conventional building, you'll need to do some groundwork and careful planning to find out if it's the right way to go for you.
So where do you start? Here, we've put together a list of 5 essential tips that will show you how to make it happen – how to choose the right property, builder, design and finishing touches so that the end result is the home of your dreams.
1. Find the Right Site
The first and possibly most important step is to choose your site with care. There's much more to finding good land than the view and the neighbourhood – you'll also need to think of things like site access, connections to services, land contour, earthworks and trees.
Another big factor that is sometimes overlooked is the types of permits and reports you'll need as part of your planning application. You can find out if the property has applicable overlays or zones, such as bushfire management overlay, by contacting the local council or visiting their website. It's worth knowing this up front as you may need to include the cost of assessments in your budget. Plus, if you are affected by overlays you could end up with conditions attached to your planning permit that will add extra costs and impact the design, materials or construction of your home.
2. Choose Your Builder Carefully
These days, there are plenty of builders to choose from, and that goes for modular homes too. It can be tempting to choose purely on the best price, but not all modular home packages are equal. Be sure to check the inclusions closely – if your package does not include the necessities that you need from day one, you'll need to leave room in your budget to get them.
But the driving force behind your decision should always be quality. Your home is a long-term investment, not to mention where you will live, so you need to be sure that it is built to the highest possible standard, by a builder who has proven experience building exceptional modular homes.
3. Get Your Design Right
One of the great things about modular homes is that there is real flexibility in design options. You can choose from your builder's standard range, or make changes to a standard design so that it fits your needs exactly. Whether that means flipping it, adding an extra living area or changing the location of a bedroom, your designer should be able to make it work.
Plus, if you have your own idea of your dream home, you can even bring your plans along and have a modular home custom designed for you. You can also select a façade that appeals, to complete your desired look. However you decide to go, make sure your chosen design matches your family and fits your lifestyle.
4. Include Some Extras
Once you have the right design, the addition of some well-chosen optional extras can really complete your home. Whether it's a verandah to add some charm and character, a deck to enjoy the sunshine and view, or an alfresco area to entertain family and friends, an optional extra that matches your home, can make a big difference to your lifestyle. It's also worth considering including a carport or garage when you build, as when it's done all at once it's easy to match to your home for a seamless look.
5. Organise Finance Early
Many lenders approach finance for modular homes differently to that of conventional homes – and this means that getting finance can be a challenge. That's not to say that it's unachievable, as many people have secured loans with excellent rates to build their modular homes. The secret is to approach your lender early in the piece, and make sure they understand the modular home building process, as this is often the biggest obstacle.
If needed, you could also ask your modular home builder to speak to your lender directly, so they can answer any questions the lender may have about the construction process. You may also find that your builder has some contacts for brokers with experience in modular home lending. In any case, talking to your modular home builder for some advice is a great place to start.
Start the Conversation
No matter which way you decide to go, building a new home can be daunting. To get the ball rolling, don't be shy – pick up the phone and start talking to builders. The good ones will be happy to answer your questions and let you know how their process works.
Once you start the conversation, you'll gather information, answer your questions and also, probably, raise even more questions – all of which are essential to your research. Putting in time and effort to get things right from the start will pay off in the end, because your modular home will be one that you love living in for years to come.
Can you think of any golden rules we've missed? We'd love to hear them!

Posted by:
Laurie Raikes
Sales Consultant at Anchor Homes.