We've just launched our new modular home filter tool to help you find the modular home design that's right for you.
Click here to try out the new modular home filter tool.
The selector tool has several options that you can adjust to find the design that's just right for you. Want a 4-bedroom home with a narrow frontage? Simply adjust each category and you after choosing your options you'll be presented with a list of the homes that fit your criteria.
In this article, we'll take a look at the selector tool and explain what the various options mean, as well as discussing some of the homes that you can find under each category.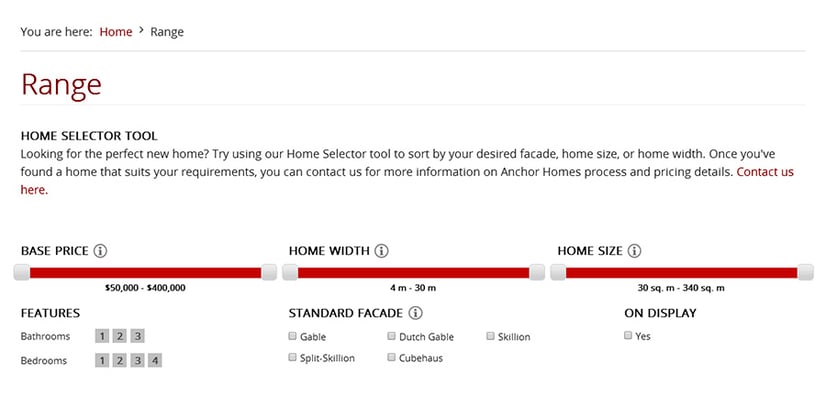 Number of bedrooms
This option is self-explanatory. You can choose how many bedrooms you're looking for. One thing to note that many of our homes are listed as a "+1" bedroom, which means the additional room can be used as either a study or a bedroom.
Number of bathrooms
Another fairly straightforward category – you can choose the number of bathrooms you'd ideally like your design to have. We include ensuites in the number of bathrooms so selecting a design with two bathrooms will usually show options where there's an ensuite and main bathroom. Don't forget that some of our designs (such as the Blackbutt 3) also have a toilet separate from the main bathroom, and in some cases an additional standalone toilet, which isn't included in the number of bathrooms listed.
Façade
Each of our homes comes with a particular façade as standard. For example, our Hampton 16 design comes with the popular Cubehaus façade as a standard inclusion. This means that our design team has selected that façade as the default option. You can still choose any of our other facades for a particular design.
Home size
This measurement is the total area width of the home combined. This is measured in square metres on the selector tool. In imperial measurement, you can find out the number of "squares" a home is by dividing the total square metres by 9.29. Our homes range in total size from the economical 1-bedroom Geebung design at 32.4 m2, right up to our 2-storey, 4-bedroom Barwon design, which weighs in at a whopping 244 m2.
Home width
The width of a particular design may be important if you are building on a block with a narrow frontage. For example, the Beaumauris and Strathmore are two of our narrowest designs, at 5.1m and 8m width respectively.
On display
This category is for finding out whether a particular design is on display at one of our display centres in Stratford (Gippsland) or Bayswater (Melbourne). For example, the Shoreham 14 and Hampton 14 are on display at our Bayswater office, while the Shoreham 16 is on display at our Stratford office.
These options are just the beginning
The important thing to remember is that all of our designs can be customised to suit your lifestyle and budget. If there's a particular design that you like but it doesn't have everything exactly as you want it, simply get in touch with our team and we'll work with you to customise the design.
What do to next
Try out the new filter tool here. Do you have questions about our new home selector tool or any of our designs? Leave a comment in the discussion area below. Our team read and reply to all comments. Alternatively you can reach out to our friendly sales team at anchorhomes.com.au/contact.

Posted by:
Laurie Raikes
Sales Consultant at Anchor Homes.