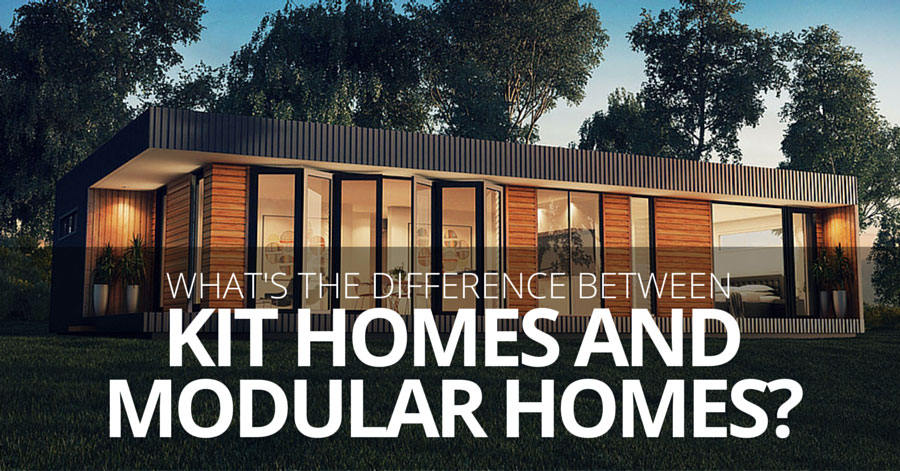 Toying with the idea of building your own home?
The decision can be a daunting one to say the least – especially if it's your first time.
With so many decisions to make, from builders to the type of taps in your bathroom, getting it right seems like a milestone so far in the distance, you'll doubt whether you'll ever make it.
But don't despair – there are a number of options available to you when it comes to building your own home.
One building method becoming more and more popular now is having a large proportion of your home built offsite. This can be in the form of a modular or a kit home.
Both these options are valid alternatives to conventional building. Be it a modular home or a kit home, both can save you time and money, getting you into your new home quicker, and saving you a lot of the stress along the way.
Here we'll look at the differences between modular and kit homes and compare some of the pros and cons of each.
What's the different between modular and kit homes?
Modular homes are built using exactly the same materials and construction processes as regular houses but are constructed offsite in a factory. The modules are built to specification and transported to the site where they are installed, connected to services and made ready for living.

Kit homes are similar in that the basic parts are already made and transported to the site for the owner to construct, but they require further work to achieve a completed home. Think of them like a flat pack piece of furniture you'd buy from a shop. It gets delivered and you put it together with a set of plans from the manufacturer.
Modular vs. Kit Homes. How do they stack up against each other?
Costs and Inclusions. Though kit homes can be priced cheaper than their modular counterparts, it's important to remember that they don't include everything a modular built home includes. The cost of fittings, services, construction, and installation all need to be taken into account when buying a kit home. While a kit home may look like the cheaper choice at first, remember what else needs to be purchased before getting your final product.
Materials. The materials used don't differ a great deal between kit and modular homes. They both offer a wide selection of quality and eco-friendly components and they can both make use of renewable materials. Both their designs keep up with ever-changing sustainability demands.
Construction Time. Given that modular homes are predominantly constructed off-site, they take considerably less time to be fully constructed. Each module of the house is built in a factory, leaving only the need to put the modules together onsite. Kit homes come un-assembled. And the same as buying a flat pack home you can buy a flat pack bathroom or flat pack kitchen. Building a home with all of these different parts is comparable to putting together a jigsaw puzzle, each piece must fit with another piece, or you need to alter it to fit. This extra fitting time will add months to a total kit home construction time.
Design Flexibility. When it comes to design, modular homes usually offer more flexibility than kit homes. They are often built to custom specifications, which means the prebuilt modules are built depending on your site and tastes. This leaves a lot of room for design customisation during the planning and measuring stage. Some kit homes allow for customisable design, but doesn't allow for much movement in specifications and alterations.
Finance. Seeing as though kit home construction usually requires an Owner Builder Permit, it attracts an owner-builder construction loan. These loans require in depth documentation and checks before approval can be issued. This can quickly become cumbersome and time consuming. Modular homes are built off-site under supervision of a qualified and licensed builder, which makes them much more appealing to banks when it comes time for finance. In saying that, it can sometimes be challenging to finance a modular home too.
Permits. Both modular and kit homes require the same standard planning and building permits. The only major difference is that kit homes require the owner to hold an Owner Builder Permit should they wish to construct it themselves. Some kit home suppliers offer a building service too, and it is possible to hire your own builder to avoid this necessity. Owner-builder work of any type greatly increases the responsibility on the owner both during the construction process and beyond, but can reduce costs should owners have the necessary skills.
Insurance. Owner-builders constructing kit homes must be extremely stringent with checks of any contractors working on their property during the construction phase. They may also need to consider other insurances such as workers compensation insurance, contract works insurance, and public liability insurance. Modular construction falls under the construction company's building licences and insurance. All prebuilt homes are manufactured and overseen by a licensed builder both inside and out of the factory.
Which is Right for You? Kit Homes or Modular?
The two are comparable, but only when done right. Kit homes provide buyers with the appearance of ease and cost savings, but there is a lot of work that needs to be done by the owner. If you're prepared, have done your research, and are ready to take on the site foreman role, a kit home may just be for you. You'll be ready to create your slice of paradise and take some pride knowing the huge role you played to make it happen.

If it's peace of mind, speed and guaranteed quality you're after, a modular home is the way to go. Its factory pre-built parts are what make them appealing to people interested in saving time, as well as those who may want a custom design.

What are your experiences with modular or kit homes? Share your thoughts in the comments section below.

Posted by:
Trudi Sedman
Sales Consultant at Anchor Homes