Project Focus: 4-Bedroom Custom Design, Patonga Beach
June 08, 2019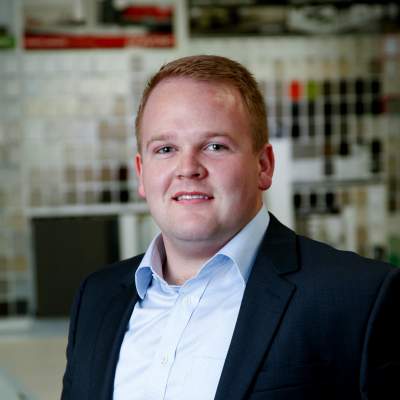 Our latest project focus article showcases a truly special home. Located in a small fishing village on the Central Coast of NSW, this four-bedroom design is a stunning example of a customised home that ticks every box.
With four generations of family history attached to the property, when it was time to replace the original family home, our clients had a clear picture of what they were hoping to achieve. They described it as, 'beach federation- a reflection of the Australian federation style with a lighter, more casual beaches feel'.
They worked closely with the Anchor team to design their dream home and the result is gorgeous, unique and sure to inspire. So, read on to discover the highlights and features of 'Sunny Corner' and find out how our clients took their ideas from concept to reality.
Customised Floor Plan for Relaxed, Family Living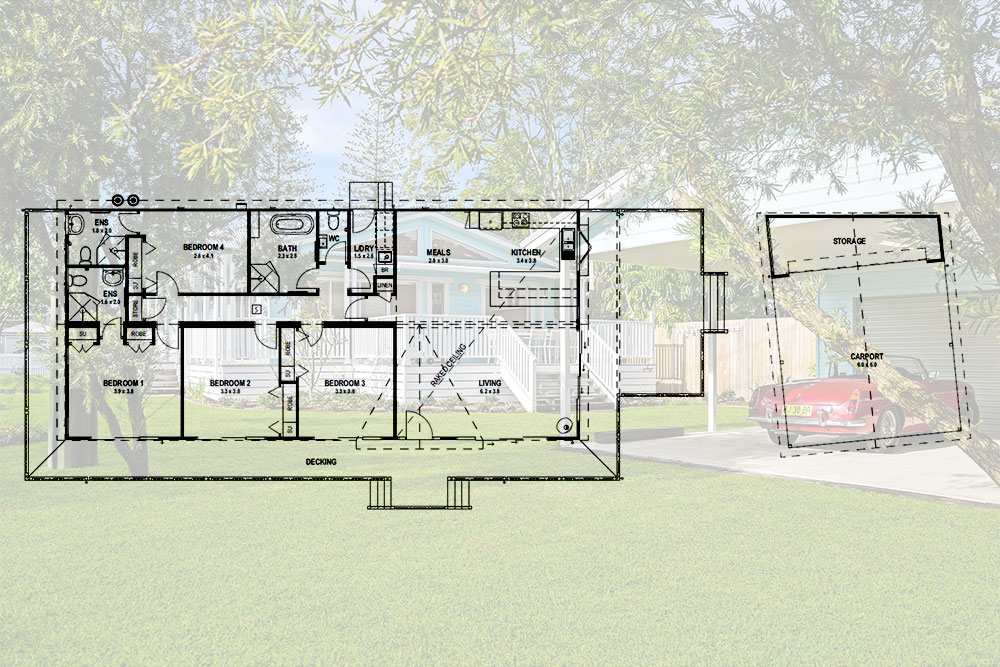 Every part of this home has been designed with family in mind, and the floor plan is no exception. The large open plan living area is a highlight, providing the perfect place to dine, relax or play.
All four bedrooms include built-in robes, so there is plenty of room for guests to stay. Both bedroom 1 and bedroom 4 have an ensuite attached and the main bathroom is conveniently located opposite bedrooms 2 and 3.
Clever Design Features that Elevate the Home
It's clear that much care and consideration has gone in to selecting design features that work well together and fit the design brief, and it has certainly paid off. The living zone has a bright, breezy and spacious feel, thanks to the raked ceiling and abundance of windows. With sliding door access to the front verandah as well as the large side decking, it's easy to merge the indoor and outdoor spaces to take advantage of warm days and balmy nights.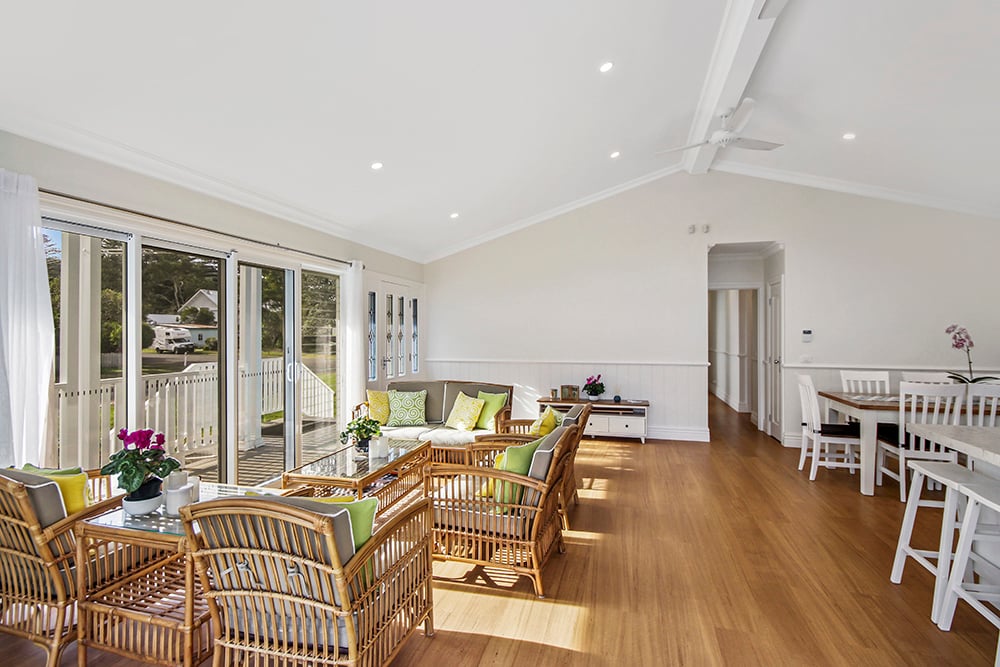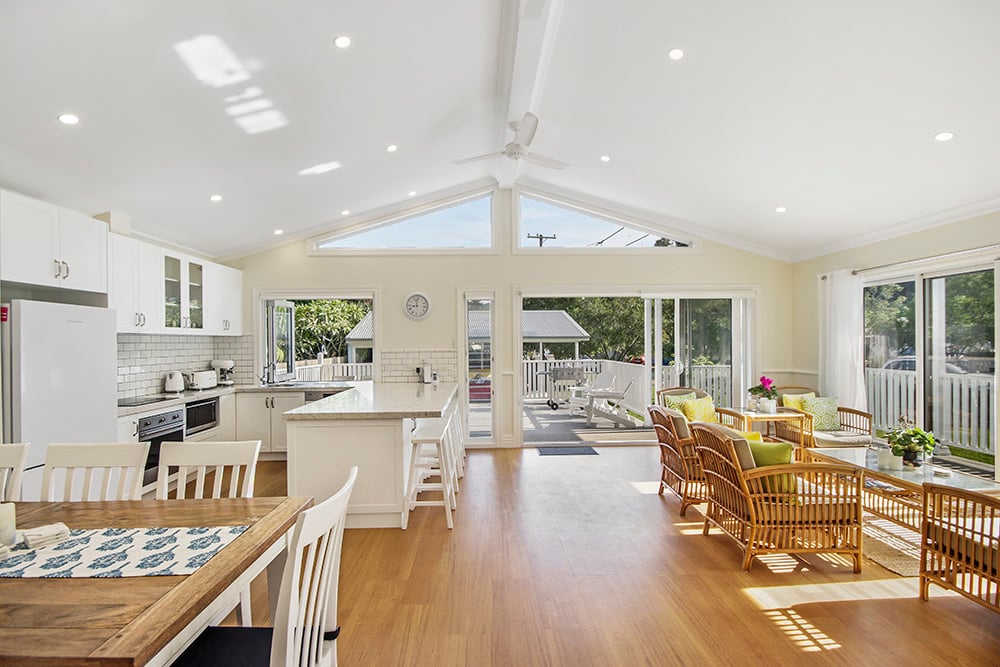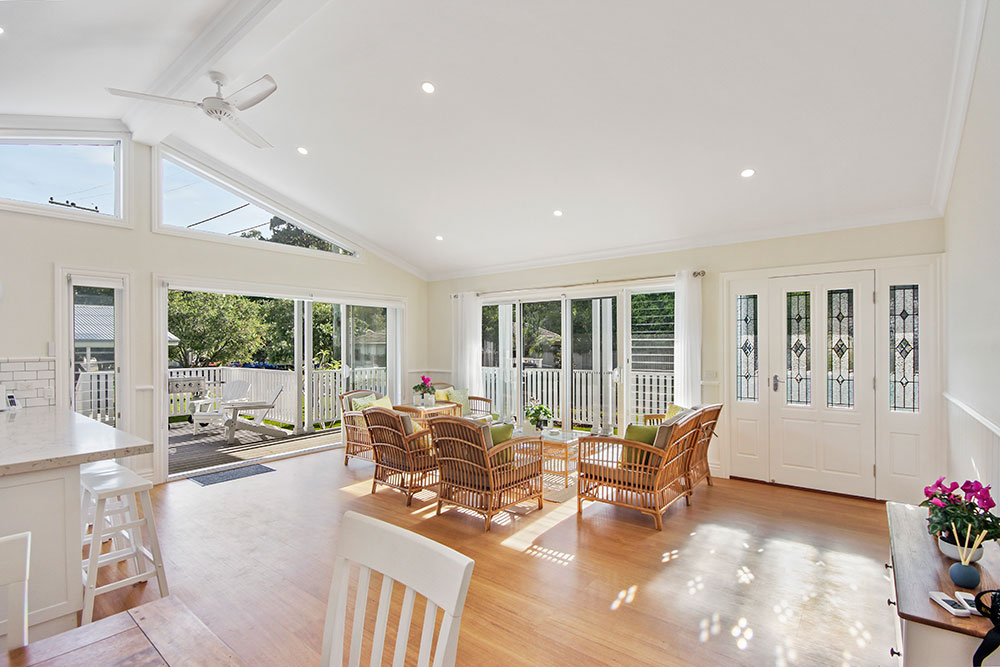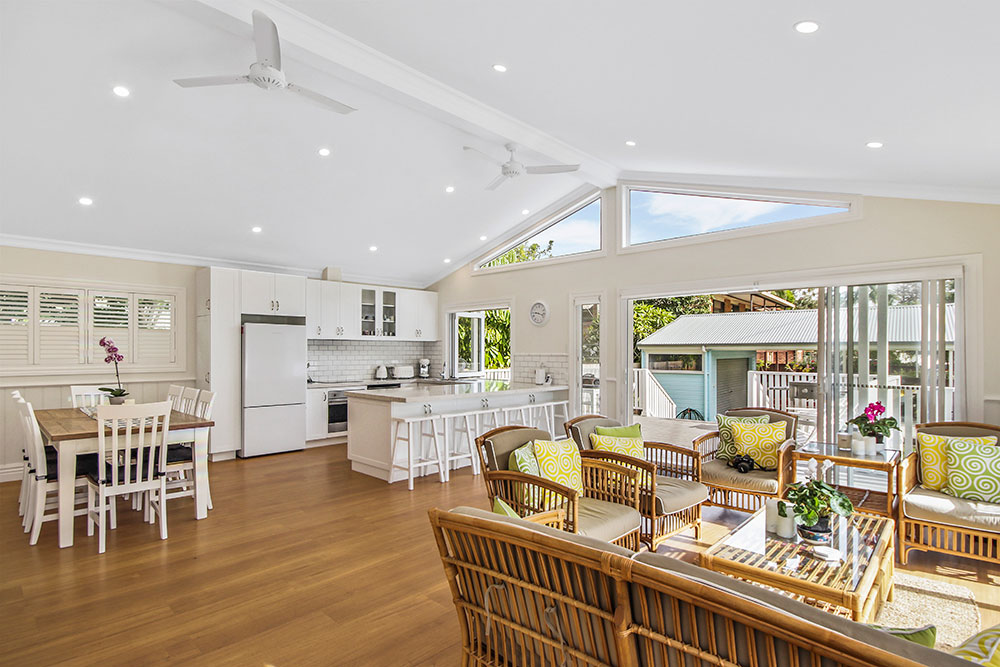 The kitchen includes a bi-fold window that opens out to the outdoor entertaining deck, which connects the two spaces and makes serving food and drinks a breeze. The white colour scheme and tiled splashback complement the style perfectly, and the island bench provides another place to relax or chat while dinner is prepared. The bathroom and ensuites also feature a simple but elegant white colour scheme, with stylish wall and floor tiles and traditional fittings to complete the look.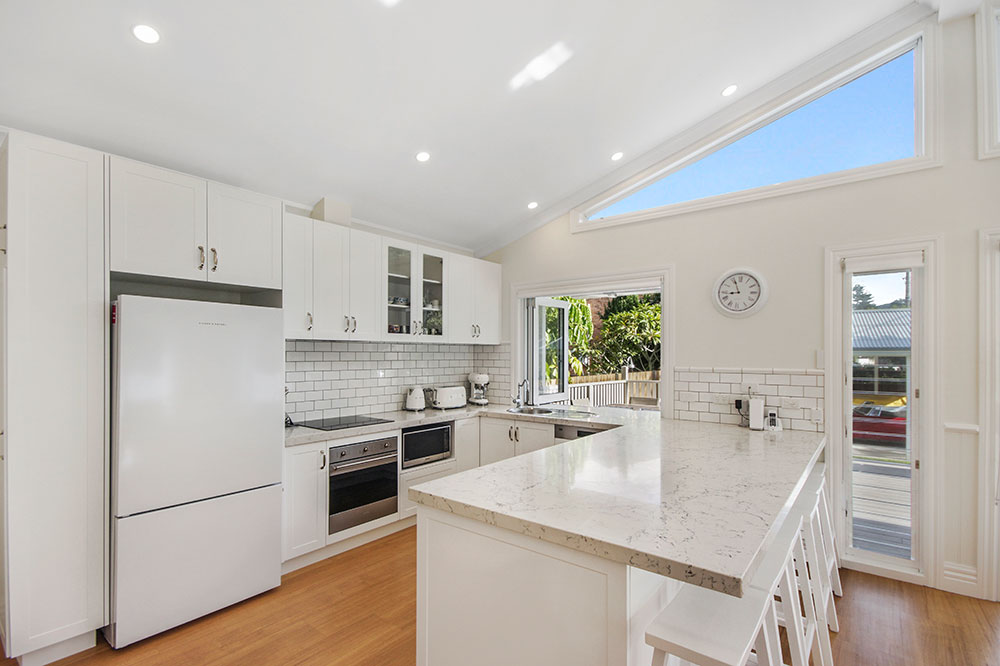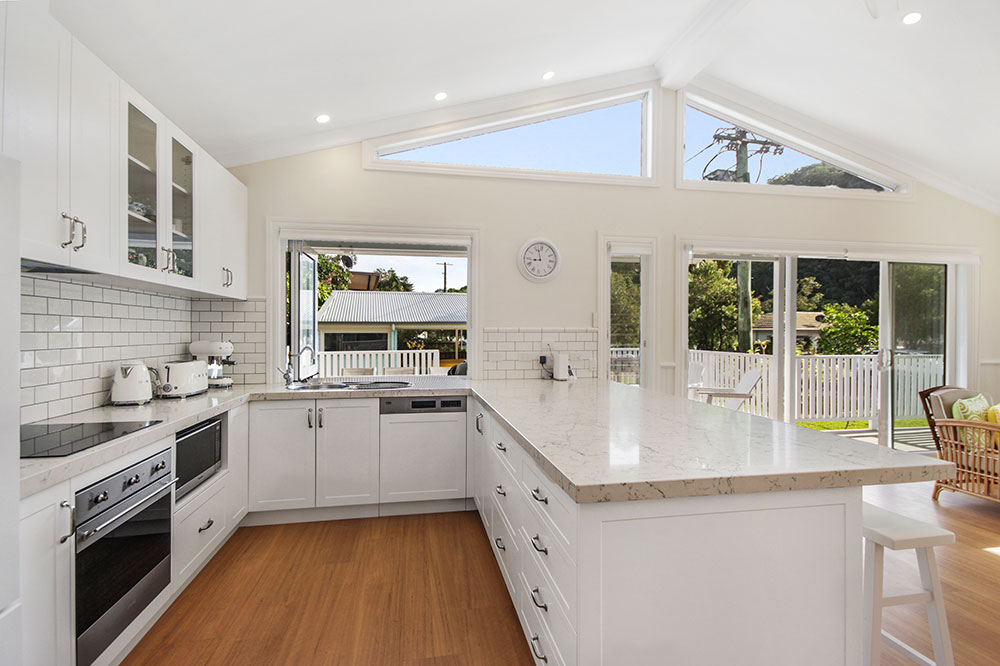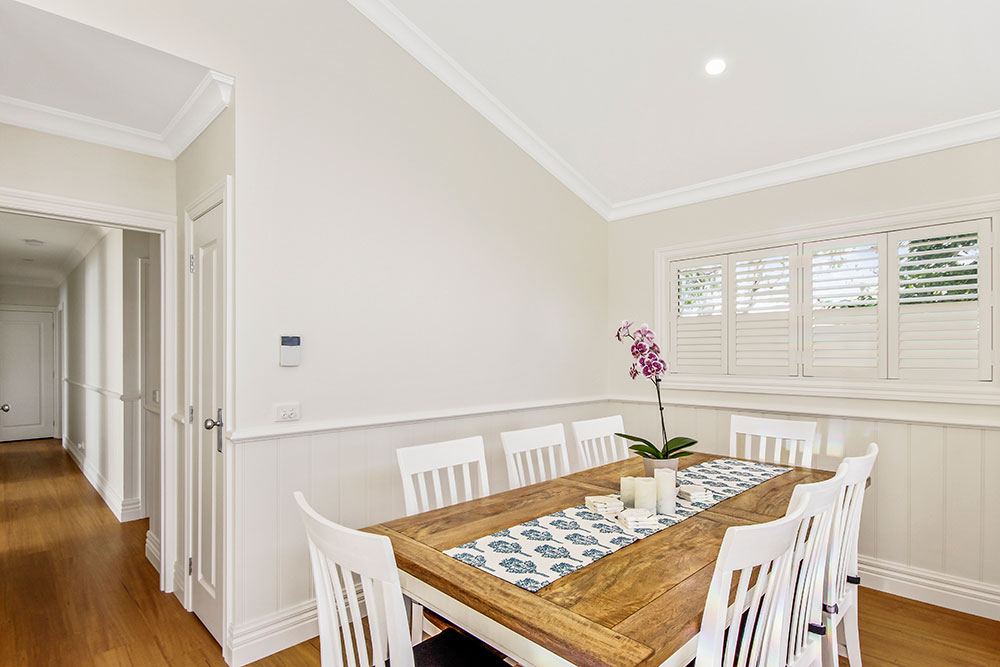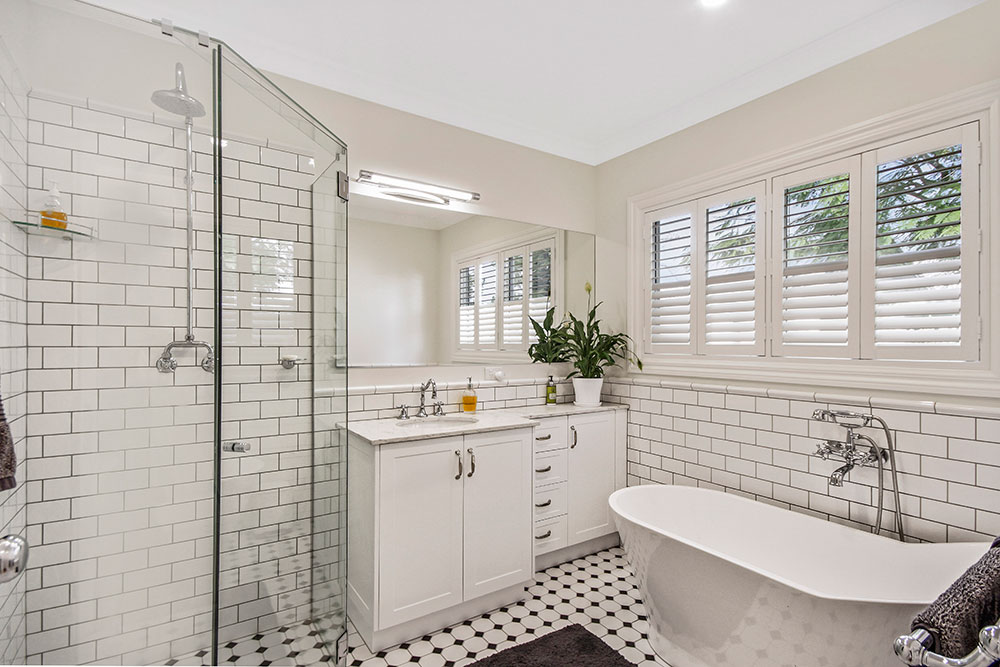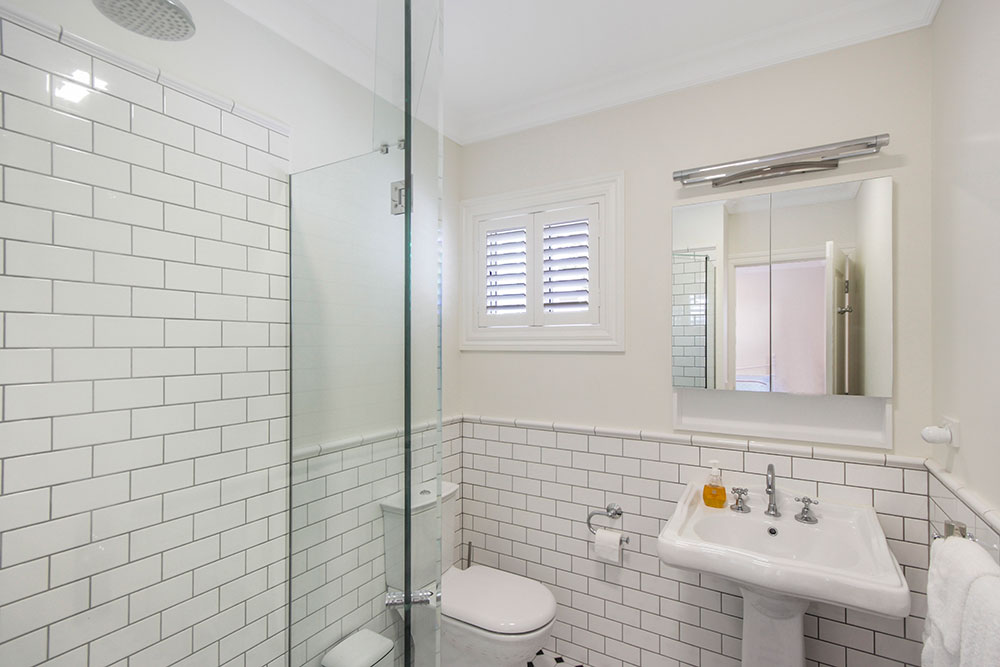 The louvre windows throughout the home bring a traditional feel and are also ideal for cross-ventilation when the weather heats up. Three of the four bedrooms have sliding door access to the front verandah, which adds plenty of natural light and a sense of space.
Perfectly Executed Exterior Style that Blends with the Surrounds
Outside, the exterior blends perfectly with the quiet beachside location and has fast become a favourite of the neighbourhood. The traditional facade and sprawling verandah give the home a cosy feel, while the choice of colours, cladding and windows provide a subtle modern style that elevates it to something special.
The verandah and stained-glass door provides a wonderfully welcoming entrance, while the outside deck is the perfect place for family and friends to get together and enjoy the serenity. Even the double carport with enclosed storage space is beautifully finished, with perfectly matched colours, cladding and facade.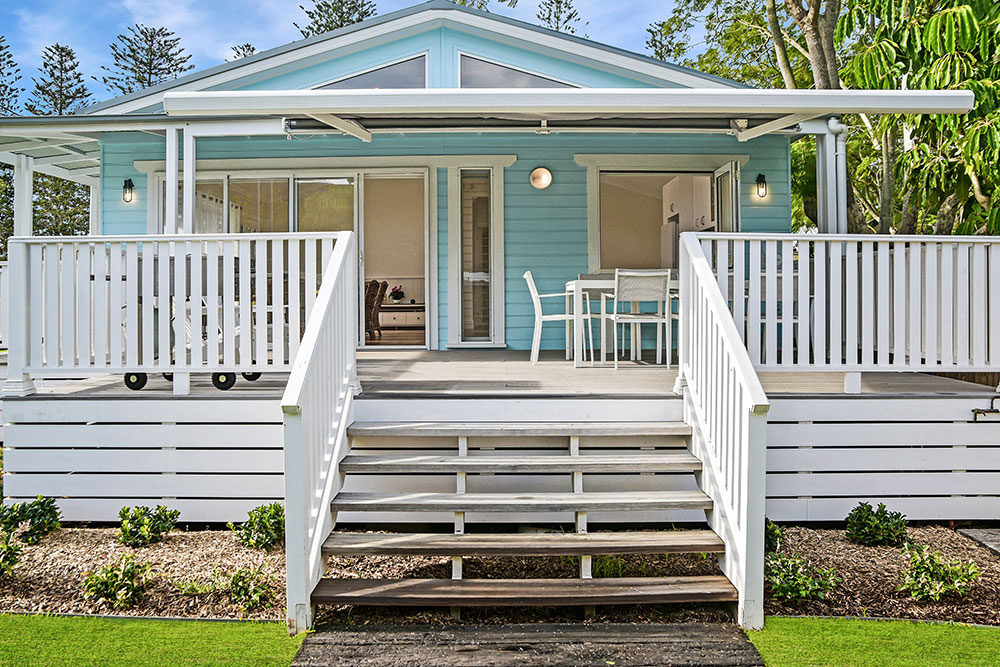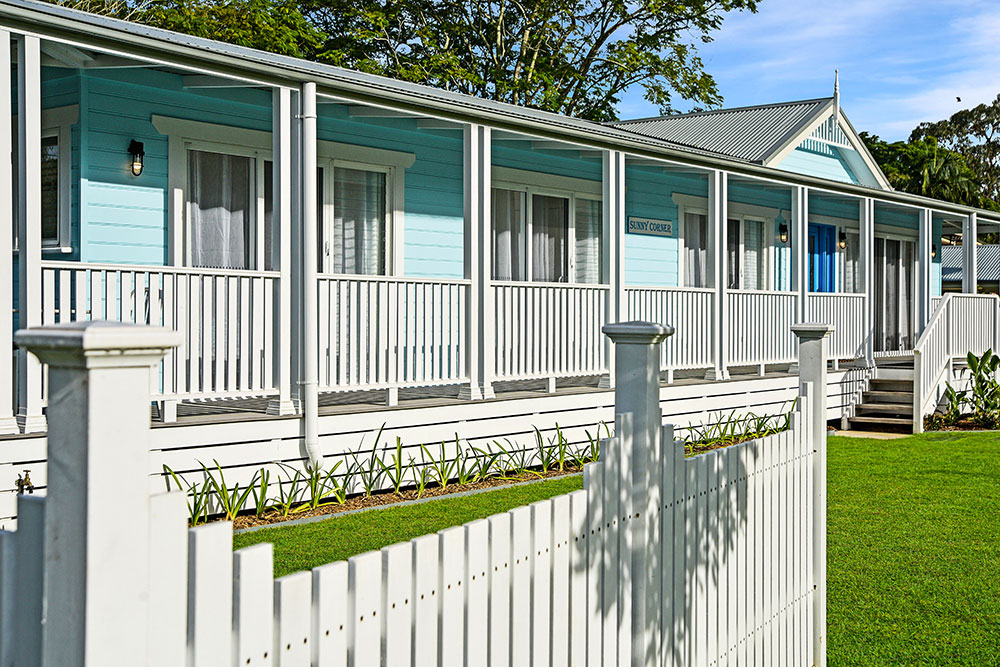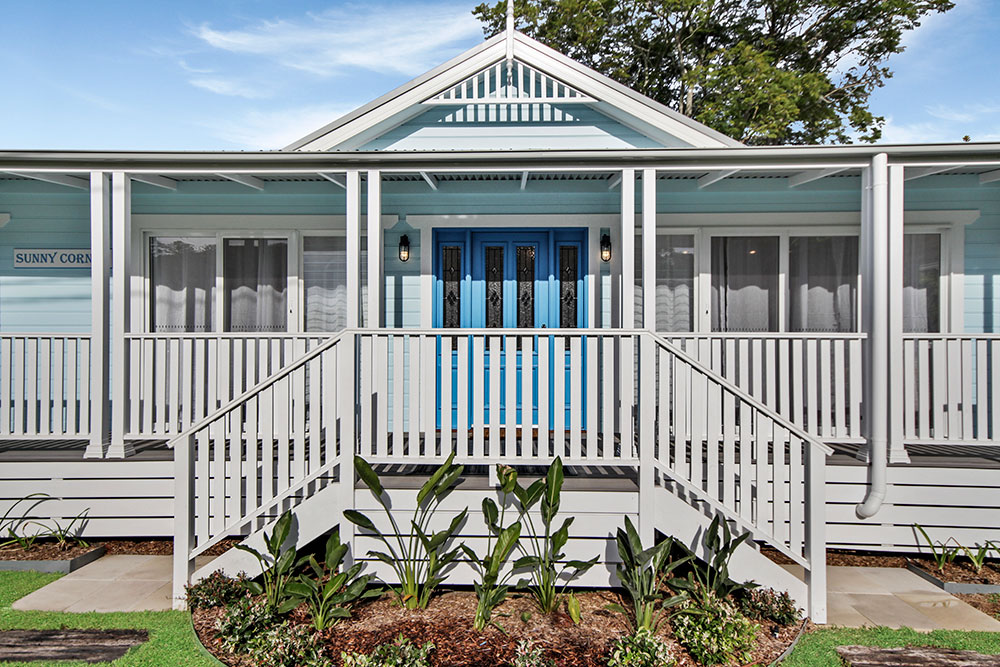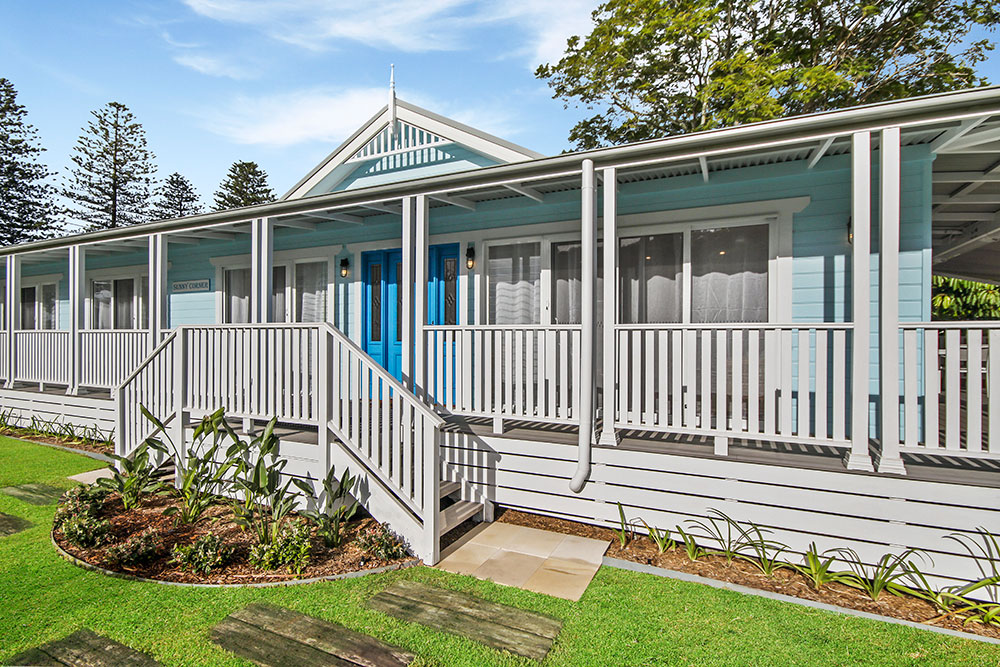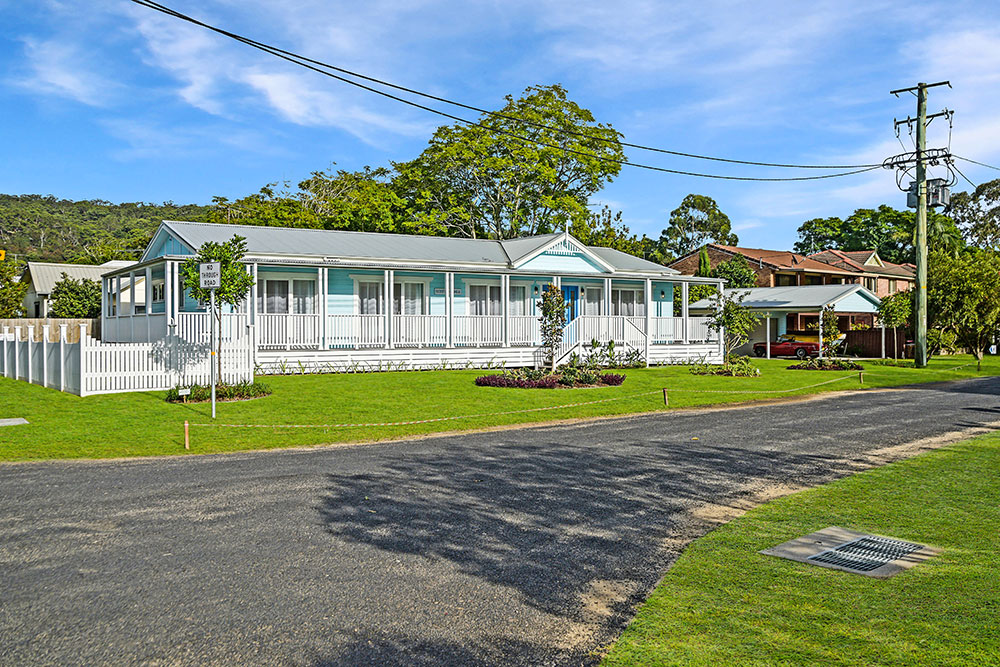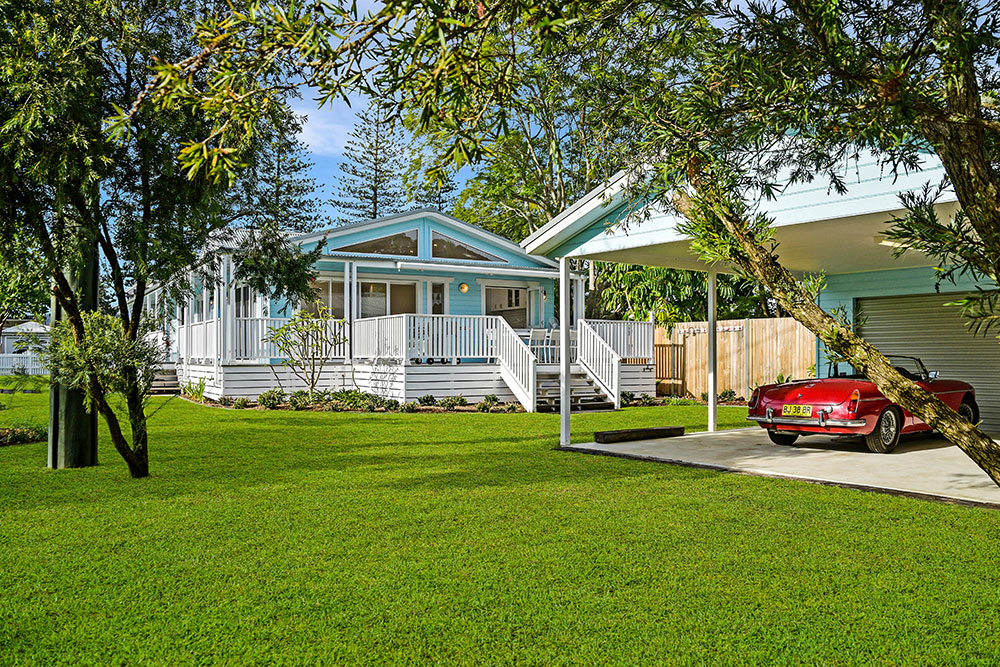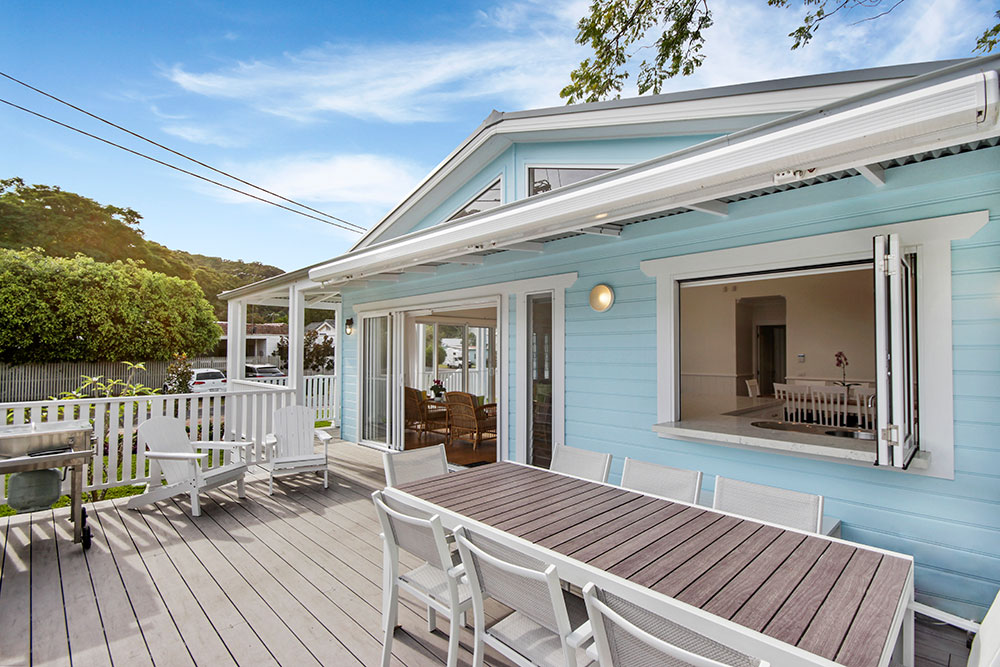 Project Costing and Specifics
This home was customised by our clients to suit their exact needs. They collaborated with our designers to create their ideal floor plan, then worked with our colour consultant to tie it all together, carefully selecting the interior and exterior features that matched their style and lifestyle.
The total project costs were approximately $450,000.
What our Clients Have to Say…
'Not a day goes by that someone doesn't comment on how amazing Sunny Corner looks!
It has been the most satisfying, fulfilling experience and the result is a house that's a joy to be in and we are proud to own. Ken and Lester, the design and production team and all the trades people have done an amazing job. The finishes are absolutely superb, faultless.
Patonga Beach is on the Central Coast one and a half hours north of Sydney on Broken Bay at the mouth of the Hawkesbury River. It is a small fishing village separated by a national park and serviced by a road and daily ferries from Palm Beach. The village has a colourful history and a proud heritage that is valued and preserved by the community.The property has been in our family for more than 40 years and has seen four generations enjoy it. The original home was built in the 1930s, but despite several renovations and numerous repairs it was no longer serviceable. To replace this much-loved house, we wanted to preserve the feeling of the village and had a very specific style in mind. We call it 'beach federation', a reflection of the Australian federation style with a lighter more casual beaches feel, with verandahs around, not unlike the Queenslander style, but not as high off the ground.
When Lester said that Anchor Homes could do this for us, I must admit we were a little skeptical. But yes, they met every one of our expectations and more.
They allowed us to put our own personality into the design and finishes. As long as we stayed within transportable limits, we could have whatever we wanted. We added ensuites, restyled bathrooms, louvre windows, made a huge open plan kitchen/living area and a large entertaining deck area.We were able to select non-standard fittings to match the federation style throughout. Bathroom fittings and door furniture from Early Settlers, lights and heritage ceiling fans from Beacon Lighting, heritage style skirting boards, architraves, internal panelling, weatherboards, heritage floortiles, baths, toilets, showers and a stained-glass front door. One thing that I have to say is the more time you spend in the design stage planning finishes, selecting fittings, tiles, appliances, lighting, etc., the happier you will be with the finished product.
I would recommend to anyone thinking of building a new home or holiday house to seriously consider Anchor Homes as a really viable option. If anyone wants to ask anything about Sunny Corner or even have a wander through, we would be only too happy to assist!'
John and Jill,
'Sunny Corner'
Patonga Beach, NSW.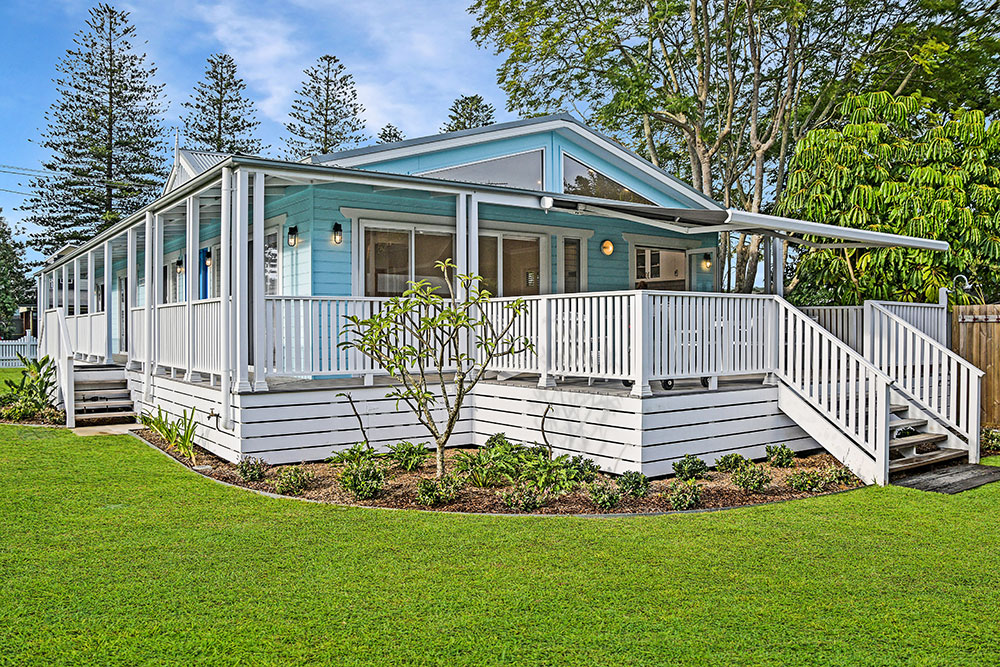 Over to You

Do you have a question or comment about this gorgeous home or your own project? We'd love to hear from you! Simply post a comment below or get in touch with our team on 03 5145 7110.