Many people are surprised to discover they have the option to design and build a two-storey modular home.
In this article we'll look at the pros and cons of multi-storey modular home design and show you a couple of examples of two-storey homes in our modular range.
Benefits of Two-Storey Modular Homes
The main benefit of going two-storey is that you can fit more floor space on a smaller block. Having the option to build upwards, rather than outwards, can open up a world of possibilities if you're building on a small city block.
A secondary benefit of having a two-storey home is that it often allows a you to maximise a view, often not possible with a single storey home. For example, a customer of ours recently decided to go with a two-storey design in order to have a better beach view as the lower storey could not see over the sand dunes to get a view of the ocean.
Downsides of Two-Storey Modular Homes
There are some downsides with two-storey homes.
The obvious downside is that you need to walk up and down a flight of stairs to get from one level to the other. Depending on how you look at it, this need to go up and down stairs could actually be an upside as you will be guaranteed of getting more exercise!
The other downside of a two-storey modular home is the cost. Obviously the engineering and materials involved in building upwards rather than outwards typically mean you'll pay slightly more for a two-storey construction than a single storey design with similar floor area.
Modular Design Options for Two-Storey Homes
Okay so you've researched the pros and cons and decided that two-storey is right for you. Now there are a couple of ways you can go. You can choose from one of our existing two-storey designs (see below) and make any design changes you may need to make in order to suit your needs.
Or another option is to have our design team work with you to design a two-storey home from scratch. In this case, we will arrange a design consultation with you and work through a design based on your size and budget requirements. This is also a great opportunity to design a home to make best use of the elements through smart orientation and window locations etc.
Again, the best option for you depends on how much you like our existing designs vs how much you'd like to customise the design.
Our Two-Storey Modular Home Designs
The designs shown below are our two main two-storey modular designs. As mentioned above, these can be customised to suit your needs, or we can work with you to come up with a completely custom two-storey design.
Anglesea
The 3-bedroom, 3-bathroom Anglesea is a popular two-storey house design thanks to its economical use of space. The three large bedrooms can fit a queen and even king-size beds. Two of the three bedrooms have their own ensuite and WIR. And, as an architectural statement, Anchor Homes' iconic split-skillion facade has been used. It also has the option of a double-garage.

This two-storey modular house is ideal in a coastal setting. The first floor is situated across the right hand side of the ground floor, as you can see from the floorplan below. It has its own living area and deck which would be ideal if there is a view.

The Anglesea modular home design is the only one in our range that has three bedrooms and three bathrooms which is enough to accommodate up to three couples. This unique feature makes the Anglesea a perfect choice as a holiday home for a multiple family holiday.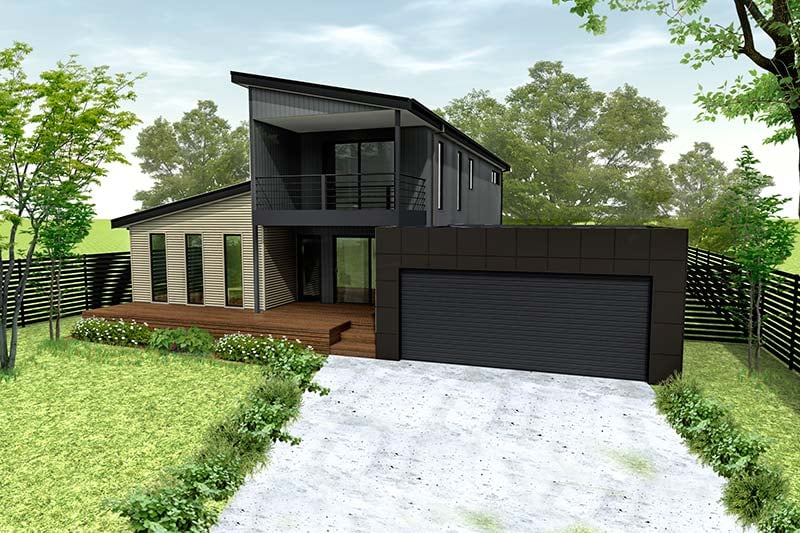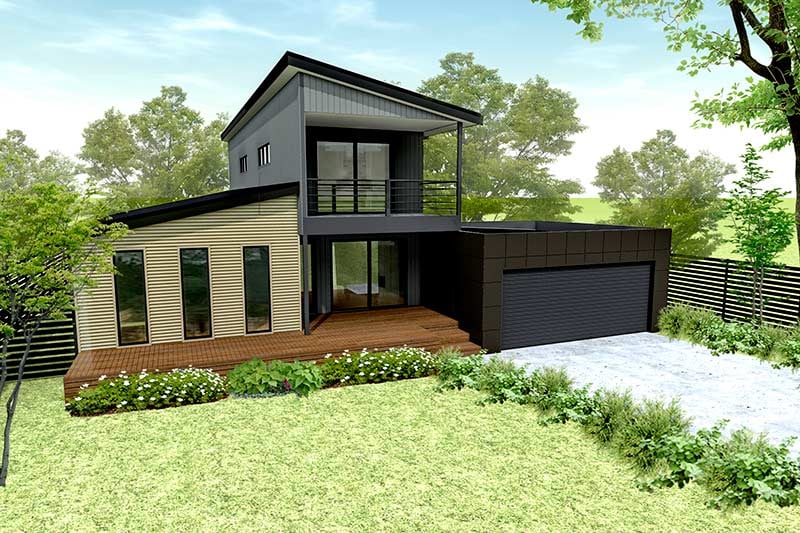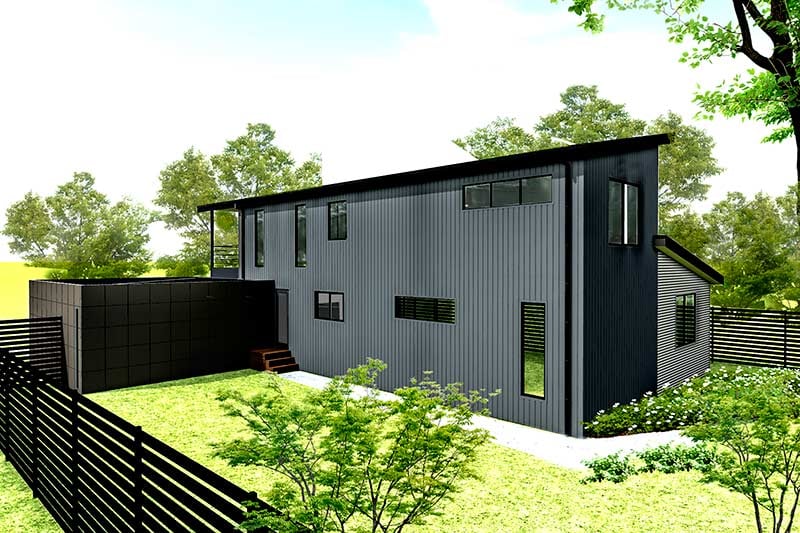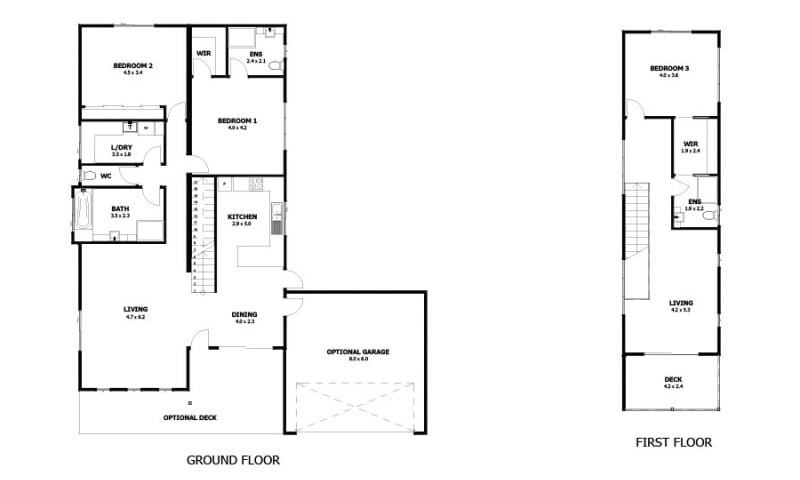 Barwon
The Barwon modular home is a two-storey house design that provides an ample living space and comes with our contemporary Cubehaus facade as standard.

This 4-bedroom, 2-bathroom home has a large living room and separate theatre. It has a very spacious master bedroom with its own deck. It also has a large designer kitchen layout with butler's pantry including separate sink. Furthermore, it comes with the option of a two-car garage and an outdoor area/deck.

One of it's distinguishing feature is that all the bedrooms are on the first floor so the ability to zone off the bedrooms from the living during the day is a great energy saver when heating or cooling as it is a large home.

If you have a large family or you're looking for a spacious home with room to grow, entertain or do as you please, then the Barwon is perfectly designed for you.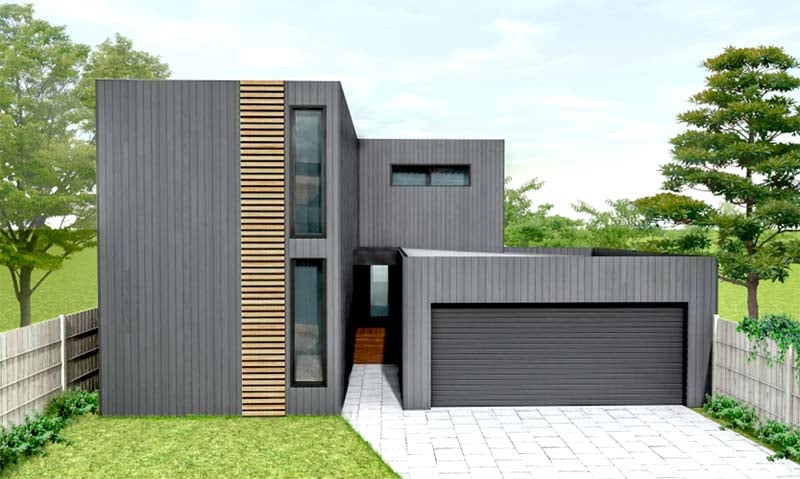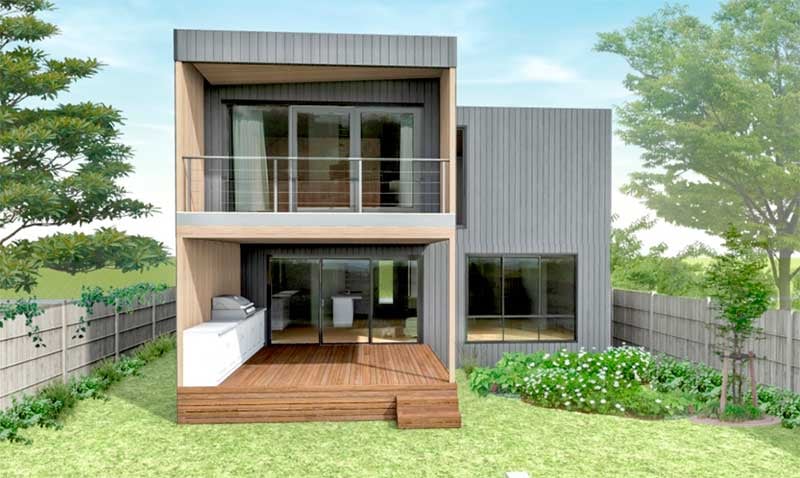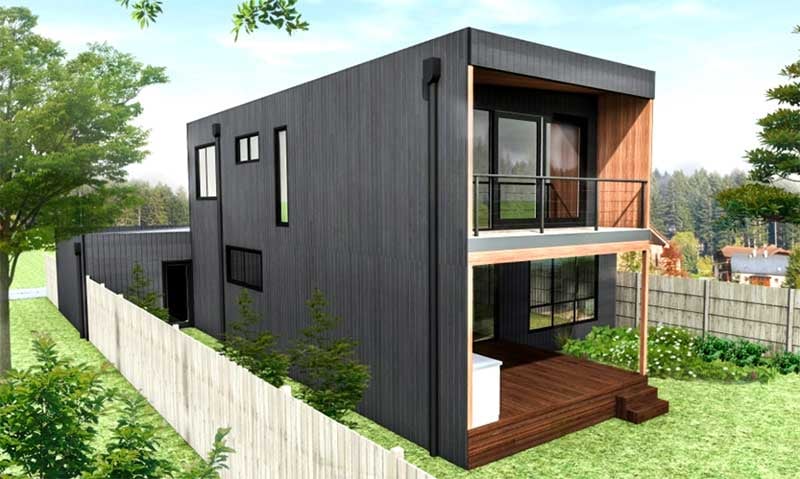 Bottom Line on Two-Storey Modular Homes
As you can see, there are quite a few options when it comes to choosing a two-storey modular home design. Whether you opt for an existing design "as is", make some tweaks, or completely design your home from scratch, the benefits of a two-storey make them ideal for families in need of efficient floor space or elevated views.
Have Your Say
Do you have questions or comments about building a two-storey modular home? Have your say in the comments section below. Our team read and reply to all questions and feedback.

Posted by:
Laurie Raikes
Project Consultant at Anchor Homes