Flooring Options for Modular Homes
February 05, 2016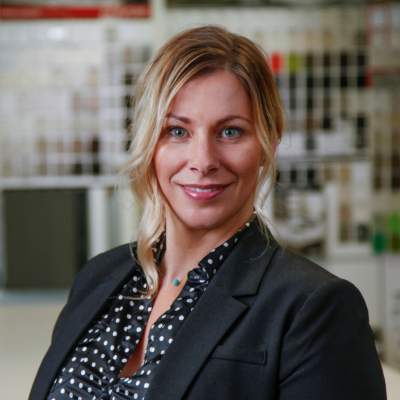 Flooring is one of the most important choices you'll make when building your modular home.
Having a floor that both looks good and suits your lifestyle is important. With all the choices available it can get confusing, so in today's blog post we're going to explain some of the different options, the price differences between them, and their pros and cons.
Standard Flooring Inclusions and Optional Extras
Our modular homes come with tiles in all wet areas (bathrooms, toilets, laundry) as standard. Outside of these areas you'll need to choose the flooring that's right for you.
The reason we don't have a "standard" type of flooring included in our homes' base price is because everybody's tastes and lifestyles are different, so we've found the best way to approach flooring for your modular home is to give the customer a range of different surfaces from which to choose.
Below are the main flooring options we offer customers for use in our modular homes. Should none of our optional floorings suit your taste exactly, we are happy to work with you to research other products and surfaces to ensure you get the flooring you want in your new home.
1. Engineered Oak Flooring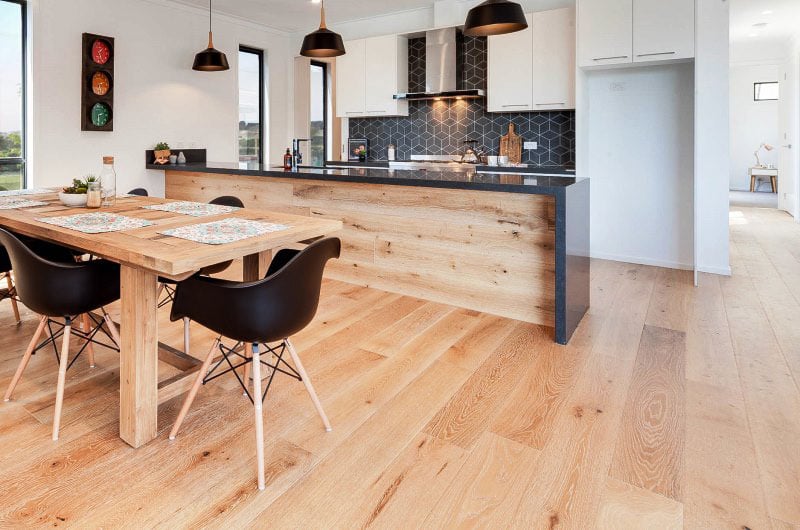 Engineered oak flooring is the "granddaddy" of all flooring surfaces. It gives your home a beautiful, warm feeling. Laid in planks, Engineered oak flooring combines a top layer of oak wood that is bonded to multiple plies of softwood, providing uniformity and dimensional stability.
Oak is a soft surface and care needs to be taken with hard objects such as kids' toys or high heeled shoes. Because of the matte finish, re-polishing is not needed so the floor is fairly low maintenance. Engineered oak is priced at between $150 - $180m2 installed depending on your choice of colour.
2. Hardwood Overlay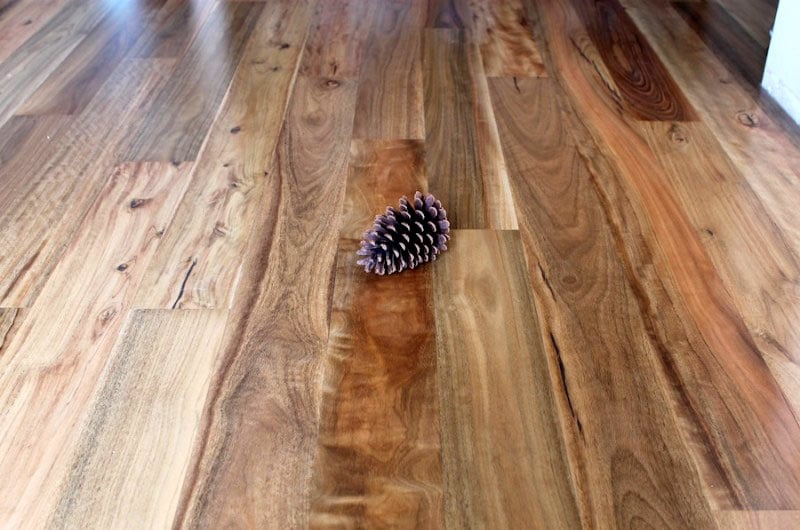 A hardwood overlay is another excellent option for a modular home. The main choices here are Tasmanian Oak or Spotted Gum. Cost range is $140 - $160/m2 installed and there's the option for a gloss or matte finish.
A hardwood overlay is an excellent option for a modular home floor if you want a gloss finish or something like the engineered oak above.
3. Vinyl planks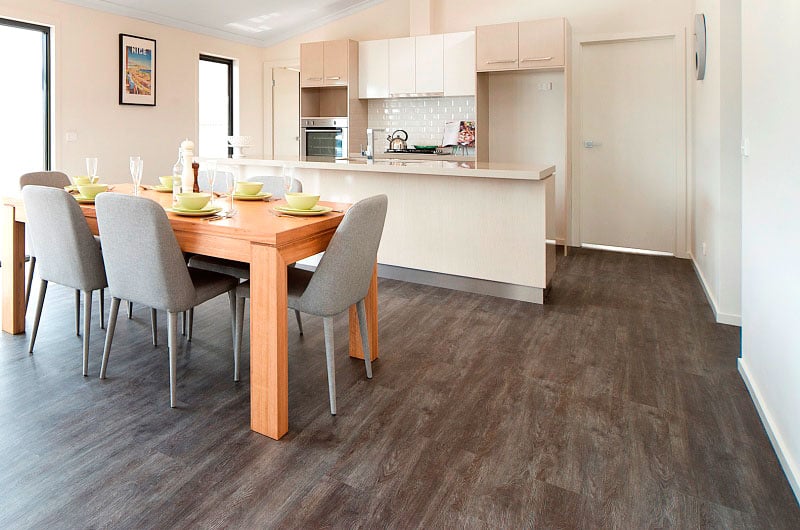 Vinyl planks are our most popular flooring option. There are a range of different colours and textures to choose from, and the cost for these vinyl planks is between $80 - $100/m2, making them considerably more affordable than either the oak or the hardwood options mentioned above.
Vinyl is very hard wearing so it's ideal for high traffic areas. It's also easy to clean and maintain. This vinyl flooring only comes in a matte finish, so if you want a gloss appearance you'll have to look to a hardwood or bamboo finish.
4. Carpet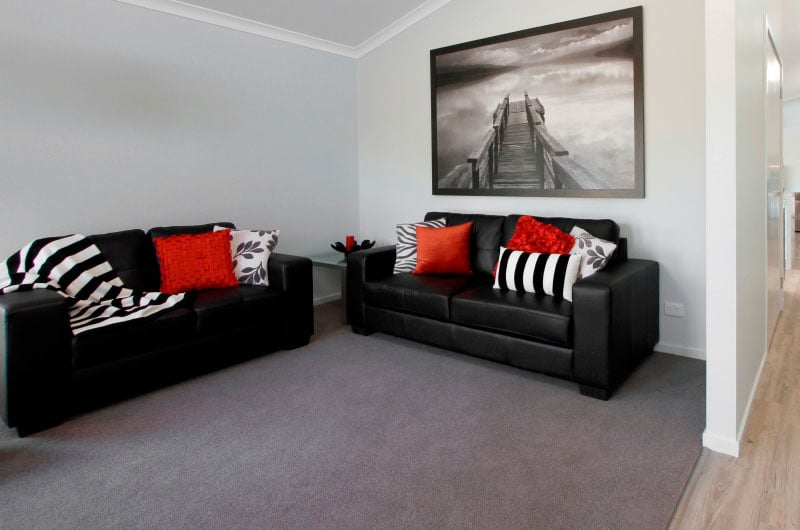 Carpet is the most cost effective flooring option for modular homes. While it's ideal for bedrooms and lounge areas, some people choose to carpet their whole home to give it a warm, cosy feel.
The cost for carpet ranges from $170 - $370 per broadloom metre (3.6m wide roll). There's a wide range of blends and colours to choose from, ranging from synthetics right through to 100% wool at the more luxurious end of the spectrum.
5. Other Options
Apart from the above four options, there are also other options for your modular home flooring such as bamboo (pictured above). Some clients also like the cool/industrial feel of ceramic tiles.
We offer a wide range of colours and sizes so if this is an option you would like to look at, we can certainly help you out!
Wrap Up
As you can see, there are quite a lot of options available for your modular home flooring. All of the above options can be used in any of our modular home designs.
If you want something we don't offer as a standard option, we are only too happy to work with you to find the exact flooring that suits your taste.
Our aim is to build your new modular home exactly as you want, and not be restricted by limited choices. If you would like to discuss your flooring options with one of our team, feel free to Contact Us via our contact page or call us on (03) 5145 7110.
What have we missed? Ask a question or leave a comment in the comments section below. We read and respond to all comments.