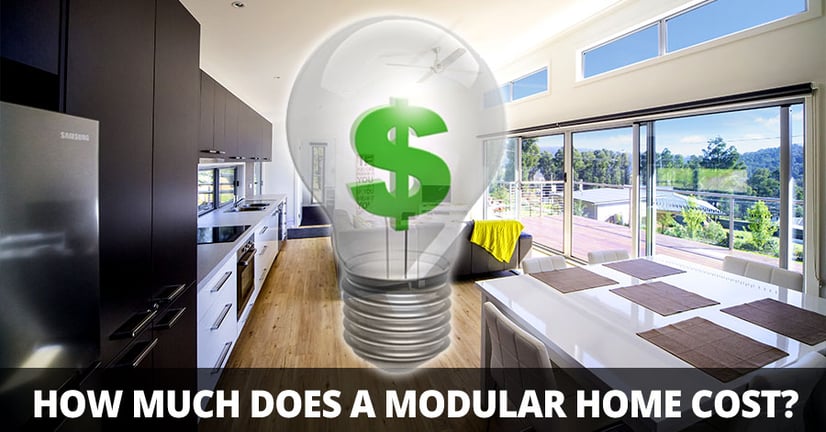 The cost of a modular home is one of the questions we get asked about on a daily basis. There are several factors involved in pricing a modular home. In this article we'll look at all of these factors and provide you with a handy calculator to work out how much a modular home should cost from the planning to handover stage.
Modular home builders differ in the way they price their homes. The way we calculate the price here at Anchor Homes is similar to many other modular builders in that we operate from a base price and then add any additional costs such as installation, connection, and optional upgrades.
How Our Modular Home Pricing is Structured
Base price – This includes the main proportion of your new homes costs. See our list of standard inclusions. For more information about our base prices for each design, contact our team.
Additional variable costs (every project)

Site-connections
Floor coverings except wet areas
Transport and site installation – We include 150km of transport in our base price (subject to site route) and anything over this is quoted on an individual basis. One thing to keep in mind is that modular homes transport doesn't always take the most common route - we often take over-dimensional routes. Also, if a crane is required this is an additional cost.

Regulation requirement upgrades - Upgrades required for compliance with BAL and Energy ratings can include upgraded windows and glass, cladding, insulation, fire-fighting tanks etc.
Common upgrades/options – upgrades including decking and verandahs, balustrades, air-conditioning, wood heaters, matching carport or garage, tanks, window furnishings.
Fitting & finish upgrades – these upgrades are made at the time of colour selection and specifications and could include: stone benchtops, non-standard splashbacks, non-standard plumbing fittings, increased tiling, non-standard tiles, upgrade kitchen appliances, and the list goes on…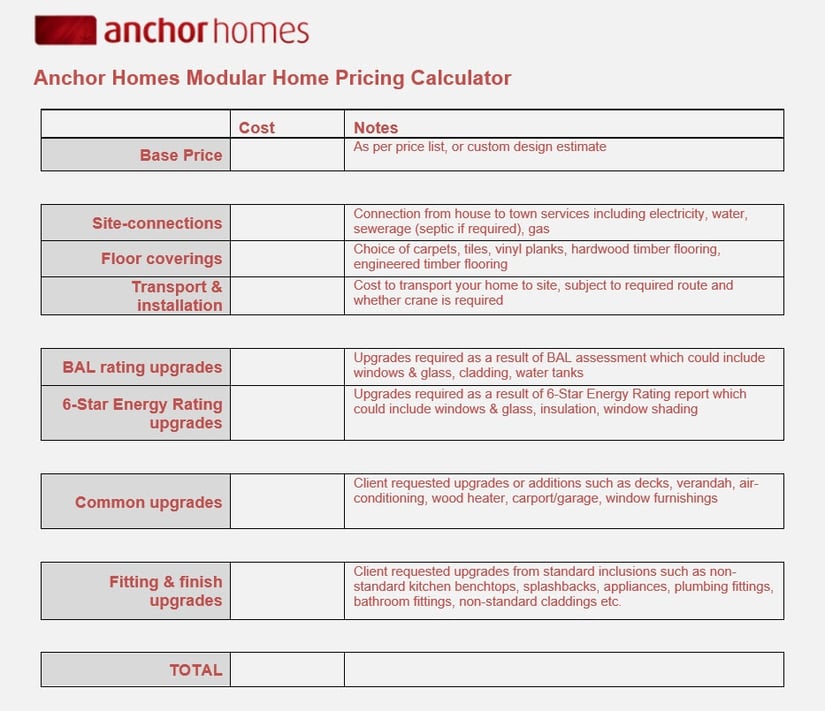 Click the image above to download a printable copy of the pricing calculator.
How to Get Accurate Pricing on Your Proposed Modular Home Project
As you can see from the above factors, every modular home building project is different. The numerous upsides to modular building make it a popular choice among home buyers both new and experienced.
You can use the printable pricing calculator shown above to work out an approximate price of your project. But the best way to get a truly accurate price for your proposed project is to have a chat with a member of our team. They'll be able to give you an accurate idea on price based on the home you're interested in combined with the project location and all of the other factors discussed above.

Posted by:
Laurie Raikes
Project Consultant at Anchor Homes