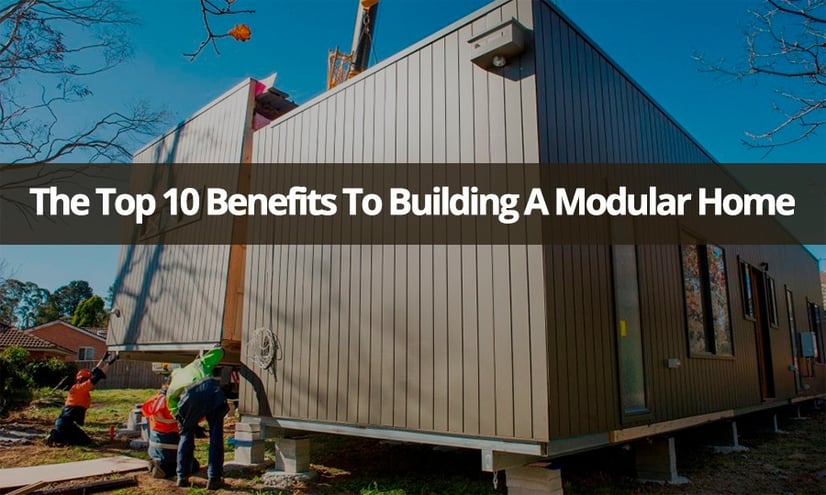 If you're tossing up whether a conventional build or modular home is best for you, it can be a tough decision to make. There are positives to both, and negatives too. You might feel that modular homes are an "unconventional" way to build, but this is not the case.
These days, more and more people are discovering there are many benefits to building a modular home. It can save you money, leave less of an environmental footprint and best of all, it takes less time so you can be in your new home sooner.
Here we've shared 10 benefits -to help you get a better understanding of why so many people are now choosing a modular build over a conventional one.
1. Built Fast – So You Can Move In Sooner
Modular homes are fast to build – in fact, they are ready for you to move in to in as little as 12-16 weeks. They are built fast because they are constructed in an indoor facility, by a team of qualified professionals, using a process that has been perfected over many years. This minimises the possibilities of delays, so your build remains on schedule.
2. Flexible Design– You Can Create Your Perfect Home
With modular homes you can choose from one of many standard designs or tailor make your own custom design. Plus, homes in the standard range can be tweaked to fit your individual requirements. So whether it's more storage space, a different façade or a bigger entertainment space, modular homes give you the flexibility to create a home you'll love.
3. Affordable – No Cost Blowouts
When you build a modular home, you know what you will pay and what you will get from the start. Once you've decided on a design you'll get a fixed costing which includes the planning, construction and completion stages. Because your modular home is completed following a tried and tested process and is built in a controlled environment, there's much less chance of cost blowouts.
4. Less Site Impact – So You Won't Move in to a Mess
Because a conventional build is completed 100% on site, the construction process can have a big impact on your land. Modular homes are built to around 90% completion off site – which saves months of disturbance and means you won't move in to a muddy mess.
5. On Schedule – You Can Plan Your Move with Certainty
The modular home building process is not only fast, it's also protected from the weather which is the major cause of delay during new home construction. So no matter what the weather throws up, construction of your home stays on schedule – and so does your moving plans.
6. Complete Package – Which Means Less Stress for You
There's no denying it – there is a lot to think about and organise when you are building a new home. Plans, permits, reports and ratings can make your head spin – and that's before construction has even begun. With modular homes you get a complete package – which means your consultant will help you with everything from planning to building and completion.
7. Personalised Service – Everything is Taken Care of and You Know Who to Talk To
The first thing a good modular home builder will do is match you to a consultant who will be with you from start to finish. They'll get to know you, understand your needs, be available when you have questions and work with you to deliver your perfect home.
8. Rural Specialists – You'll Save Money on Building in Regional Locations
Modular homes are a good fit for many varied sites and locations – but they are especially good for country and remote areas. It can be much cheaper to build and deliver a modular home to a regional site rather than cover the costs of a team of builders being on-site for months completing your build.
9. Lots of Inclusions – Your Home Will Be Ready to Move in and Enjoy
Some modular homes come with an impressive list of inclusions, so once the build is complete you can walk in and enjoy. This is a big factor in value for money, so be sure to choose a package the gives you bang for your buck.
10. Eco homes – You Can Up the Energy Rating to Lessen Your Impact
Modular homes can have many environmentally friendly features including renewable materials, and it's easy to add sustainability upgrades such as water tanks, double glazed windows and solar power. Through the use of insulation and thermally efficient windows the minimum 6-Star Energy Rating is met – but you can choose to up the rating with the help of an energy rating consultant.
In Closing
With flexible design options, a simplified process and fast turnaround times, modular homes are an increasingly popular choice for people, across Australia and around the world. They are a straightforward solution for those looking to build in both rural and urban areas.
So have you considered building a modular home? It could save you both money and time – and who doesn't want that?

Posted by:
Laurie Raikes
Project Consultant at Anchor Homes