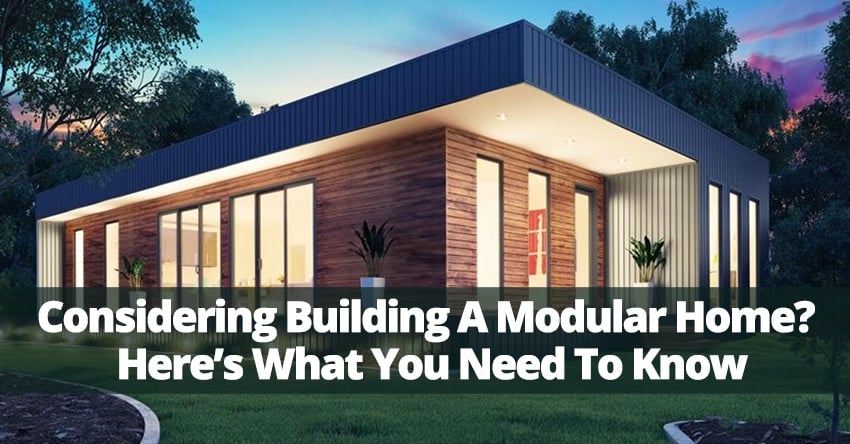 Modular homes are becoming an increasingly popular option for those looking to build their dream home. And why not – they are faster to build than conventional homes, are sustainable, and are often less expensive.
If you're about to embark on a new home build, it's definitely worth considering a modular home, and here are a few reasons why:
Flexible Design Options
When choosing the design for your modular home, you have plenty of options. You can select a home from the standard range, or you can custom design your own home from the ground up. It's also worth noting that if you go with a standard design, it's easy to make changes to create a home that is 100% right for you. So if you're keen to have that verandah, or you want to change things up inside, talk with the designers. They'll work closely with you to produce a home that makes you happy.
Faster Construction Times
A massive advantage of modular homes is that the build remains on schedule – no matter what the weather throws up. Because prefab homes are constructed in an indoor environment, your home is protected from the elements throughout the build. This not only avoids days lost due to bad weather, it also ensures that the materials used to build your home don't get wet, damaged or stolen during construction. This means your home is constructed fast – it can be built and ready to move into in as little as 12 weeks!
Constructed, Transported, Completed
So how is a home built off site? At Anchor Homes, we have a tailor made warehouse-style facility where our production team build your new home from scratch. Here, your home is constructed to approximately 95% completion, which takes between 8-10 weeks.
In the last few weeks of the construction phase, our site team prepare the connections and footings, and prepare your home for delivery. They will then spend around 4-6 weeks adding the finishing touches and optional extras. Then after an inspection, your new home is ready for you.
Inclusions That Complete Your Home
With many new homes, once they are built they are far from complete, and you may still have weeks or months of home improvement jobs left to do. When choosing a modular home builder, look for one who provides cost and time saving inclusions. From preliminaries like drafting of plans, permits and reports, and colour consultations to kitchen cookers, smoke detectors and painting, make sure you are getting value for money inclusions, so you can move in to a home that is ready to enjoy.
Eco-Friendly, Sustainable Homes
Modular homes are by nature eco-friendly – and this includes the build itself. By constructing your home in a factory environment, the typical site disturbance and environmental impact is reduced by up to 90%. In addition, many modular home builders can design your home with the environment and sustainability in mind. By carefully assessing your site features, choosing plantation timber from sustainable sources, and including products in your home that boost the energy rating, your dream home can also be a sustainable one.
Finding the Right Fit for You
Choosing to build a new home is exciting – and it's probably one of the biggest decisions you'll ever make. Every home, every site, and every family is different. While modular homes are the perfect choice for many sites, in some cases a conventional build may be a better fit.
The key to making the right choice is to be prepared. By being clear about what you want in a home and location, you can compare the options and make the best choice for you.

Posted by:
Laurie Raikes
Sales Consultant at Anchor Homes.