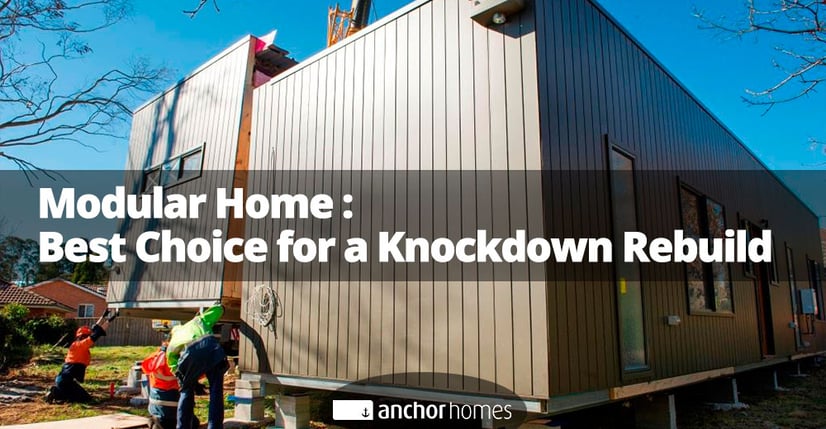 If you've outgrown your home, or it's in need of some serious work, you essentially have three choices: sell, renovate, or knockdown and rebuild. Traditionally, selling or renovating have been the preferred options, however, there has recently been a strong trend towards knockdowns, especially when using modular construction methods for the rebuild.
So, if you're keen to avoid the expense and stress of selling and buying, and the headaches of renovating and extending, then a knockdown rebuild might be the way to go. Plus, if faster construction times, less site impact and more design flexibility appeals, then building a new modular home may be the answer. Here are 10 reasons why.
1. Less time on site
Choosing a modular home for your rebuild means significantly less on-site construction time. When you build a modular home, you'll be looking at approximately 6-9 weeks construction on site, compared to 6-9 months for a conventional build.
2. Save money on temporary accommodation
Because of the condensed construction time of a modular build, you can rent a short-term serviced apartment while your new home is completed, instead of committing to a rental for 12 months. Not only is it easier to find short-term accommodation, it will be a huge cost saving too.
3. Reduced site disruption
The reduced time on site for modular construction means less noise, less traffic and less dirt. While you may not be around to see the disturbance, your neighbours will be. The less time your block is a construction zone, the happier they'll be.
4. An energy efficient new home
Your new modular home is designed and built to be more energy efficient, and this has substantial benefits when compared to working with an older, less efficient home. With increasing power prices, an energy efficient home reduces your bills now, and the savings will really add up over the years.
5. On time and on budget
A new home building contract gives you control over the project costs. When you renovate an older home it can be like opening a can of worms, with added time and costs escalating fast. When you build a new modular home, you eliminate the risk of hidden costs that are often encountered when renovating, keeping your timeline and budget on track.
6. Stay in the suburb you love
With land becoming scarcer and more expensive, and often only available on the city fringe, if you like your neighbourhood it makes sense to stay. With a knockdown rebuild, you can keep the kids at their school, continue to shop at your local supermarkets, get coffee from your favourite café, and most importantly, stay close to family and friends.
7. Build a home with no design compromise
When you choose to extend and renovate, there are limitations to what you can do with your design as you're restricted by your existing structure. With a knockdown rebuild you can design your new home from a blank canvas, making sure it has everything you and your family needs.
8. Save on real estate and stamp duty fees
If you sell your home and move, there are lots of costs that are easily overlooked when planning your budget. Depending on your home and location, you could spend up to $50,000 on non-negotiable selling and moving expenses, money that could be much better spent.
9. Boost the value of your property
When your new home is complete, in most cases, the value of your property will skyrocket overnight. Typically, the value of your new home is far beyond the investment you've made to rebuild too.
10. Less maintenance
New modular homes require significantly less maintenance compared to older renovated homes, which means you'll have more free time to relax. Plus, if something unexpected does happen, you'll have the added benefit of a new home warranty.
Final Word on Modular Homes for a Knockdown Rebuild
If you love where you live, but your house is no longer meeting your needs, a modular rebuild may be the solution you've been looking for. Fast and efficient modular construction times means you'll save money on temporary accommodation and experience less site disturbance which keeps the neighbours happy. Plus, your new modular home can be designed to meet your specific needs exactly and will likely be more energy efficient and require less maintenance than an older renovated home. But the best part is, you'll end up with the home of your dreams – on time and on budget.
Over to You
Are you considering a knockdown rebuild and have a question about modular homes? We'd love to hear from you.

Posted by:
Laurie Raikes
Project Consultant at Anchor Homes