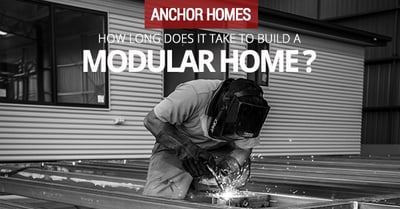 One of the reasons modular homes are gaining in popularity is that they have a much faster build time than traditional houses.
The idea of being able to move into a completed home in a matter of weeks from choosing a design is an attractive prospect for a lot of people.
Here we'll look at exactly how long it takes to build a modular home, from the pre-planning stage right through to handover.
Time Needed to Build a Modular Home
From the time of choosing a design through to moving into the home usually takes around 12-16 weeks.
Detailed Breakdown of Time
Pre-contract phase (not included in build time)
Factory building phase: 8-10 weeks in factory
On-site building phase: 4-6 weeks on your land
Pre-contract phase
The pre-contract phase covers the necessary documentation to proceed into the contract (building) stage of your new home. The following is addressed during the pre-contract phase:
Working drawings
Energy rating as per your local state laws
Site survey
Soil report/classification
Wind rating
Any bushfire threat assessment required under your local laws
Colour consultation / specifications
Planning application (if required)
Once the pre-contract phase is complete, the contract is initiated we apply for a building permit. Once the permit is received, we begin building your modular home in our factory.
Factory building phase (8-10 weeks)
This phase can take anywhere from 8-10 weeks depending on the size of the home. Your home is constructed to around 95% completion right here on our factory floor before being transported to your land.
On-site building phase (4-6 weeks)
Once the home is moved from our factory to your land, allow another 4-6 weeks for completion. It's during this phase that the following is done:
The various pieces of the home need to be joined
Sub floor installed
Site connections are put in (e.g. power, water, sewerage, etc.)
Any decking/verandahs is installed (if part of the home)
Any optional extras are fitted (e.g. air-conditioner, wood heater, etc.)
Other Considerations
Around 50% of properties need a planning permit
The above timeline is assuming the planning permit phase is relatively fast. We've found that historically around half of our clients' properties need a planning permit prior to building. Planning permits can take on average from 3 - 4 months to be issued, but they generally won't slow the build down by that full amount of time because you can still be doing the pre-contract phase while the permit process takes place. (Next week we'll be publishing a detailed article on modular home planning permits so be sure to subscribe to our blog to be notified.)
What about the time taken to prepare the land?
The time to prepare your land for a new modular home does not need to be added on because we do this while your house is being built in the factory. Around 1-2 weeks prior to the build being completed we send a crew to your land to prepare footings for the new home. Any excavation work needed to prepare your land is also performed at this time.
Where does finance come into it?
Getting finance on a modular home is fairly straightforward, and a lot of work can still be done while you're obtaining finance from your lender. For example, you can initiate the pre-contract phase before finalising finance, which will give you 4-6 weeks to gain final approval (or pre-approval) on your finance prior to entering the contract/build phase.
Conclusion

As you can see, the time taken to build a modular home is a fraction of the time compared to building a traditional home, which can take anything up to a year or more. A modular home, on the other hand, takes an average of 12-16 weeks from design through to completion, making modular homes an extremely cost-effective and efficient choice.

Posted by:
Laurie Raikes
Project Consultant at Anchor Homes