3 Popular Modular Designs for Downsizers
September 18, 2021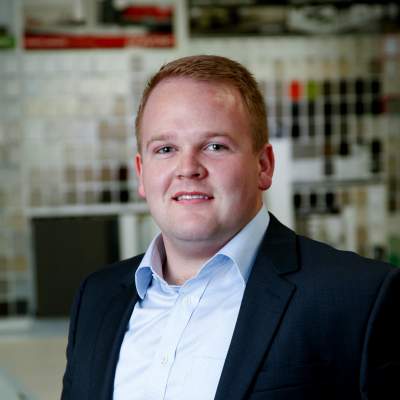 These days, more and more retirees are choosing to downsize their home – and for good reason. With the chance to build a brand-new home that is stylish, low-maintenance and in a location you love, downsizing can seriously enhance the comfort and lifestyle of your retirement.
If you do decide to downsize, how do you find the perfect design? With so many options it can be hard to choose, so we've handpicked 3 of our favourite compact, feature-packed modular homes to help you uncover the best fit for you.
Flinders 12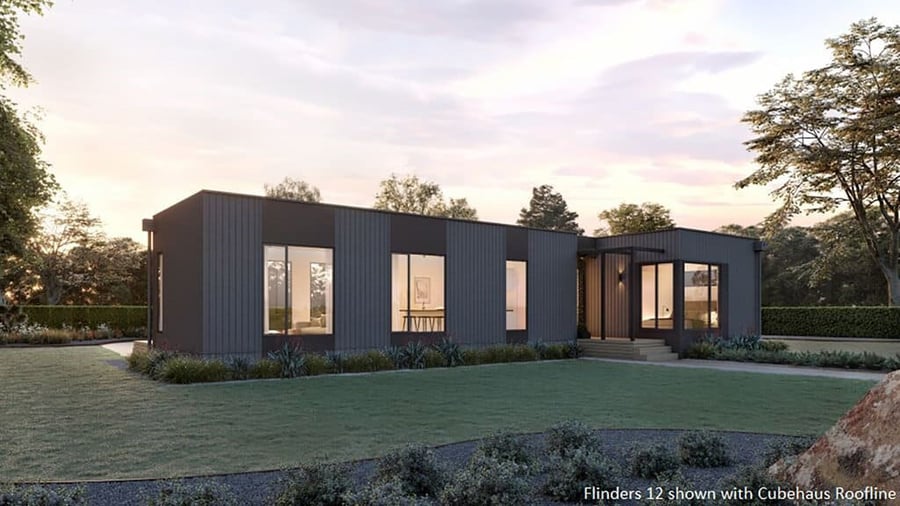 Flinders 12, front view
As one of our largest and most luxurious two-bedroom homes, there's a lot to like about the Flinders 12. The floor plan has been designed for flexibility and ease of use, offering plenty of features not usually found in a home of this size, including a walk-in pantry, standalone laundry and formal entry. You can also take your pick from three façades that come with standard pricing, allowing you to match your home to your taste and surroundings.
The large living zone is complemented by the optional decking which runs the full length of the room along the back of the house, extending the space and welcoming the outdoors in. The bedrooms are a great size and feature walk-in robes, and are positioned on either side of the bathroom in a separate wing, allowing you to easily zone them off to save on heating and cooling bills too.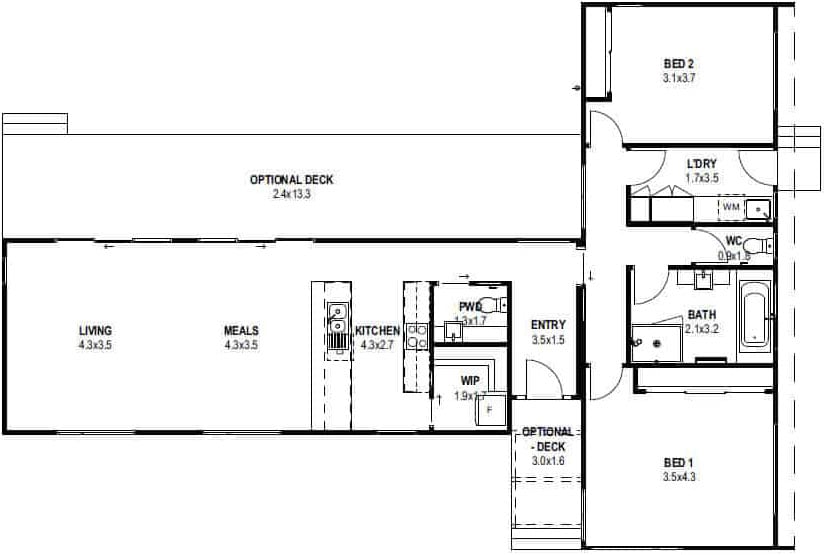 Flinders 12 floor plan
Dimensions and area: 12.6 x 18.8m/ 131.6m2
Standard facade and ceiling height: Cubehaus/ 2700, Modern gable/ 2400 raked, Skillion/ 2400 raked
Design highlights: Full-length optional deck along living zone, modern style, three façade options.
For current pricing and inclusions, download our pricing guide.
Suburban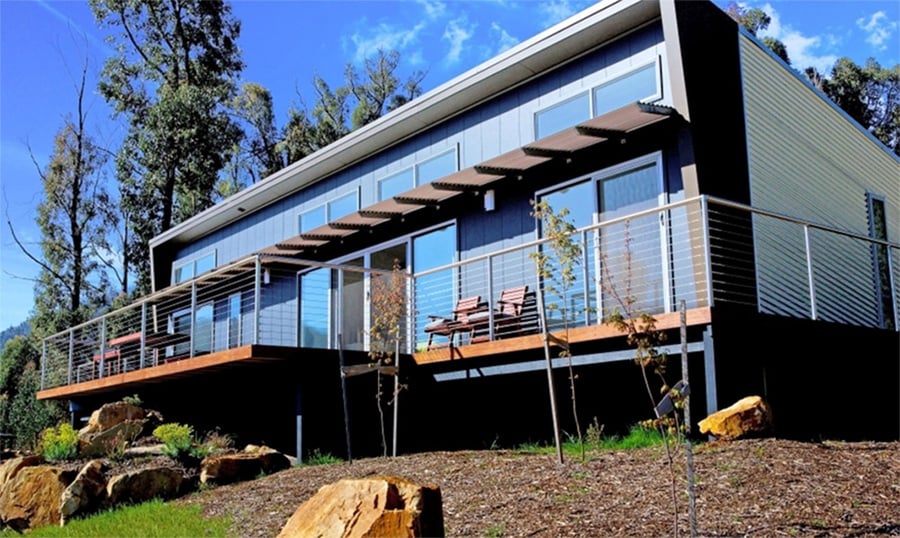 Marysville project – Suburban
The two-bedroom Suburban has long been one of our most popular designs and it offers plenty of features and value. As our smallest home, it's ideal for downsizers looking for a compact, low maintenance home that suits urban, rural or coastal living.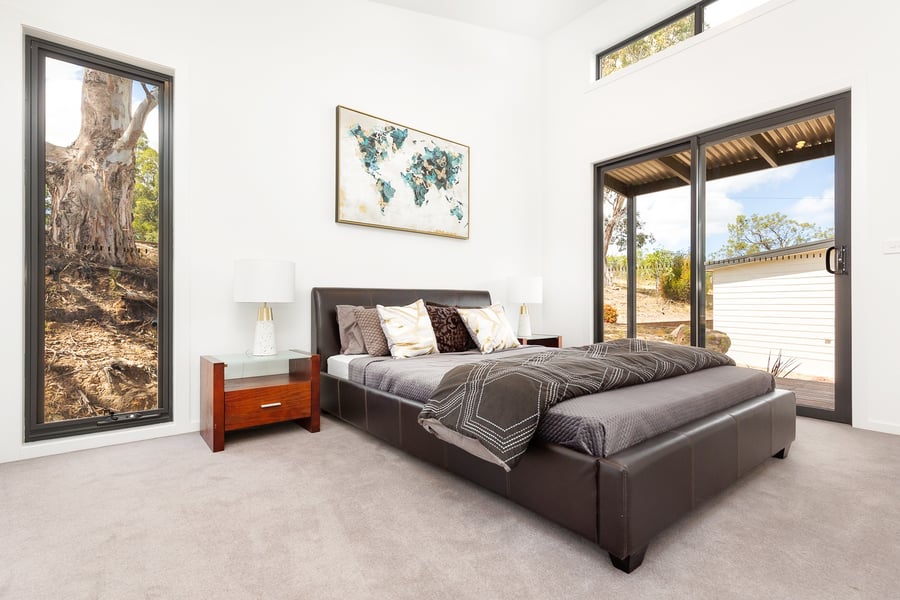 Stratford display home – Suburban
The light-filled living zone with its raked ceiling and highlight windows is bright and breezy, and opens out to the optional front deck. This creates the perfect setting for taking in the views while you enjoy a cuppa or meal. The bedrooms are a great size and open out to the decking via sliding doors too. You can take a peek inside this beautiful modern design by viewing the gorgeous Marysville project, taking a trip to our Stratford display centre or checking out our virtual tour from the comfort of your couch.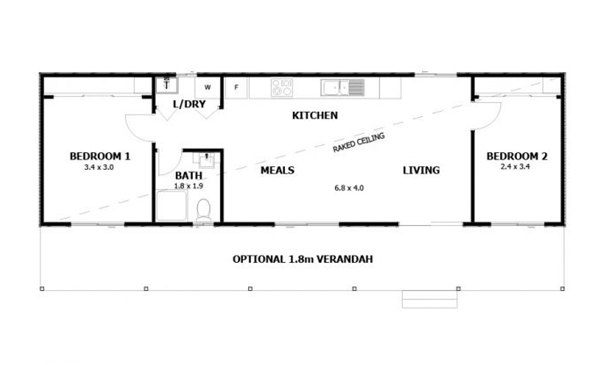 Suburban floor plan
Dimensions and area: 15.6m x 4.8m/ 74.9m2
Standard facade and ceiling height: Single skillion/ raked
Design highlights: Smart design, light-filled, great value.
For current pricing and inclusions, download our pricing guide.
Tambo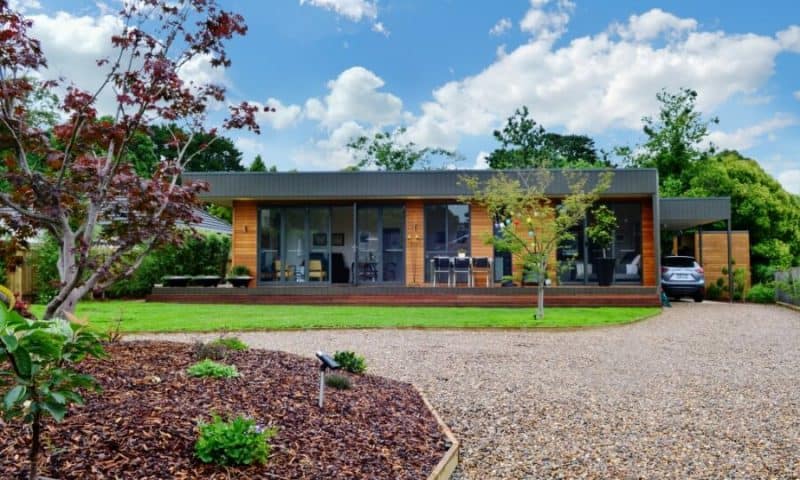 Tambo - Bowral, NSW
With the modern cubehaus façade and optional open deck that runs the length of the front of the house, the 3-bedroom Tambo is the ideal home to enjoy your retirement. Large bi-fold doors open out off the living zone to let the outdoors in and create an easy flow to the deck. The kitchen includes a large walk-in pantry, and the master bedroom includes an ensuite and walk-in robe. The extra bedroom and bathroom make it an ideal choice for retirees who often have family or visitors stay. You can see a customised version of the Tambo in our Bowral project (shown above).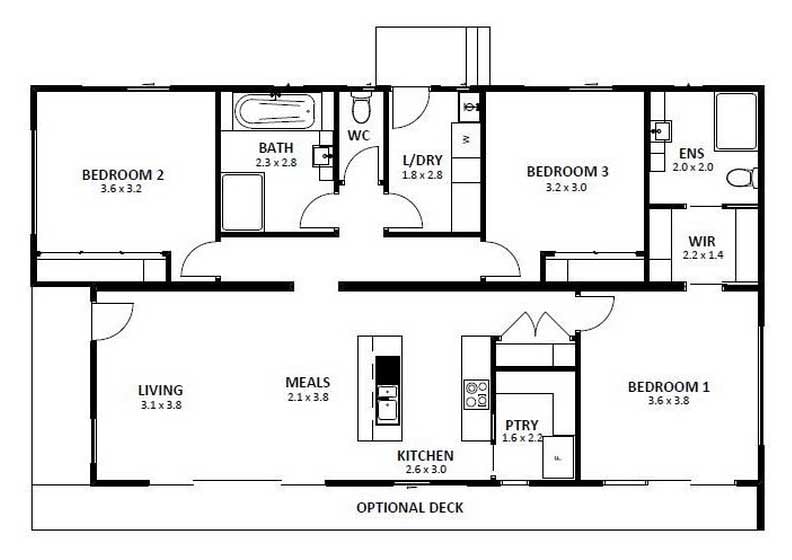 Tambo floor plan
Dimensions and area: 14.7m x 8.9m/ 112.5m2
Standard facade and ceiling height: Cubehaus/ 2700 level
Design highlights: Bi-fold doors to decking, modern look, high ceilings.
For current pricing and inclusions, download our pricing guide.
The right home can take your retirement to the next level
Downsizing to a home that suits your needs and lifestyle now can make a massive difference to your enjoyment of life. Rather than spending time and money trying to keep up with the many tasks a larger home requires, you can relax, sit back and enjoy a slower pace of life, where your days are filled with good times instead of chores.
Over to you
We've built lots of homes for downsizers across Victoria and NSW, so if you'd like to discuss your ideas, or have a question about any of our designs or modular process, we'd love to hear from you. You can get in touch with our team on 1300 946 815 or post a comment below.