Are Modular Homes A Good Choice for an Airbnb Rental? [Case Study]
October 04, 2018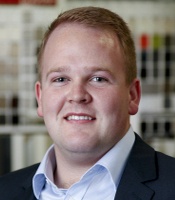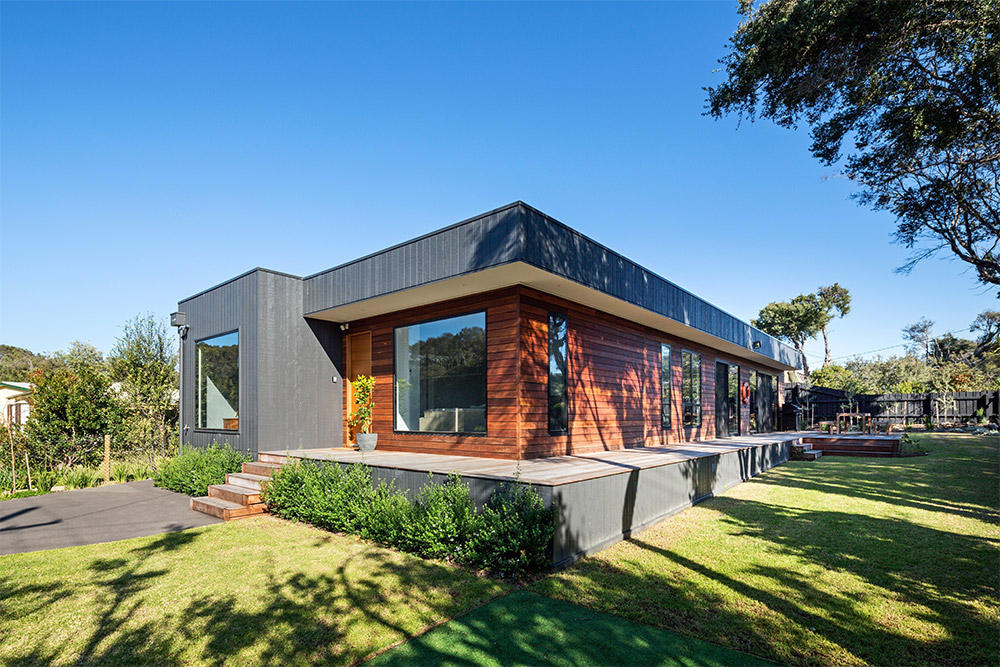 If you're looking for short-term accommodation that offers a unique and memorable experience, Airbnb is the place to go. With millions of listings globally, you'll find everything from apartments, studios and houses, to castles, boats and yurts - and plenty of other stunning and quirky options in between.
With its recent increase in popularity, it's no surprise that many Australians are jumping onboard and renting their own properties on Airbnb to earn additional income.
So, if you're considering building an Airbnb rental, is a modular home a suitable choice?
The answer is yes! Here's how our clients Michelle and Barry recently turned their beautiful modular home in Rye into a successful Airbnb beach house rental.
Modular is a Fast and Easy Way to Build a Quality Holiday Rental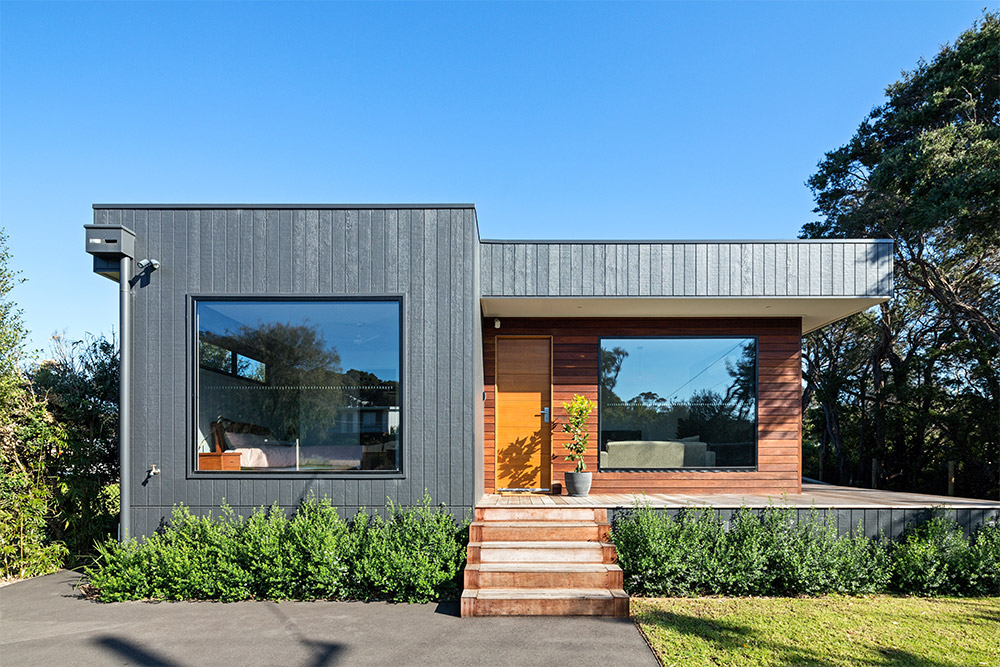 For Michelle and Barry, choosing a prefabricated home over a traditional site-built one ticked some important boxes. The time frame for completion was much faster, and because their home was built off-site, they could visit the factory when it suited them, and not be tied to meeting builders on-site.
"We were building a holiday home and didn't have time to meet a traditional builder on site over what could have been a lengthy process. During our build with Anchor Homes we made one or two trips to Stratford and that was a huge time saver for us. The construction time frames were a lot less than traditional builders and suited our own timing too." ~Michelle and Barry
The decision to go with Anchor was made after a visit to the showroom to see the homes up close and meet with the team to see if they were a good fit for the project.
"We visited the showroom and were impressed with the quality of the homes that we saw being built on site. We love that it's a family business and the staff were very knowledgeable and gave us confidence to go ahead with the build." ~Michelle and Barry
The Stylish and Flexible Designs of Modular Homes Are Perfect for Airbnb
The spacious and well-appointed Shoreham 19 design is an ideal choice for a holiday rental catering to larger groups. With multiple living zones, four bedrooms and a spacious outdoor deck for entertaining, it can easily accommodate up to 12 guests.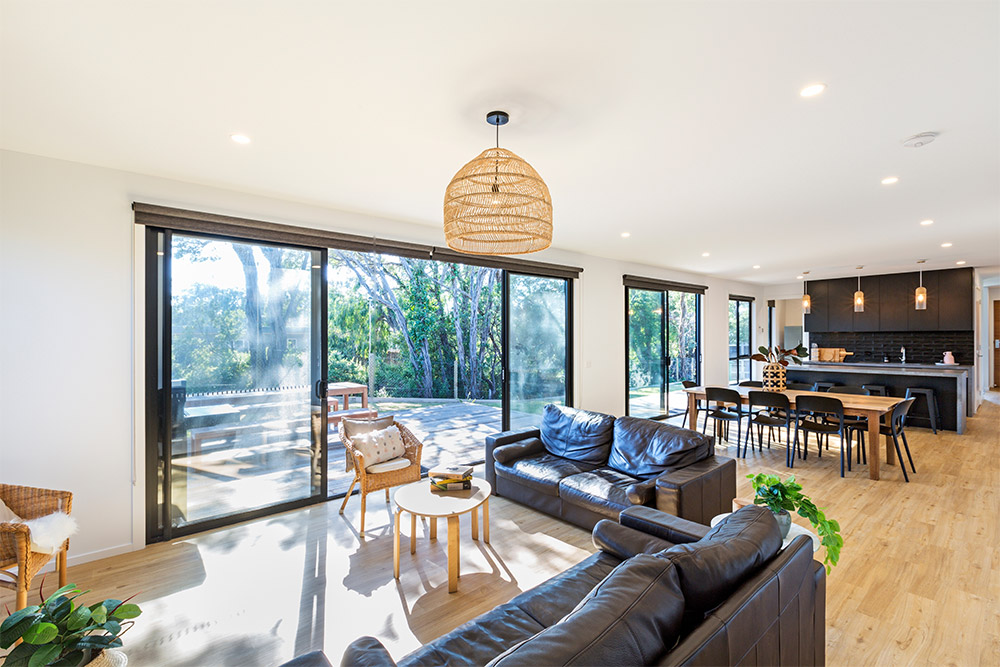 "With two living areas and open plan living our home accommodates two families very comfortably, along with guests that might pop in from time to time."~Michelle and Barry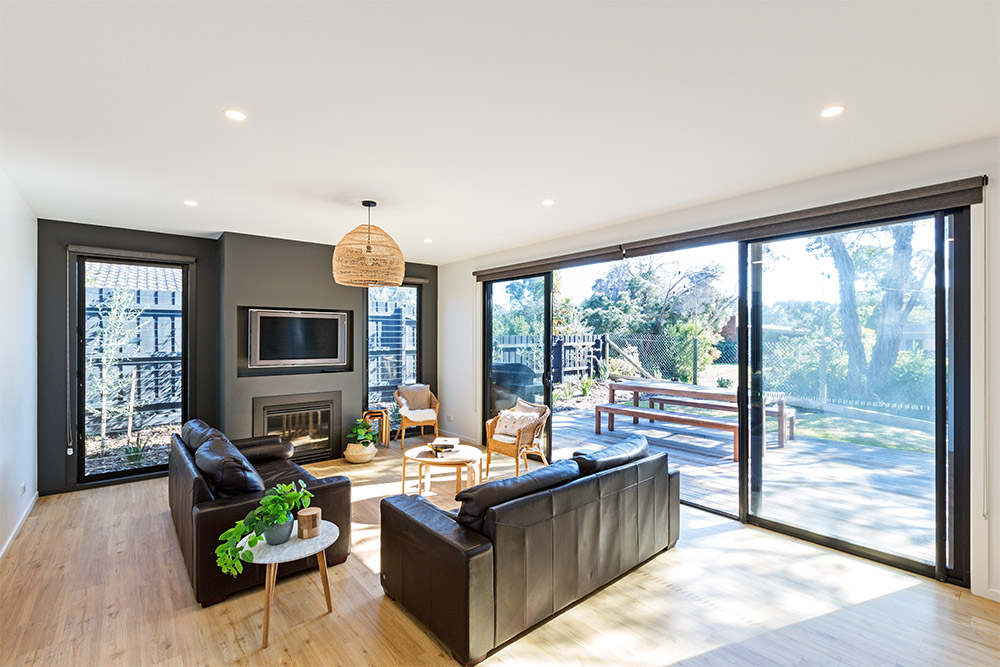 The hosts have also managed to create a cosy and intimate feel through some well-chosen upgrades and clever design features. This makes it great for couples or smaller families to enjoy some quality time together too.
"Anchor were very open to us customising our home. We've adapted the floorplan and added a few luxury upgrades and a fireplace which really adds to the ambience for friends and guests. It's become a very special place for us with many fond memories."~Michelle and Barry
Beautiful Inside and Out to Make the Most of Every Season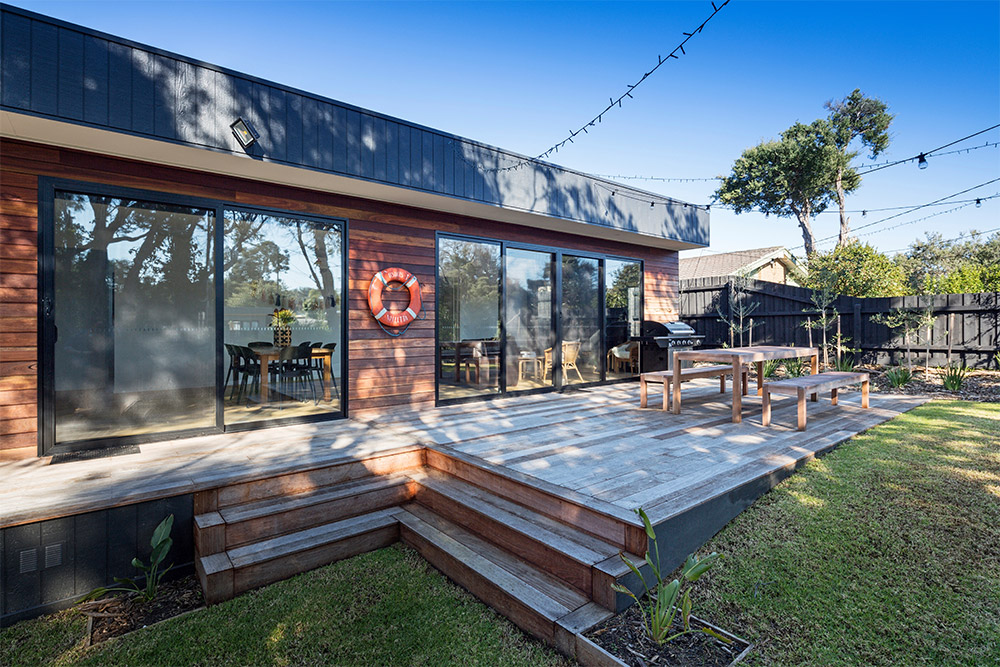 Another important requirement for a holiday home is that it's equally enjoyable in both the warmer and cooler months. As this home is situated on the coast, an outdoor space to enjoy the balmy summer nights and sea breezes was a must.
"We spend a lot of time entertaining, so in summer our oversized deck and BBQ area has been wonderful. We've enjoyed a drink and game of backyard cricket as the sun sets, followed by an outdoor fire into the night with the kids cooking marshmallows." ~Michelle and Barry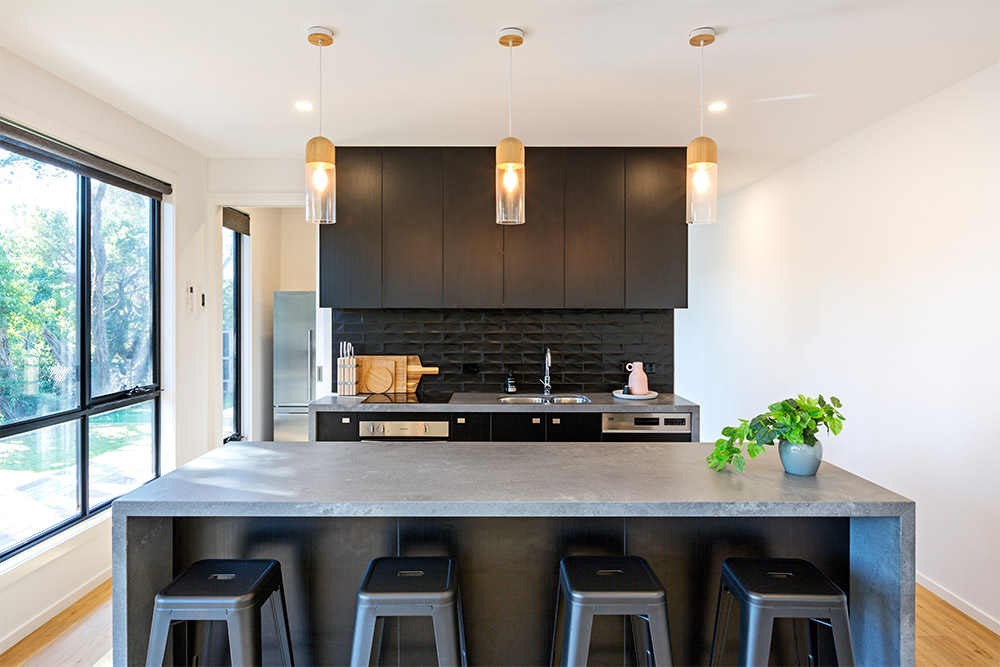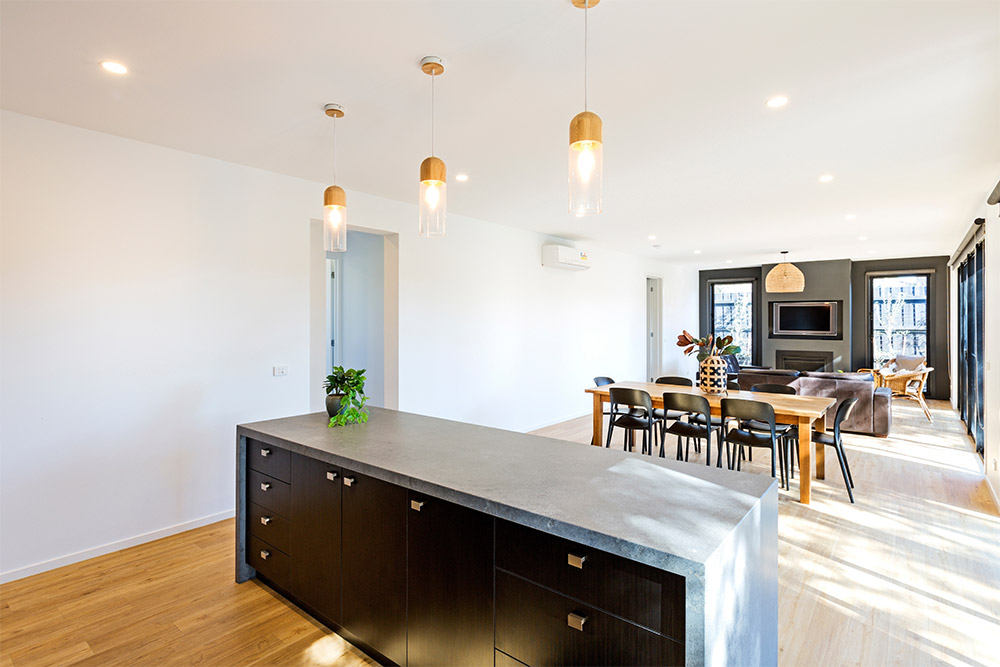 The spacious layout and well-appointed kitchen and living area makes staying indoors when it's cold enjoyable too. The second separate living area provides space for families to spread out and do their own thing, while the wall-mounted fireplace adds the perfect ambience to wintery days.
"In winter it's our kitchen and open plan living area which is a communal hub, where we can make a slow coked meal and enjoy a cheese platter by the fire while the kids are happily watching a movie in the second living area."~Michelle and Barry
A Stunning Holiday Retreat and Successful Airbnb Rental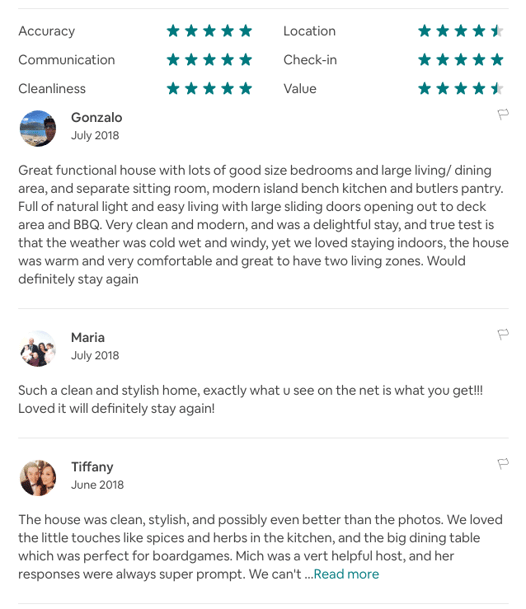 Michelle and Barry have already experienced great success renting their modular home on Airbnb. With just the right blend of luxury and comfort, it's an ideal holiday retreat for both their own family and Airbnb guests.
"We love our finished home. Over the warmer months it was rented out most weekends and as the colder weather set in, we've rented the home on alternative weekends which we are very happy with. The quality is great, and we've had many compliments from friends and Airbnb guests alike." ~Michelle and Barry
The Verdict? Modular Homes Are an Ideal Choice for Your Airbnb Rental
If you're looking for a fast and stress-free way to build your own holiday rental, modular homes are a great option. The speed and convenience of the off-site building process make it easy to manage around work and other commitments.
Plus, the large range of stylish and modern designs and the flexibility to customise in endless ways allows you to create a holiday home that's the perfect fit for both your own family getaways and your future Airbnb guests.
Here's a final thought from Michelle and Barry on partnering with us to build their prefabricated home:
"The sign of a great builder is the quality of their work and how they respond to requests for changes and small rectification items. Anchor Homes has a great team of builders and trades who take pride in their work. They've always obliged our requests with the result being a superior quality build. We would absolutely work with them again and have recommended them to friends and colleagues." ~Michelle and Barry
Over to You
Would you like help finding the perfect modular home for your dream Airbnb rental? Get in touch with our friendly team for expert advice today.
Alternatively, you can post a comment below or on our Facebook page – we always enjoy hearing your thoughts and answering your enquiries!