How to Choose the Best Flooring for your Modular Home
December 01, 2017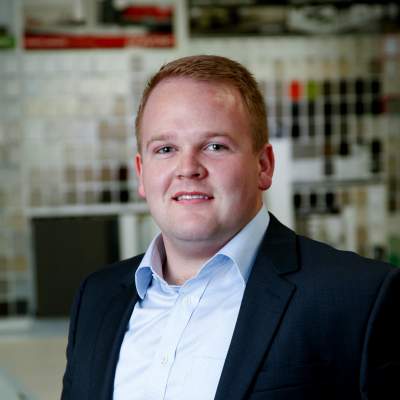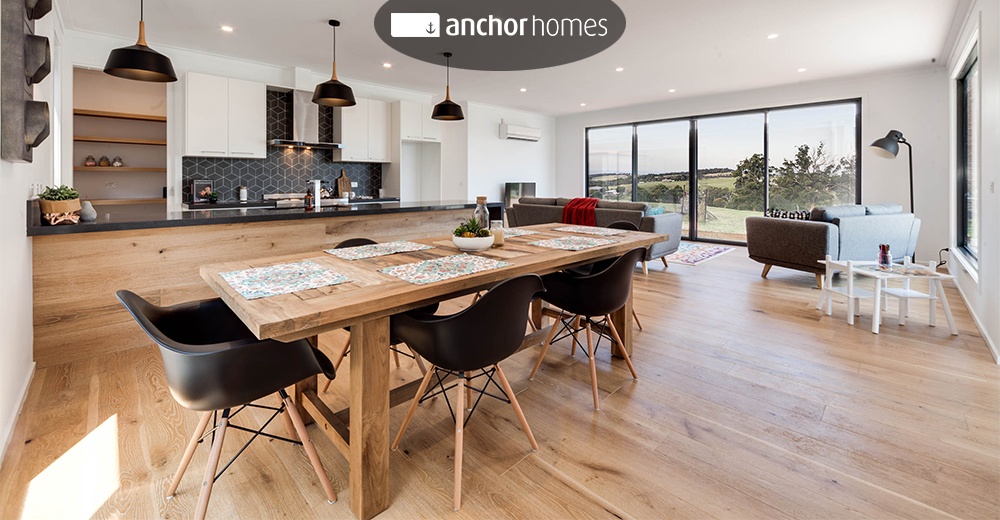 When you're building a new modular home, your choice of flooring has a big impact on the end result. Not only does it play a role in the look and atmosphere of every room, it also affects the comfort of you and your family for many years to come.
With the huge range of flooring materials, styles and colours that are now available, it can be hard to know where to start.
To help simplify the process, we'll explain how to narrow down the choices to find the right match for you, and give you an overview of our most popular flooring for each room of the house.
Key Flooring Considerations
Your flooring will likely be with you for a while, and because it's difficult to change, you really want to get it right first time. Try not to turn up to your design consultation empty-handed – put some thought and effort into it beforehand.
Magazine cuttings and Pinterest boards are great for getting ideas, but they are often based purely on the look, without considering your practical needs.
To get a clearer idea of the best choice for your lifestyle, ask yourself these 5 questions:
What will the room be used for?

How much foot traffic will there be?

Which option will best match your family's lifestyle?

What is the overall look you are trying to achieve?

And, importantly, which option fits into your budget?

When you meet with our colour consultant, they'll offer expert advice to help you find the best fit, but it's a much faster process when you come prepared with answers to the above.
Flooring Types
There are lots of flooring type, and each has its own unique features, pros and cons. Here, we'll take a closer look at the 4 most popular flooring options we see in our modular homes – vinyl plank, hardwood timber, carpet and tiles.
Vinyl Plank Flooring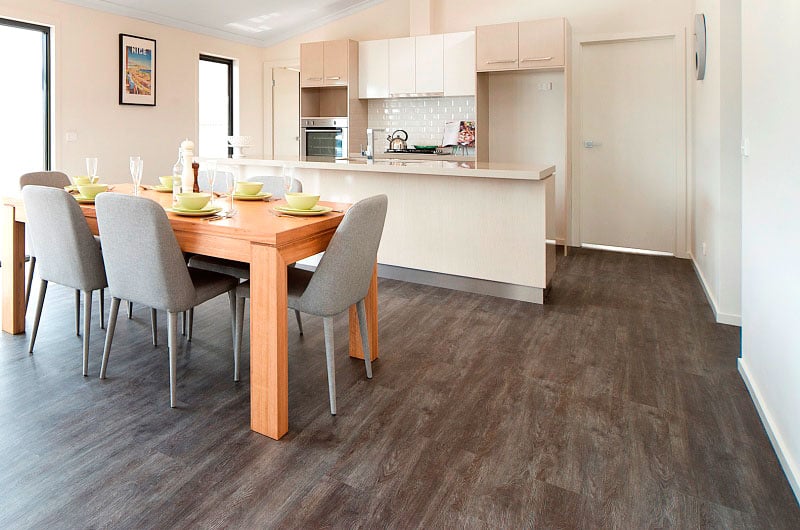 Vinyl planks are versatile and hard-wearing, they look great, and they're easy to maintain. Plus, because they're laid in individual planks, it's simple and relatively inexpensive to replace small sections if damage occurs. Durable and soft underfoot compared to other hard floors, they are perfect for high-traffic areas.
Included in our base price for all kitchen, meals, dining and living areas, you can choose from a wide selection of colours in the standard range to suit your personal taste. You can also opt to use them in bedrooms, which is a smart choice for beach houses or families with allergies.
Hardwood Timber Flooring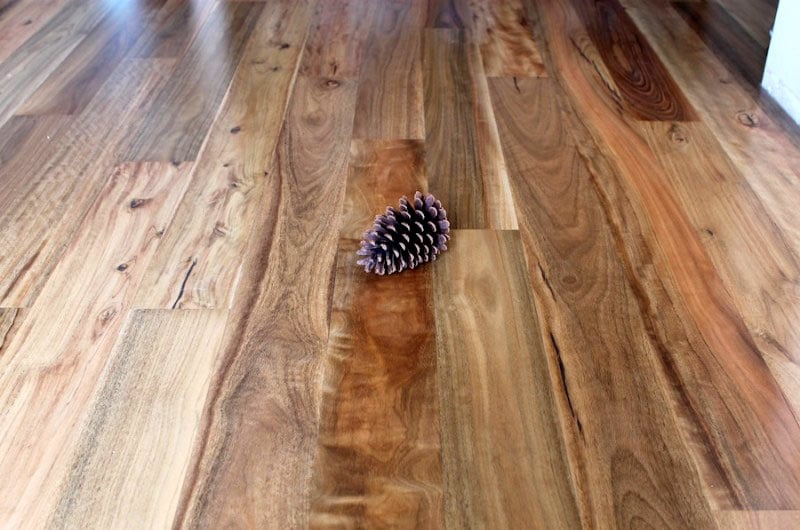 Timber flooring looks beautiful, is stylish and is easy to keep clean. There are many timber species used for flooring, which means there are plenty of finishes and colours to choose from. It's worth keeping in mind that if used in high traffic areas, hardwood timber will require some maintenance to ensure it always looks its best.
Usually a buff and recoat every 3-4 years will do the trick, however, if the floor is badly scratched, it may require re-sanding, which can be time-consuming and expensive.
Available as an upgrade option, timber flooring has excellent thermal and sound-proofing properties, and is a great choice if your budget allows. It makes a real statement in your living areas and can also be used in your bedrooms if you wish.
Carpet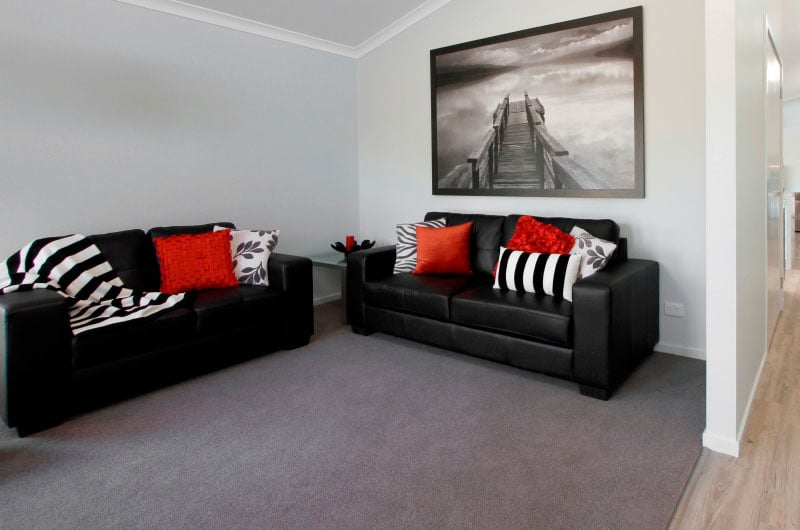 For warmth and comfort, it's hard to beat carpet. Although it's not as widely used in the main living areas these days, carpet is still a popular choice for rooms where it's nice to relax and get cosy.
Carpet keeps your home cooler in summer and warmer in winter, and is soft and non-slip. It's easy to maintain, but stains can be hard to remove which can spoil the look.
Carpet for your bedrooms, lounge and theatre room is included in our base price, and you can pick your favourite colour and style from the many choices in the standard range.
Tiles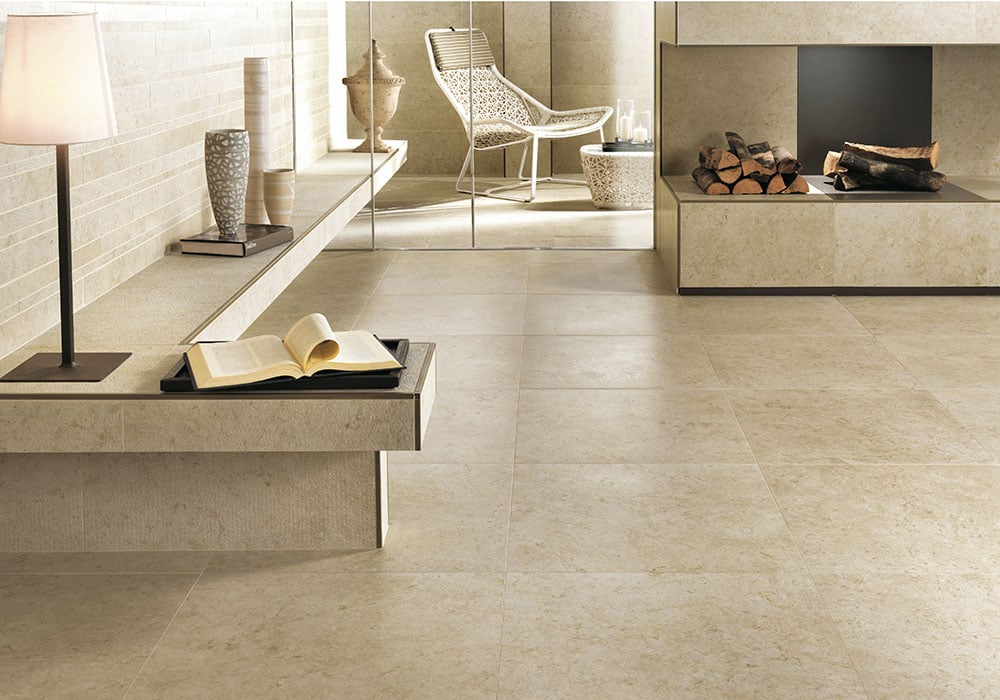 Tiles are a must for wet areas, and they can also be used in other rooms like the kitchen, or even throughout the whole house. Tiles are hard-wearing and moisture-resistant when sealed.
They are easy to look after and are lovely and cool to walk on when the weather is hot. However, during the colder months you may need to invest in some warm slippers or rugs.
Included in the base price for your bathrooms and laundry, there's a great selection to choose from in the standard range.
Final Word on Flooring
There's a huge range of flooring options available – so whether you go with vinyl planks or timber throughout, or mix it up with carpet and tiles, with a little preparation and expert guidance, you can find the perfect fit for your taste and lifestyle.
Over to You
Do you have a flooring tip to share? Or a question about flooring options for your new home? We'd love to hear them!