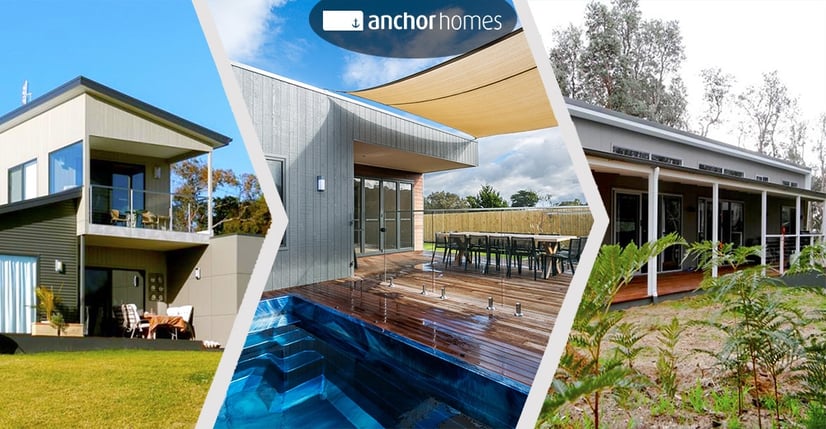 If you're considering building your dream house by the sea, a modular home can be a great choice. We have completed many beautiful beach house projects over the years and thought we'd share three of our favourites here. So, read on for some inspiration – who knows, maybe 2018 will be the year you make it happen!
Lake Tyers Beach - 3BR Anglesea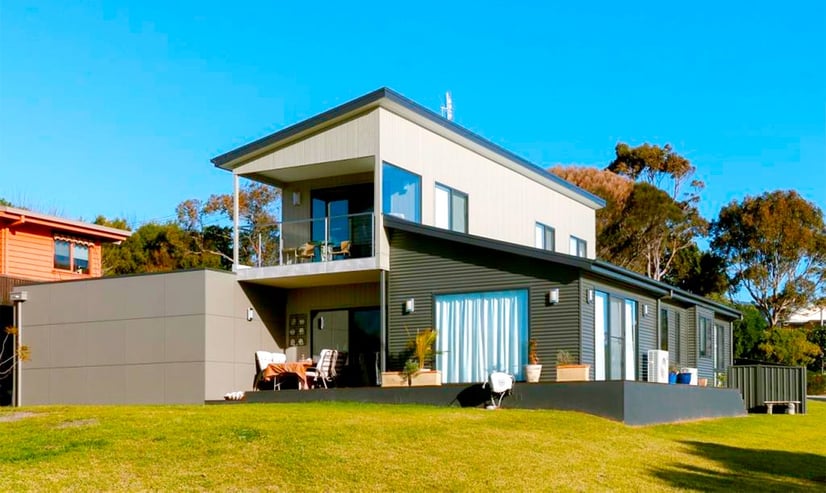 When our clients decided to move from Melbourne to live on the water at Lake Tyers Beach in Gippsland, they wanted their new home to be spacious and modern. They found the right fit with this customised version of our two-storey Anglesea design.
With three bedrooms and three bathrooms, the Anglesea has plenty of room to accommodate the whole family when they come to stay. For this project, the lower floor was flipped to take advantage of the stunning views, and the outlook is also enjoyed from the upstairs and ground floor decks. The cost to build the Anglesea design, including the optional garage, is $319,340 (at the time of writing), which offers great value for money for a large coastal home.
Rye - 5BR Shoreham 19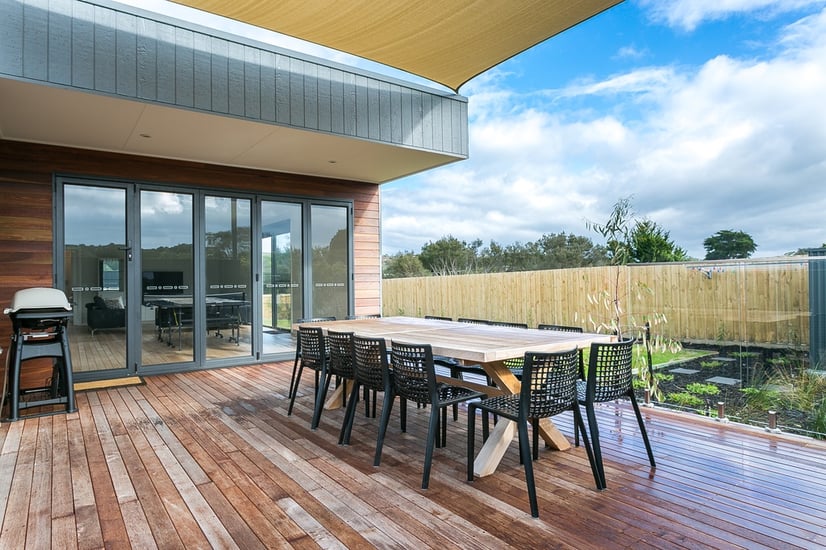 Our Shoreham 19 design has been customised to create a stunning beach house in Rye, on the Mornington Peninsula in Victoria. With five spacious bedrooms, and the addition of an ensuite and WIR on Bedrooms 1 and Bedroom 2, there is lots of room to accommodate a large family or holiday group.
The engineered oak flooring, stone benchtops and 9ft ceilings give the home a bright and airy feel, that's perfect for beachside living. The spectacular outdoor space includes a large alfresco and in-ground pool, and the Cubehaus façade brings a stunning modern look to the exterior. With a total build price of approximately $375,000, this Rye beach house is the complete package.
Golden Beach - 3BR Suburban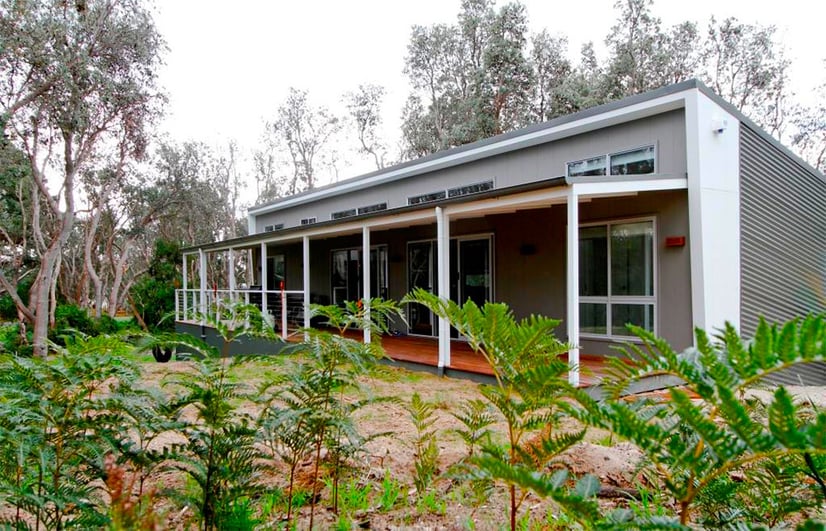 This stylish and modern take on our Suburban design looks right at home tucked away in the quiet settlement of Golden Beach, along the Ninety-Mile Beach in Gippsland. The addition of an extra bedroom and WIR offers extra space, and the inclusion of the optional verandah along the front of the house provides the ideal spot to relax and enjoy the serenity.
The interior includes feature walls in the living area and bathroom that add a personal and unique twist to this stunning beachside home. Our Suburban design is one of our most popular homes, due to its compact design and affordable price point. With a base price of just $145,950 (at the time of writing), it's a great choice for a beach house in any location.
Modular Is a Great Choice for Your Dream Beach House
If you're dreaming of building a home by the sea (and who isn't!) modular homes are a great option. With a huge range of totally customisable designs for small, medium and large homes, there are lots of choices for families of all sizes. So, whether you're thinking of a permanent move to the coast, or looking to build a holiday home to rent, a modular home could be the ideal choice.
Over to You
Do you have a question about our beach house designs? Or would you like some advice about your own beach project? We'd love to hear from you!

Posted by:
Laurie Raikes
Project Consultant at Anchor Homes