What's it Like to Build a Modular Home? 4 Clients Share Their Stories
May 21, 2022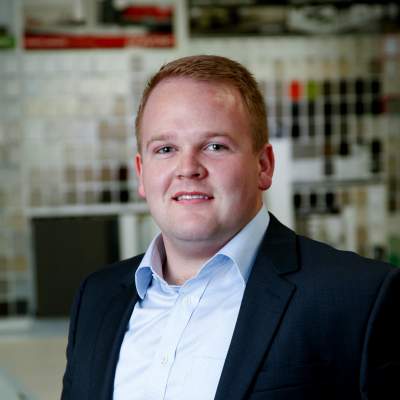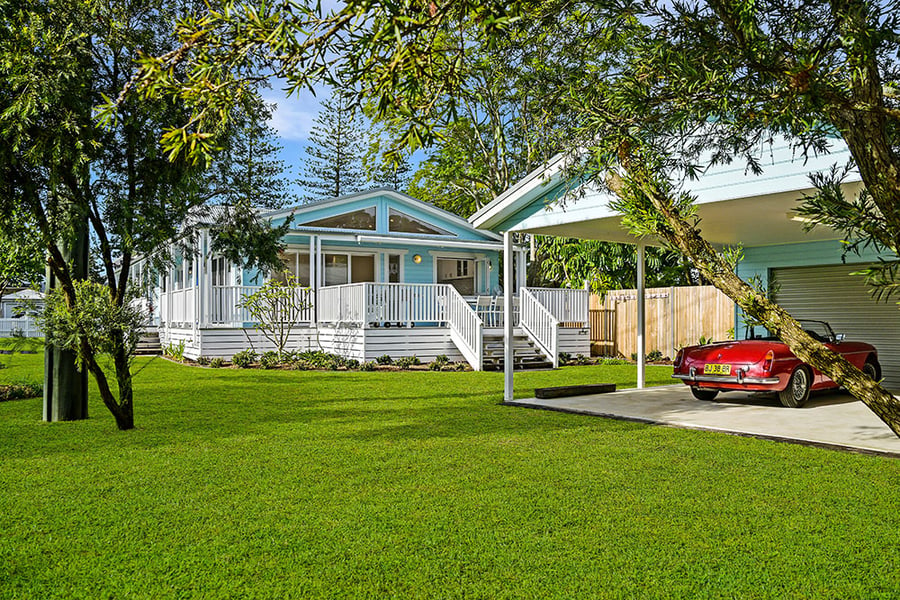 Are you considering building a modular home and wondering what it's like to build with us?
The best people to ask are our customers—and in this article we've pulled together four client stories where they share their thoughts and experiences of building their dream home.
From a luxury two-storey beauty in the bush to a custom modern classic by the beach, each of these homes are fabulously unique and have been designed and built to suit the individual needs, tastes and characters of our clients.
So read on for ideas, inspiration and some handy insights into building a modular home.
Marilyn and Nick, Daylesford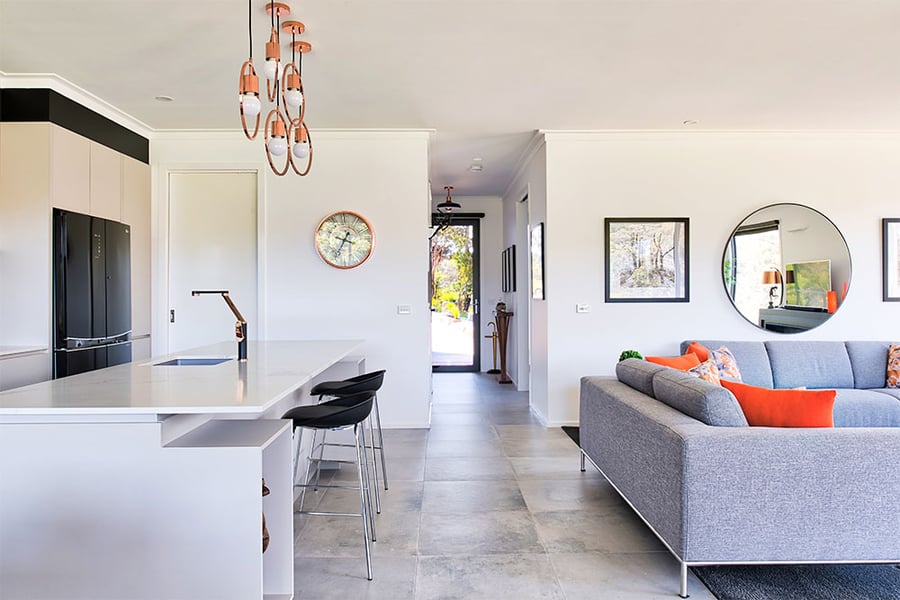 Luxury living zone
Design: Barwon (customised)
Must-have features: Luxury fittings, built to BAL 29.
Highlights: With its striking modern cubehaus façade and contrasting feature cladding, the Daylesford project makes a statement in the beautiful natural setting. Inside, everything has been handpicked to perfection, from the lighting to the feature fireplace, and the end result is stunning.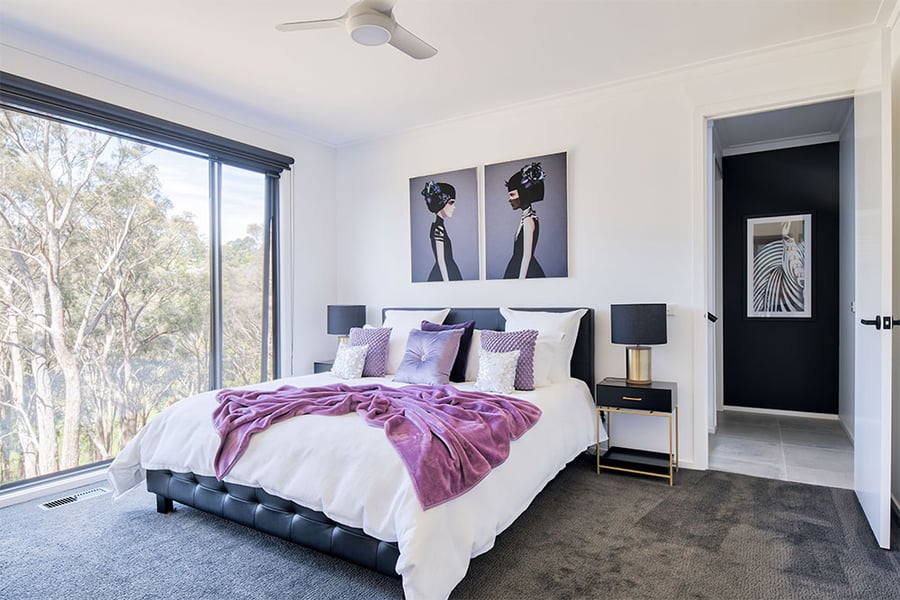 Master bedroom
What our clients say
'We engaged Anchor Homes to build our new home in Daylesford. After our initial conversation with Lester Raikes, we immediately felt comfortable and confident about working with him—he was thorough, knowledgeable and listened to our brief on what we hoped to achieve.
Being flexible was certainly a bonus for us, as we had specific design ideas on the layout and fit out of our home to suit our lifestyle, and to maximise the views from our sloping block. The turnaround time was also a major factor in building a modular home.
All the staff and trades were very courteous and nothing was ever too much trouble. We are very happy with our new home and would highly recommend Anchor Homes to anyone thinking of building.'
John and Jill, Patonga Beach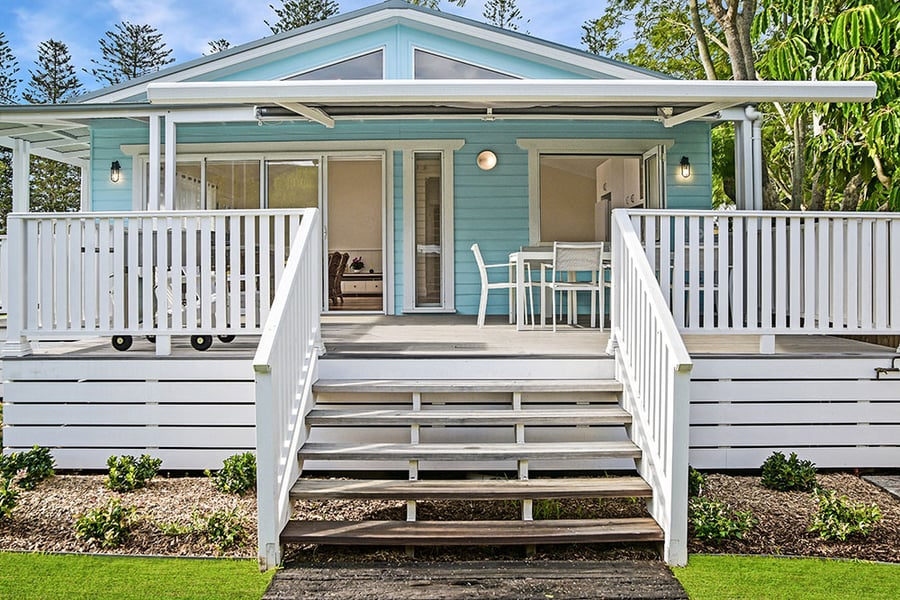 Deck for outdoor entertaining
Design: Fully customised
Must-have features: Heritage fittings, beach federation style.
Highlights: Striking the right balance between modern comfort and classic appeal, 'Sunny Corner' lives up to its name in every way. From the gorgeous wraparound verandah and large outdoor deck, to the stunning light-filled extra large living room, our Patonga Beach project is a coastal home that's a joy to come home to.
Spacious living zone
What our clients say
'Not a day goes by that someone doesn't comment on how amazing Sunny Corner looks! It has been the most satisfying, fulfilling experience and the result is a house that's a joy to be in and we are proud to own. Ken and Lester, the design and production team, and all the trades people have done an amazing job. The finishes are absolutely superb, faultless.
Patonga Beach is on the Central Coast, one-and-a-half hours north of Sydney on Broken Bay at the mouth of the Hawkesbury River. It is a small fishing village separated by a national park and serviced by a road and daily ferries from Palm Beach. The village has a colourful history and a proud heritage that is valued and preserved by the community. The property has been in our family for more than 40 years and has seen four generations enjoy it. The original home was built in the 1930s, but despite several renovations and numerous repairs it was no longer serviceable. To replace this much-loved house, we wanted to preserve the feeling of the village and had a very specific style in mind. We call it 'beach federation', a reflection of the Australian federation style with a lighter more casual beach feel, with verandahs around, not unlike the Queenslander style, but not as high off the ground.
When Lester said that Anchor Homes could do this for us, I must admit I was a little sceptical. But yes, they met every one of our expectations and more.
They allowed us to put our own personality into the design and finishes. As long as we stayed within transportation limits, we could have whatever we wanted. We added ensuites, louvre windows, restyled bathrooms, made a huge open plan kitchen/living area and a large entertaining deck area. We were able to select non-standard fittings to match the federation style throughout. Bathroom fittings and door furniture from Early Settlers, lights and heritage ceiling fans from Beacon Lighting, heritage style skirting boards, architraves, internal panelling, weatherboards, heritage floor tiles, baths, toilets, showers and a stained-glass front door. One thing that I have to say is that the more time you spend in the design stage planning finishes, selecting fittings, tiles, appliances, lighting, etc., the happier you will be with the finished product.
I would recommend to anyone thinking of building a new home or holiday house to seriously consider Anchor Homes as a really viable option.'
Deborah, Marysville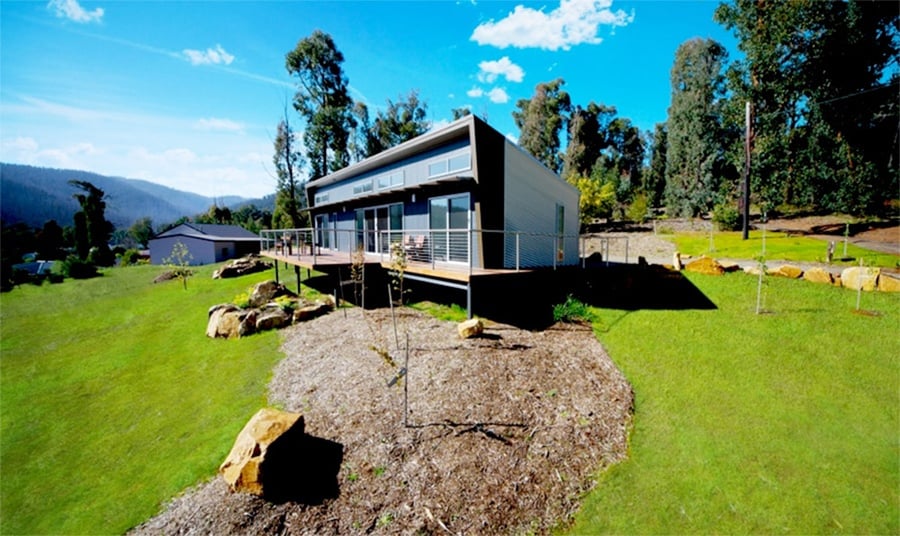 Elevated front deck
Design: Suburban
Must-have features: Capture the views, quality modern fittings.
Highlights: Set in an elevated position with plenty of privacy, the Marysville project is small in size but big on features. The front deck is accessed via the living room and the two bedrooms, making it easy to step out and enjoy the breathtaking views.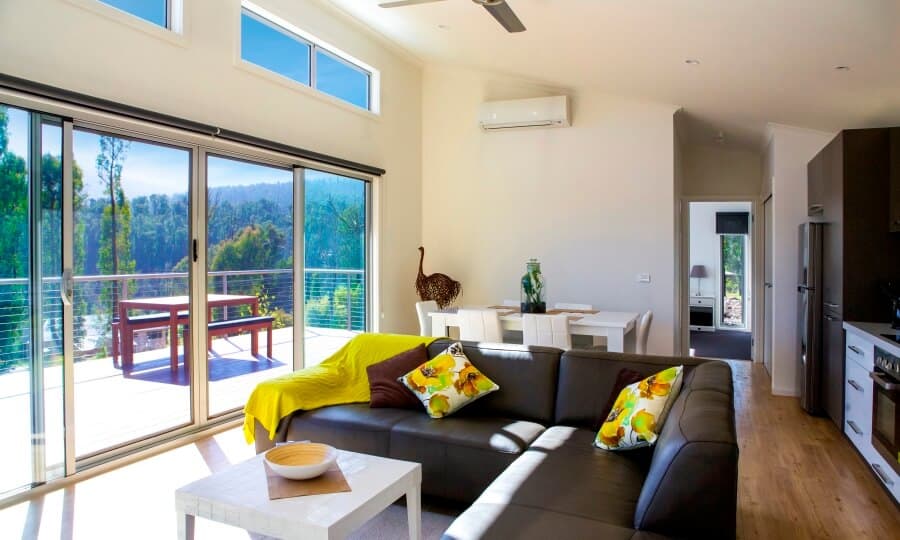 Living room with a view
What our clients say
'I would just like to say thank you to the team at Anchor Homes for building my dream 'Moondani Marysville Accommodation & Spa'. I have received such positive feedback and would highly recommend Anchor Homes to anyone wanting to build a home.
When researching the many modular building companies online, I found Anchor Homes to be affordable, have plenty of designs to choose from and offer the ability to alter the design to suit your needs. When first speaking with Lester from Anchor Homes about my plans to build an accommodation retreat at Marysville, I was impressed by his pleasant manner, can-do attitude, patience and assistance to achieve the desired design within my budget.
Another determining factor was the ease of the construction process. Anchor Homes assisted with financing the construction. I could view the stages of construction in the factory and was impressed with the guidance offered when choosing colours, fixtures and fittings. I have nothing but praise for all the team at Anchor Homes. I was always met with friendliness. They were easy to approach and proactive in sorting out any queries or concerns. The professional workmanship of the tradesmen and quality of fittings and fixtures resulted in a home that I absolutely love. The house is light, modern, open plan and thermally efficient making for a very comfortable home. Thank you to all the team at Anchor Homes.'
Georgia and Julie, Somerville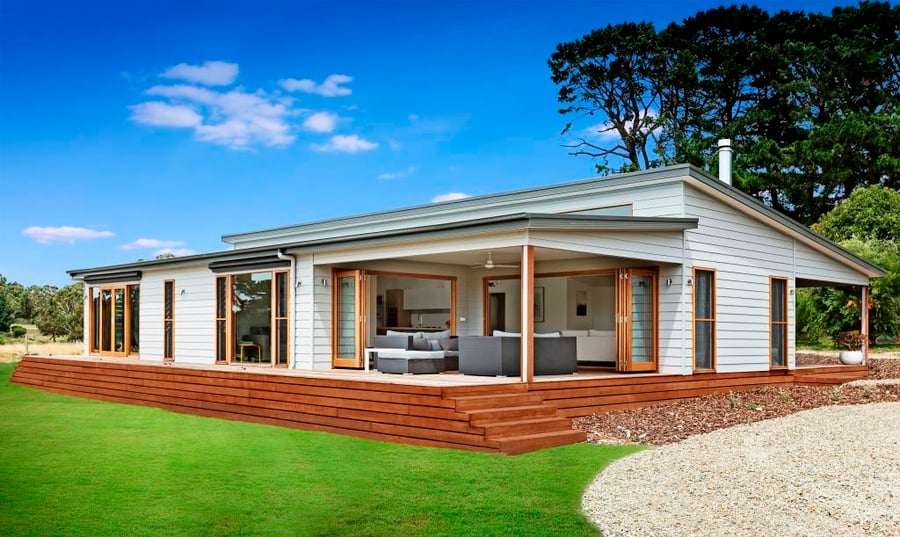 Undercover outdoor entertaining
Design: Sorrento (customised)
Must-have features: Flexible living space, outdoor entertaining.
Highlights: The undercover deck is a standout of the Somerville project, with bi-fold doors providing an easy flow from inside to out. The three bedrooms are positioned for privacy, with the central living zone offering plenty of space and flexibility for the family to gather and relax.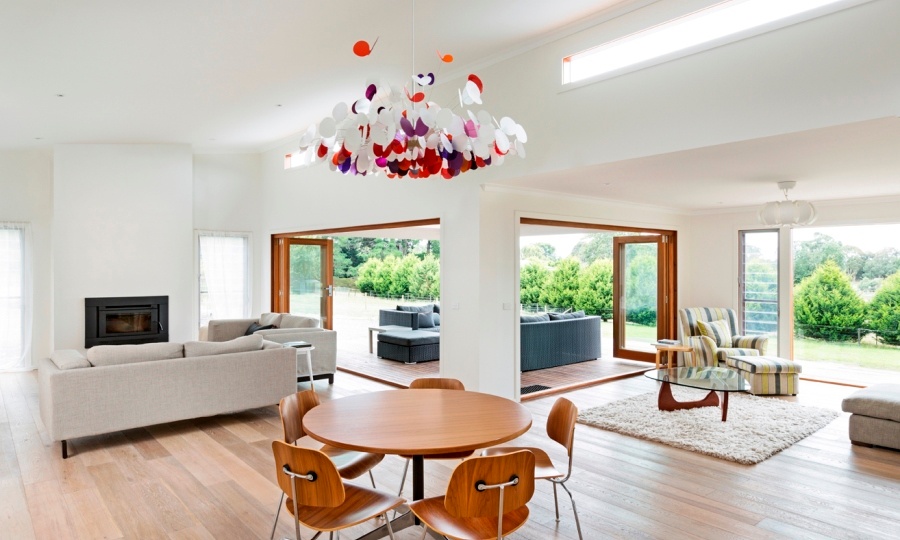 Versatile living zone
What our clients say
'For many years I was hesitant to build because of all of the dramas I saw with other people's projects: time delays, half-built homes sitting in the weather, poor communication and service, and most of all, cost overruns.
A great piece of land came up, and we grabbed it—so it was time to bite the bullet and build.
We wanted our home to reflect us, so it was important that we were able to customise and put our own stamp on our new home. We spoke to all kinds of builders, and none seemed to 'get' where we were coming from, and although what we wanted wasn't particularly 'out there', we got the sense that it was all too hard. So we started looking at pre-fabs and while they were a good option, there was not much flexibility in designs and finishes—not much chance to make it suit us, and our lifestyle.
Then we found Anchor Homes.
From the very start, we loved everything about Anchor Homes—the way they operate, the method in which they build, their attention to detail, and their flexibility. But most of all, the people.
We were able to totally customise our home design, and nothing was a problem. We were able to choose some great finishes, and we were also able to add a few of our own. Nothing was a problem, and the design team went out of their way to investigate some new elements to help us achieve what we wanted.
A fixed price contract meant no cost blowout, so we were able to relax and really enjoy the process. The build went super-smoothly—we were kept informed at every stage, and it was fantastic to be able to walk through during the build to get a sense of the spaces, and see it all coming together. Even though our site was tricky to access, Anchor managed to overcome any obstacles with no fuss, and the landing team who came after to finish things off were brilliant. The whole thing was a huge relief, and every single person we dealt with was just fabulous.
We've been in our home for a couple of months now, and we could not be happier. Anyone who visits loves it, and cannot believe that just a few months ago our home was on a truck, making its way to us.
I have already referred a few people to Anchor, and cannot speak highly enough of their professionalism, attention to detail, and service. The house really speaks for itself—it's all we hoped for and more, and we just love it!
Create a modular home that's uniquely yours
As you can see, there is plenty of scope and flexibility to build a modular home that's uniquely yours. Whether you're looking for a sleek, modern masterpiece or a classic home with timeless appeal, we can help you make it happen.
To find out more about our modular home designs or to discuss your project, get in touch with our team, post a comment below or submit an online project enquiry and we'll get back to you soon!