Design Focus: Shoreham 14
May 05, 2022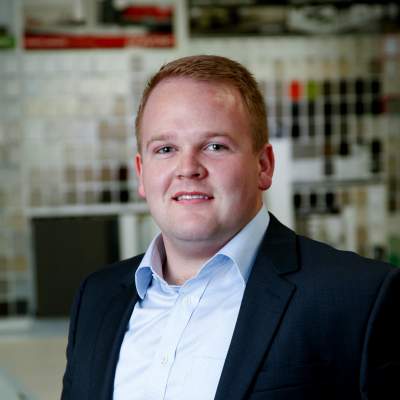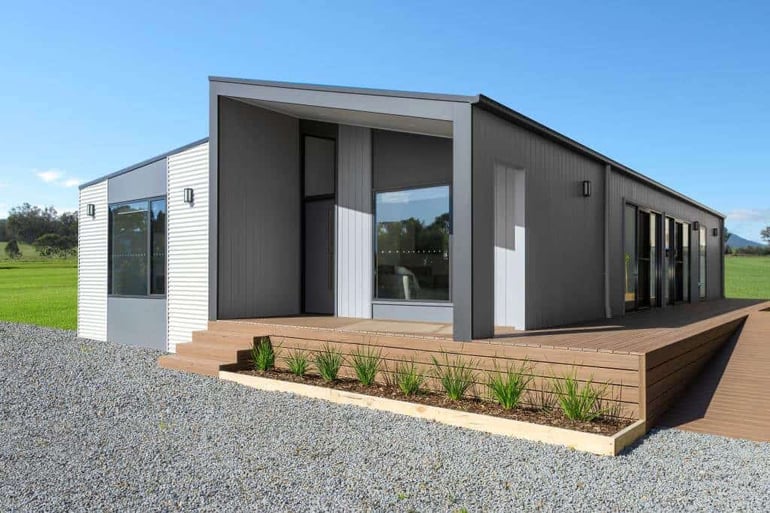 Bayswater display home
Spacious, affordable and designed for modern living, the Shoreham 14 modular design is the perfect choice for first home buyers and families. Whether you're looking to build a permanent residence that is flexible to adapt to your changing needs, or are ready to build your dream holiday home and get away in style, the stylish Shoreham 14 ticks all the right boxes.
With three bedrooms, two bathrooms and a large open plan living zone, there is space for all. Plus, the design includes luxury features like a walk-in pantry, portico and plenty of on-trend choices for fixtures and fittings, making it a popular home for those building in the city, country or on the coast.
If you're ready to be inspired for your new home project, read on to discover the highlights!
Light-filled living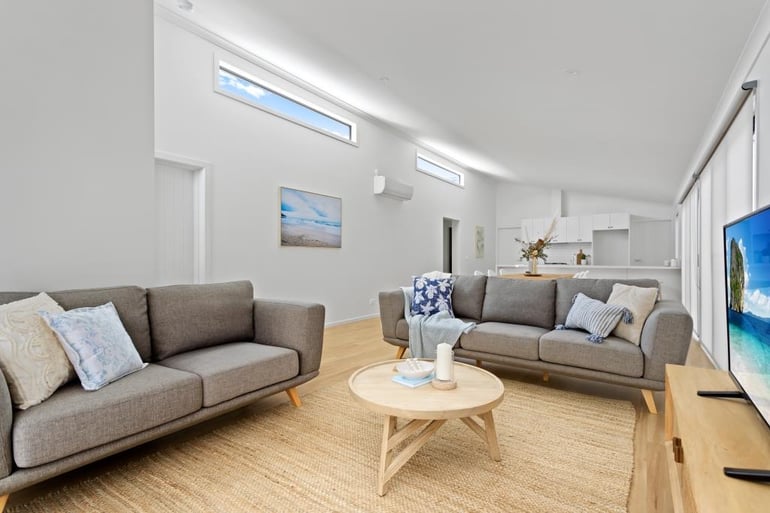 Bayswater display home – living zone
The raked ceiling, highlight windows and bright, modern colour scheme shown in our Shoreham 14 display home located in Bayswater, create a spacious look and feel in the living zone. The length of the room allows for separation between spaces, giving the family room to lounge, dine and catch up, without it feeling crowded.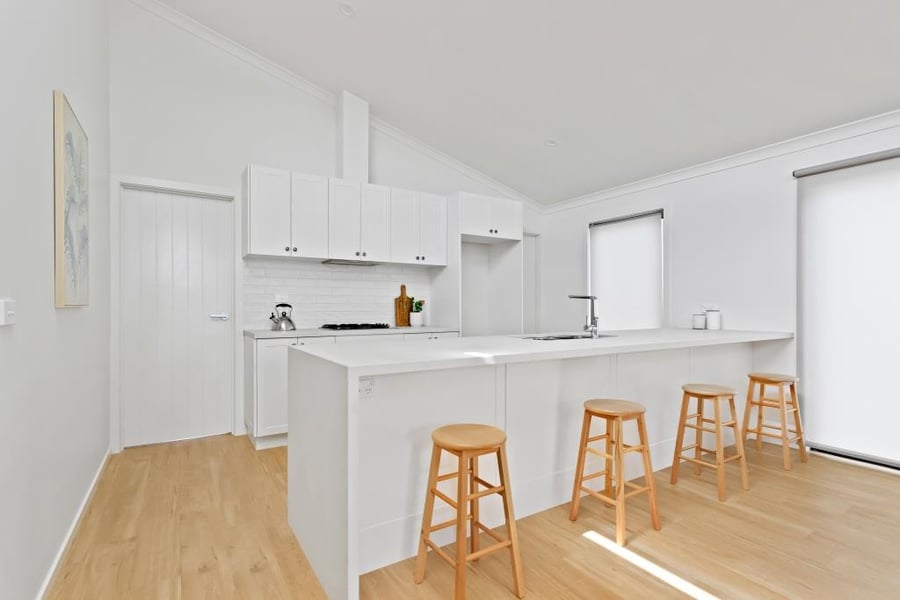 Bayswater display home – kitchen
The compact kitchen includes all the modern conveniences you'd expect, including quality appliances, an island bench and a walk-in pantry. When designing your home you'll have the opportunity to handpick your favourite colours and materials for your fittings and fixtures, so your finished kitchen is a unique reflection of your style and tastes.
Beautiful bedrooms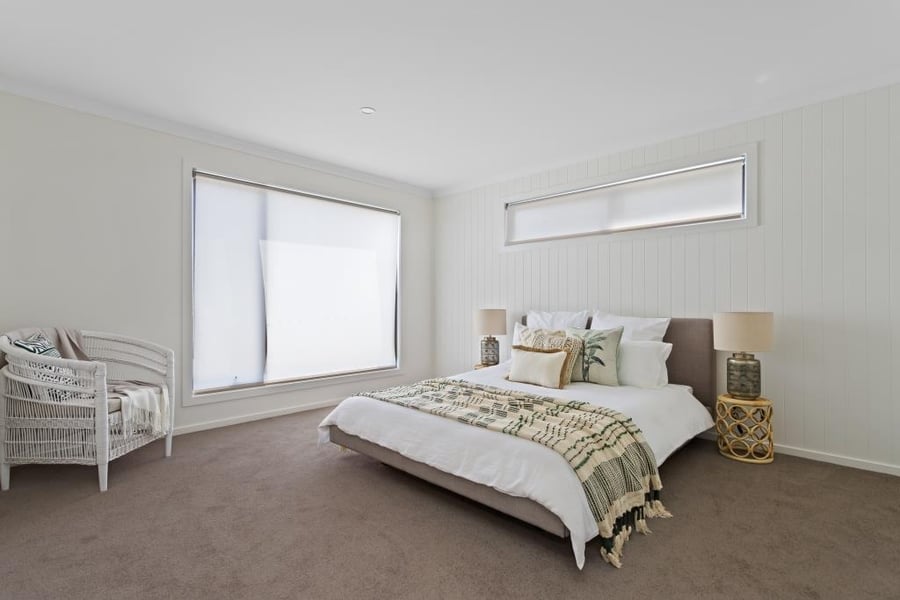 Bayswater display home – master bedroom
The floor plan includes three bedrooms all situated along one side, with the generously sized master bedroom located at the front of the home, allowing for a large picture window and highlight window to let in natural light and the views.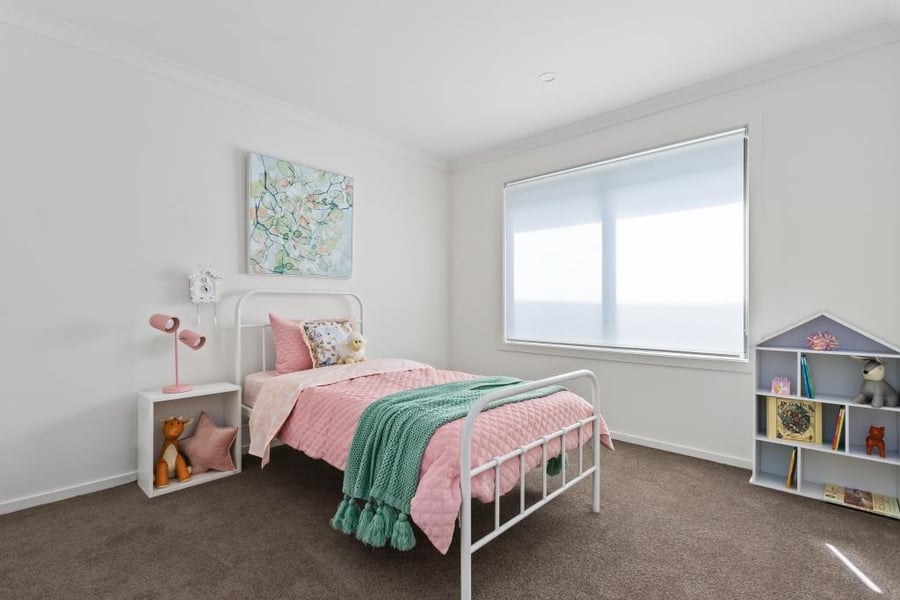 Bayswater display home – bedroom
The master features an ensuite and walk-in robe, adding luxury to the day-to-day. Bedrooms 2 and 3 are set back off the living zone slightly and separated by a short hallway. Both include built-in robes and are positioned on either side of the family bathroom for convenience.
Bathrooms to impress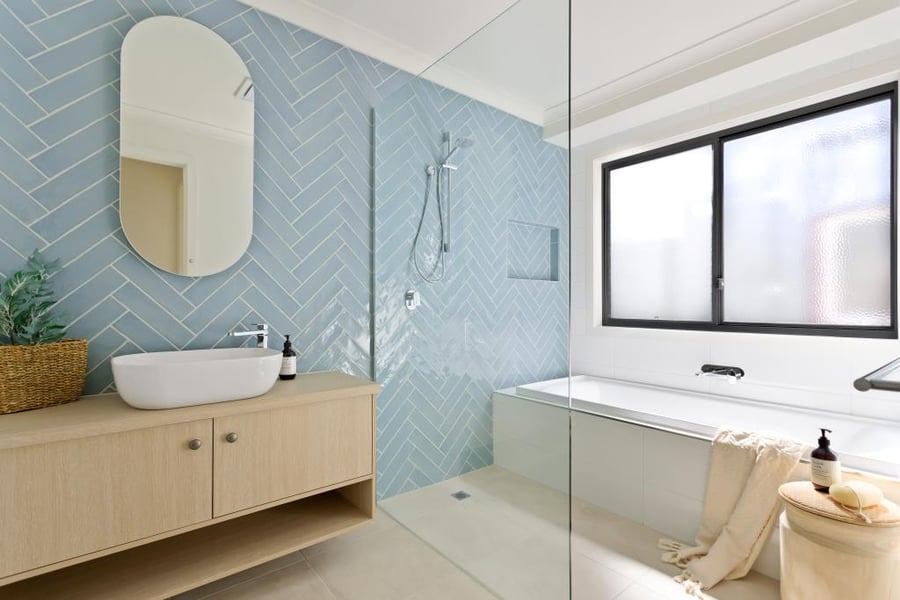 Bayswater display home – family bathroom
Today's bathrooms are designed with as much focus on the visual elements as the practical functions, and our display home showcases how the addition of different colours, patterns and textures can really make it pop.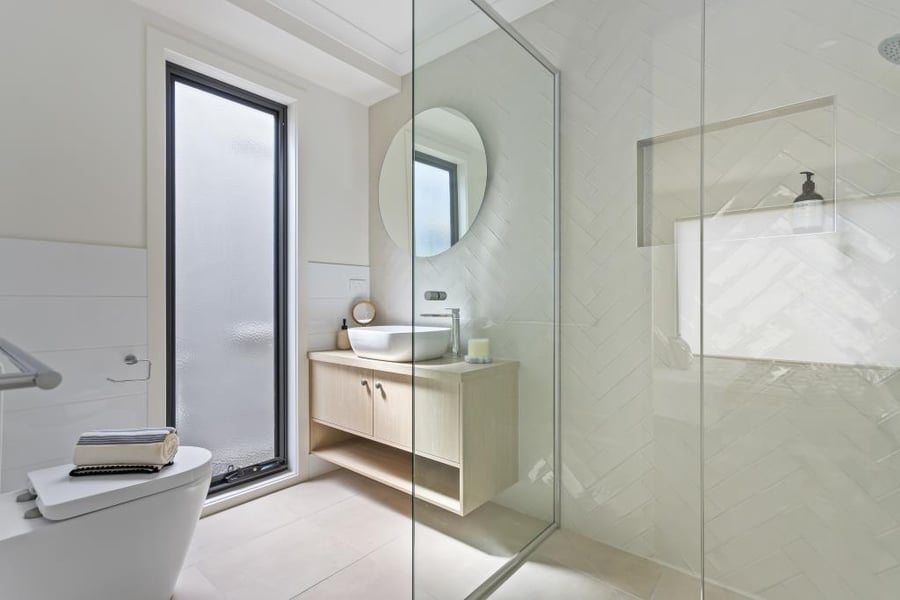 Bayswater display home – ensuite
Both the family bathroom and ensuite include a feature wall of floor to ceiling diagonal tiles which adds character and style, while the walk-in showers both include recessed shelving to complete the modern and luxurious look.
Exterior with options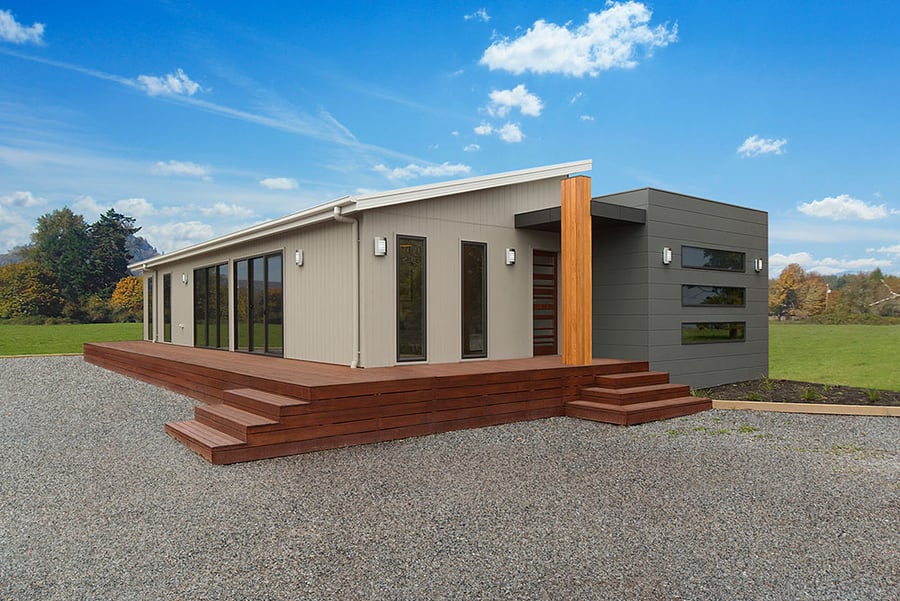 Another highlight of the Shoreham 14 design is the flexibility with façades, with the split skillion, modern split skillion and cubehaus all available as standard. You can then choose your exterior materials and colours to match your tastes and surroundings, creating a haven that you'll love coming home to.
Versatile design with everything you need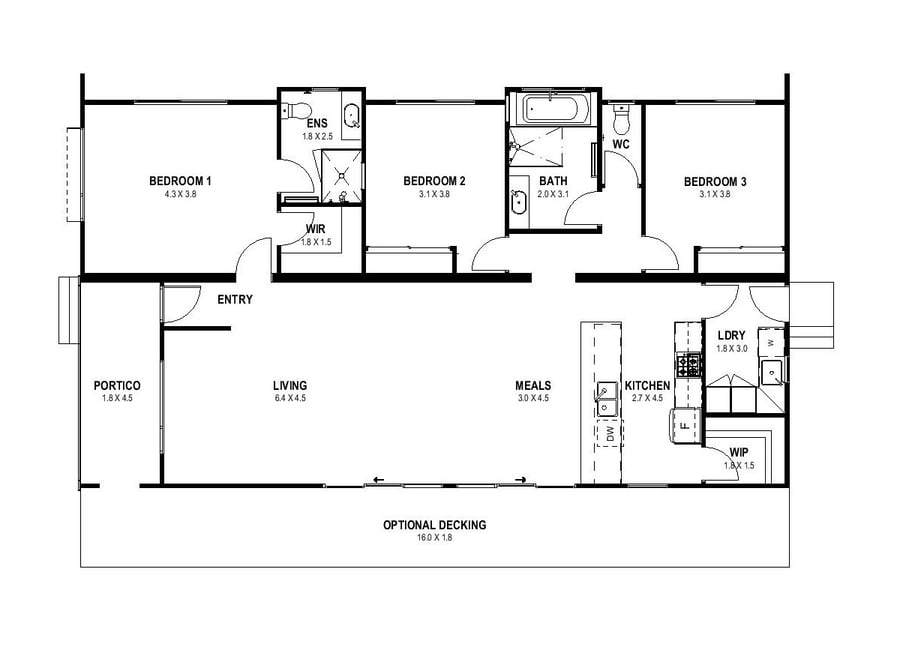 Whether you're looking to enter the market, or are ready to build a new home for your family to live in style and comfort, the Shoreham 14 is a fantastic choice. With dimensions of 16.0m x 8.75m it is suitable for narrow blocks and with 132.7m of space inside, it's a mid-size home that offers value in spades.
For up-to-date pricing on the Shoreham 14 design, download our pricing list and to see the design in person, book a time to visit our Bayswater display centre.
To find out more about our modular home designs or to discuss your project, get in touch with our team, post a comment below or submit an online project enquiry and we'll get back to you soon!