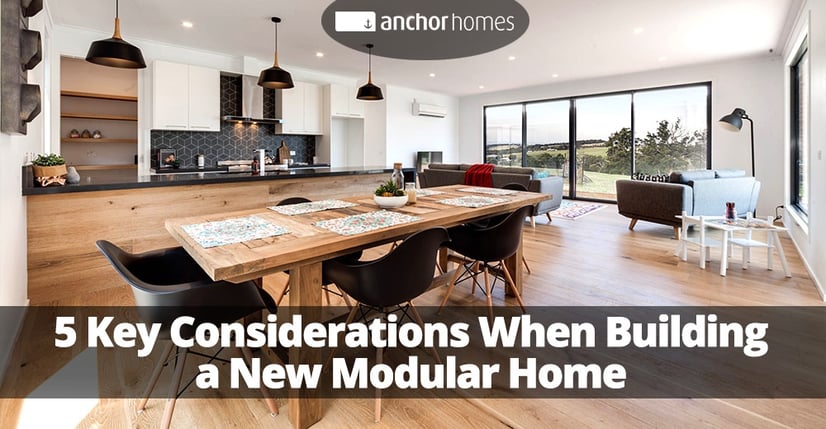 If you're like most people who are considering building a new modular home, you're probably hugely excited - and if it's your first time, maybe a little apprehensive too. Building a house is a big project, with many decisions to be made along the way. But the good news is that with careful planning and some tips from the experts, you can pull it off in as little time and with as little stress as possible.
We've built hundreds of modular homes and have learnt a lot along the way. Today we're sharing our top five considerations when building your new home to ensure a smooth and successful project from start to finish.
1. Know Your Budget
You've probably heard this before, but you need to set your budget before you start and stick to it. Your budget will define your entire project so be realistic and stay within your means. Remember, you'll need to include everything that goes into building a new home, not just the house itself. From pre-construction costs like design, site reports and town planning, to additional site requirements like connections to services and driveways, make sure you've accounted for all the different parts of the project so you don't fall short.
It is also important to share your budget with your builder. They have the experience behind them to help you understand everything that you'll need to include and if things are tight, can help identify areas that you may be able to save to help you get more for your money.
2. Plan Ahead
Building a new home is not something you want to feel rushed about, as this will likely lead to unsatisfactory results. It's a good idea to speak to your bank or mortgage broker well in advance so you know exactly what you'll have to work with, and so your money is ready when you are. If you need to apply for electricity, water or other services on your site, contact the relevant authorities as soon as possible as this can take weeks or even months to be finalised.
Thinking about things like your colour scheme and other design features early in the piece is smart. Being prepared with magazine clippings or Pinterest boards in advance will be a great help later when you need to make decisions and there are lots of other things happening that need your focus. Plan ahead for your move too. Leaving the decluttering, packing and organising of removalists to the last minute is a recipe for disaster.
3. Design for Your Lifestyle
Put some careful thought into how you and your family will use the house and design for it accordingly. Do you have a household full of budding chefs? Make sure your kitchen design is adequate and has all the features you need. Do you need a formal lounge, or will it just be an extra room to clean that never gets used? Or do you love the outdoors and entertaining? Be sure to include a deck or alfresco.
Look at how you spend time in your existing house and note the things you love and couldn't live without, and those that you wish you had. Take your list when you're looking at designs and remember, you can also add features to standard designs or custom design your own modular home to find the perfect fit.
4. Consider Your Future Needs
It's also important to think long term. Fast forward 10 years - if you're part of a young couple, are you planning on starting a family? Make sure you go for a house that has room for you to grow. Or are you approaching retirement? Choosing a low-maintenance home and including accessible features now can save you added expense and worry later. If you're planning on living in your new home for many years, choose quality appliances where possible too.
Including sustainability features like solar hot water and electricity, or water tanks is a good move. With rising power prices and the increased likelihood of blackouts, you'll be glad you did. You may also be planning on using this home as a stepping stone to buy your next property. If this is the case, look for a design that is easy to maintain and has features that are desirable to potential buyers.
5. Get the Right Advice
When you build a new home, you'll no doubt encounter friends and relatives who have done it before. They'll likely have tips and advice to offer, and while it may be helpful, remember that everyone, and every home, is different, and what worked for them may not be the right way to go for you.
If you're unsure about anything or need advice, it's always best to ask your builder. They have worked on projects in all sorts of locations, with a huge variety of designs and requirements and have learnt much from their experience.
Final Word
Building a new home is a big project, and the beginning of an exciting new adventure. To ensure things go smoothly throughout the entire process, plan ahead and keep your focus. Having a good relationship with your builder is also key, as their knowledge and assistance will ensure the end result is the house of your dreams.
Over to You
Do you have some tips to share or need advice about building a new modular home? We'd love to hear your questions and comments.

Posted by:
Laurie Raikes
Project Consultant at Anchor Homes