So, you've found the perfect rural block - now all that's left is to find the right design and build your dream home!
If you're looking for a fast, stress-free and affordable way to construct a quality new home in the country, modular homes offer an ideal solution.
The off-site building process means there's no need for tradesmen to be on-site for months on end, and this can save you plenty of money and hassle. And, when it comes to choosing a modular home design - whether you're looking for modern, traditional or something in between - there are plenty of options.
Here, we've hand-picked four of our favourite modular homes - all of them have been tried and tested, and are a great fit for any country setting.
Marysville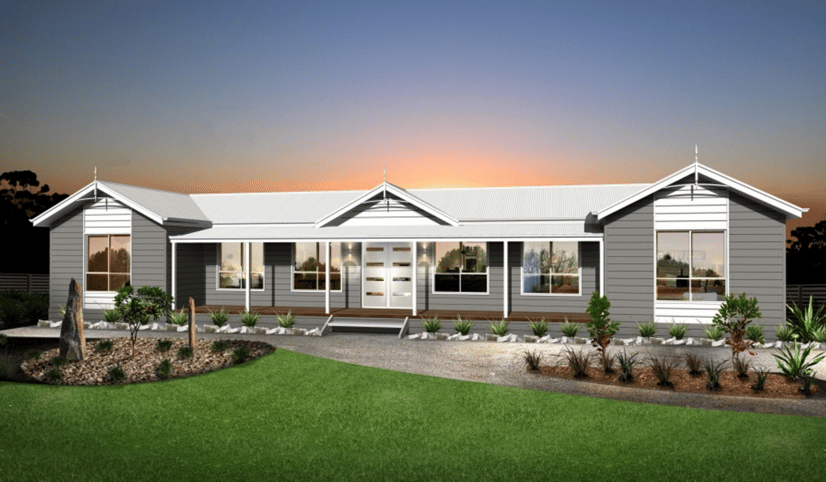 If you're looking for a beautiful family home with ample space and impressive features, the Marysville is a wonderful choice.
With four large bedrooms, plus a study, there's lots of room for even the biggest families. Bedroom 1 is situated in a separate wing complete with WIR and ensuite, which gives you plenty of privacy, and the central zone of the house features both a separate games room and a home theatre room for hours of recreational fun. The large open plan living area at the back of the house opens out to the optional deck, which is just the place to entertain, take in the views or enjoy a cuppa. Priced at $271,630, the Marysville is the ultimate choice for a spacious home that compliments a relaxed country lifestyle.
Shoreham 16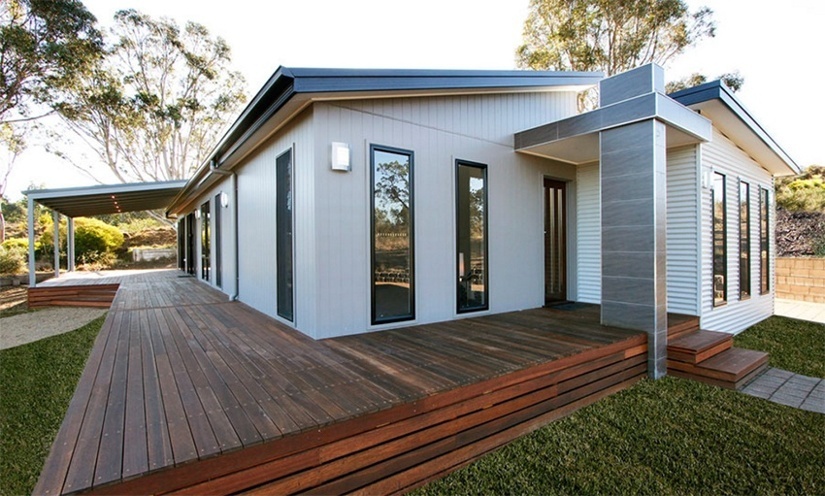 For those who prefer a more contemporary style, the Shoreham 16 is a popular option.
This design is really at home in a country, city or coastal environment, and it works well with both the Split Skillion or Cubehaus façade. The three bedrooms run along the back of the house, and Bedroom 1 is completed with a WIR and ensuite. The main living space features raked ceilings for optimal light and space, and opens out to the optional deck, plus, the kitchen includes a walk-in pantry, which the chef in the family will love. There's also a second formal lounge area, that's great for families with older kids who enjoy their own space. The base price with Split Skillion façade is just $199,980 or with the Cubehaus façade it's $223,050.
For a closer look, you can book a tour of our Shoreham 16 display home at our Stratford Head Office.
Ironbark 1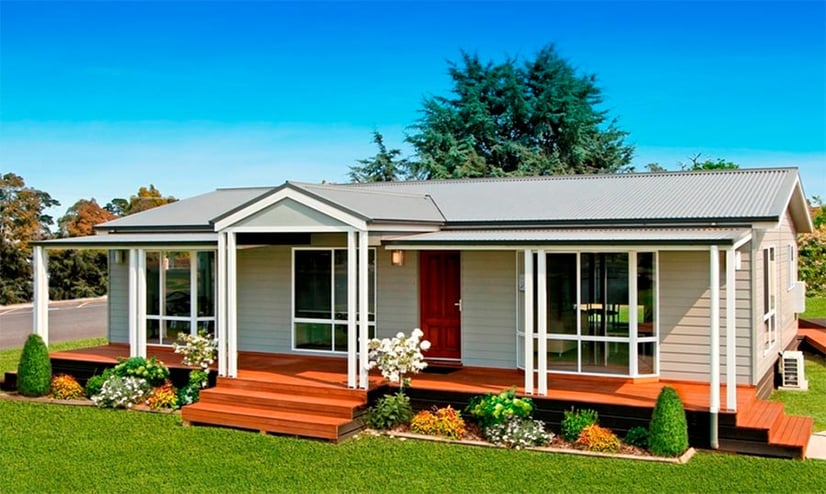 The Ironbark 1 has great character, and a lovely welcoming feel to it.
The optional front verandah stretches along the length of the house, giving an impression of space, even though it's quite a compact design. Inside, there are two good-sized bedrooms, plus a smaller third that could also double as a study. The living and combined kitchen/meals area has a raked ceiling for added space, plus the living area and master bedroom both feature bay windows. The Ironbark 1 is an excellent choice for those who are making the move to the country to downsize, retire or find great value. With a base price of just $140,950, it's affordable for almost any building budget.
Homestead 2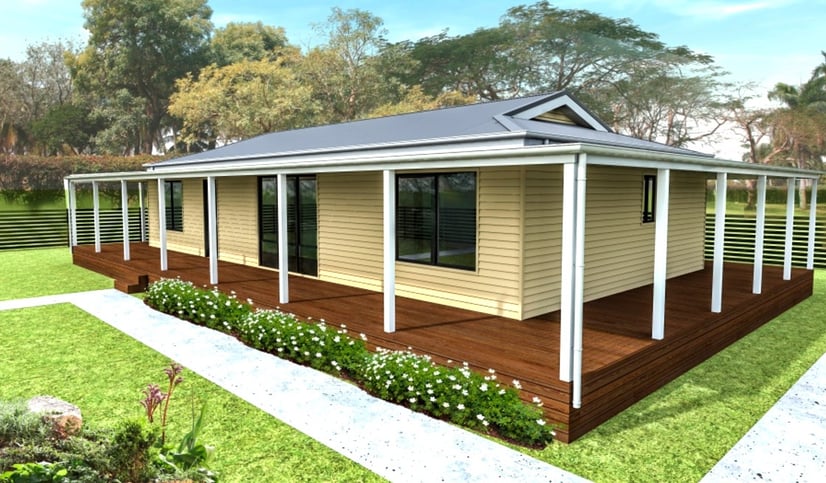 No selection of country-inspired homes would be complete without a wrap-around verandah – and the Homestead 2's optional 1.8m verandah is a superb feature of the design that oozes country charm.
The raked ceiling in the centrally-located open-plan living area gives a sense of space, with doors in both the meals and living room opening up to the verandah for easy outdoor access. The kitchen includes a walk-in pantry and is set back from the meals area just enough to allow you to either stay connected or focus on cooking as you wish. The Homestead 2 has three bedrooms, with an ensuite and WIR attached to the master. and is priced at just $167,090, making it an affordable option for families.
Please note: All pricing given above is accurate at time of writing and is subject to change without notice.
In Closing
Whether you're looking for a grand house packed with features, or a cosy home with plenty of country charm, there's a modular home that's perfectly suited to your needs and budget.
Have you built a home in the country and have some advice? Or maybe you're considering the idea and have some questions. We'd love to hear from you!

Posted by:
Laurie Raikes
Project Consultant at Anchor Homes