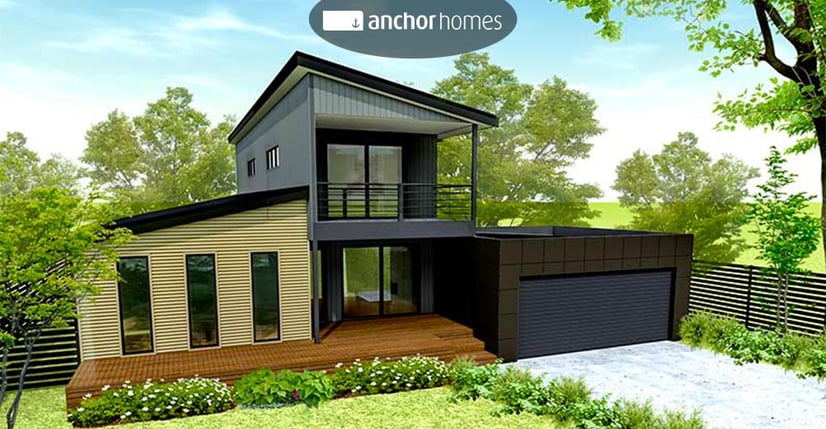 When you're building a new modular home, your design should suit your property, lifestyle and budget.
For example, if you're working with a smaller block, you'll need a home that maximises space, both inside and out. This is where a two-storey modular home can be the ideal fit.
Building a two-storey modular home has many benefits, including great flexibility with your design, increased floor space and a bigger yard.
In this article, we take a closer look at these features and discuss why two-storey modular homes are becoming an increasingly popular option.
Two-Storey Modular Designs
Both of the two-storey designs in our standard range, the Anglesea and Barwon, are spacious family homes that pack a lot in. The Anglesea is a popular choice for coastal locations as it includes three bedrooms and three bathrooms - a great option for holiday homes.
With the Barwon's four bedrooms plus study, there's plenty of room for even the largest of families to spread out. Plus, the Anglesea and Barwon designs both include separate living spaces for relaxing and entertaining, and an upstairs deck to take in the surrounding views.
Completely Flexible Designs
As with all our modular homes, the designs can be slightly changed or completely customised to suit your individual requirements. Having the extra floor space on the second level gives you enormous flexibility, especially when you're building on a smaller block. You can add in extra rooms as you need and create separate living zones within your home for different moods and activities. This is shown in the Barwon design, where the first floor is dedicated to sleep and quiet activities, with all bedrooms and the study located upstairs. The lower floor is then made up of living and entertaining areas, which means the family can talk, relax and make noise, without disturbing anyone's sleep.
Maximise Your Floor Space
Having two levels of floor space means you can almost double the size of your house, without doubling the price. This is ideal for homes built on smaller, inner-city or suburban blocks, or compact beach blocks. With a two-storey design, you don't have to buy a huge piece of land to build a large family or holiday home – you can fit all the bedrooms, bathrooms and living spaces you need on a smaller block when you spread them out over two levels.
Make the Most of the Outdoors
It's not just the added space inside that's a big drawcard – when you build a two-storey home, you'll also enjoy a bigger backyard. This means more space for the kids to play, for you to plant a garden, or include a garage. And if you're lucky enough to live in a picturesque location with views, you'll enjoy them more often when you're up on the first floor.
Final Word on Two-Storey Modular Homes
With the size of the average block now much smaller than it used to be, building a two-storey modular home is growing in popularity. When you're building with limited space, the extra level of two-storey homes gives you greater flexibility, allowing you to fit a lot more in than you could otherwise include in a single-storey dwelling. This can have a huge impact on your lifestyle and enjoyment of your new home - having that extra bedroom or bigger backyard are features that you'll appreciate for many years to come.
Over to You
Do you have a question about building a two-storey modular home on your block? Or have you built a two-storey home and have a tip to share? We'd love to hear from you!

Posted by:
Laurie Raikes
Project Consultant at Anchor Homes