Everything You Need to Know About Building a Modular Home
August 21, 2021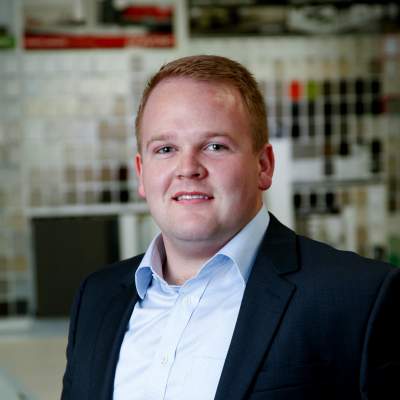 Building a new home can generate a wonderful mixture of emotions ... it's so exciting to envision your dream home coming to life, but uncertainty around the process and your options can make you feel nervous about making decisions and taking the first step.
However, with knowledge behind you, you'll have confidence and clarity about what you want, so you can make better, more informed decisions. With the information you need on hand, the home building journey can be enjoyable, rather than a major source of stress!
So, if you're considering building a modular home, but have a few lingering questions or are unsure on the steps you need to take, we've pulled together a collection of key topics that are good to know before you start. Each topic has been discussed in detail in separate articles, so you can refer back to those if you'd like to dig deeper – plus, we've combined the full articles in a handy guide, which is available to download for free at the end of the article.
So, read on for an overview of everything you need to know to build your dream modular home!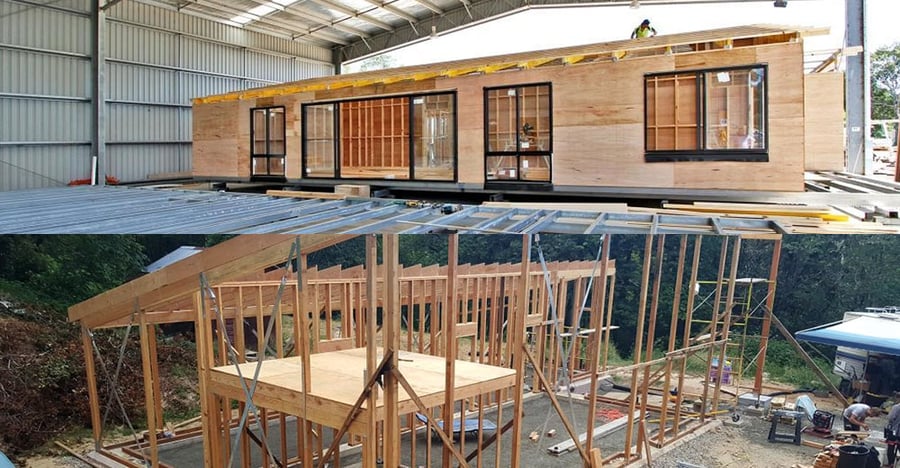 Modular vs. Conventional Home Building: Pros and Cons
If you've decided to build, the first question is, will you opt for modular or conventional? While modular homes are still looked at as an alternative way to build by some, the only real difference between the two methods lies in how they are built – one is on site, the other is off. Both modular and conventional use many of the same materials and abide by the same building codes, and when done right, both methods can deliver a stylish, high-quality modern home.
The contrasting construction methods means there are some pros and cons to each, in particular around construction time, quality control, location and suitability to specific site and design requirements. The right option will depend on your unique circumstances – to weigh it up, see the full story here: Modular vs.Conventional Home Building: Pros and Cons
Modular Home or Kit Home? Which is the Best Option for You?
If you think modular and kit homes are the same thing, think again! While both utilise off-site construction methods, they are very different in how they are priced, delivered and built.
For example, modular homes are built to around 90% completion off site, then delivered to your site where they are fully installed by the on-site team, so your home is ready to move into. In contrast, the components of kit homes are manufactured offsite, then delivered in parts to your site. It is then up to you to either construct your new home yourself (as an owner-builder) or hire a registered builder to do it for you. While this may be a great option for some, it's not for everyone. To learn more about the key differences, check out the full article: Modular Home or Kit Home: Which is the Best Option for You?
How Long Does it Take to Build a Modular Home
One of the key points of difference between modular and traditionally built homes is the speedy construction time of modular homes. So just how fast can a modular home be built?
Before construction can begin, every new home (modular and traditional) must go through the pre-construction phase which can take anywhere between 3–6 months. Once this phase is complete and a building permit is obtained, our modular construction kicks into gear. Because our homes are built in our factory with everything needed on hand and no interruptions from the elements, they can be built in just 8–10 weeks. During the last few weeks of construction , the on-site team prepare your site, so it's ready for installation as soon as the building is complete. Your home is then delivered to site, and over 6–8 weeks our team install it and complete the finishing touches. That's a total of just 14–18 weeks construction time! For a timeline comparison against a conventional build, see the full article: How Long Does it Take to Build a Modular Home
How to Get Finance for a Modular Home
We get asked all the time: 'Is it hard to get finance on a modular home?' The truth is, financing a modular home can be challenging, both for customers and lenders. This is because a standard bank loan is designed around an on-site building process, rather than a modular home that is built off-site and then transported to the building site largely completed.
But the good news is that getting finance to build a modular home is highly achievable when you're aware of the specific challenges and the steps you can take to overcome them. From a lack of security for the loan to a lack of understanding about what modular homes are in the first place, being prepared with the right information is the key to success. To learn about the challenges and see our tips to overcome them, read the full article here: How to Get Finance for a Modular Home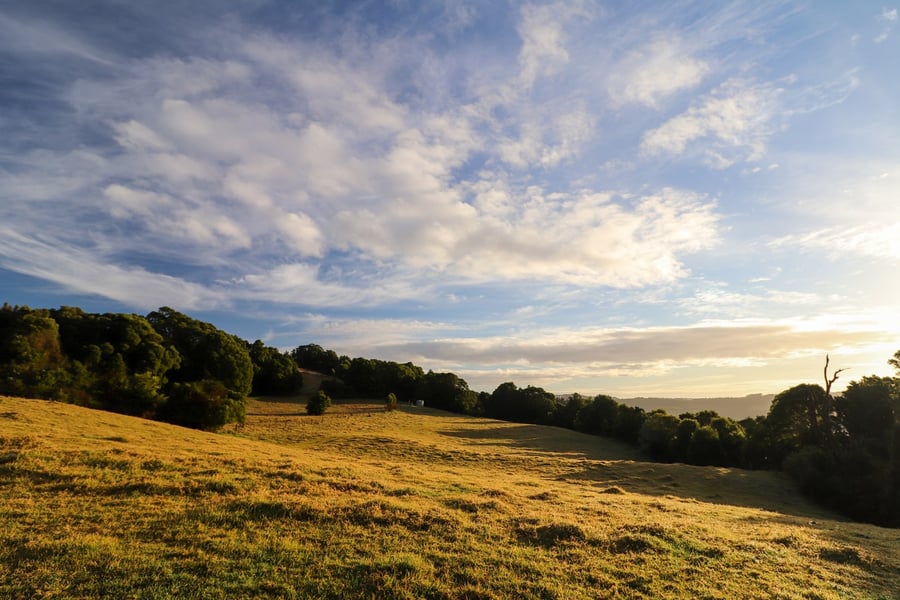 10 Key Considerations When Buying Land for Your Modular Home
When you build a new modular home, choosing the right land is just as important as finding the right design. And while location, views and other features on your wish list are priorities, it's essential that you also have a clear understanding of the potential pitfalls of any block you are considering too.
From getting the size and orientation right, to being clear on the added costs of building on a slope or on a block with overlays and town planning requirements, there is often more to the ideal block than meets the eye. Talking to your builder before you buy is a smart move, as they can highlight any hidden costs or potential issues that could add extra time, money or headaches to your project. For an idea of some of the common pitfalls to look out for, see the full article here: 10 Key Considerations When Buying Land for Your Modular Home
What Permits Do I Need to Build a Modular Home on My Land?
Are you confused about the permit requirements for your new modular home? You're not alone! There are two main types of permits – planning permits and building permits and the process and requirements are similar whether you are building a modular home or traditional site-built home. Permits are known by different names in different states and the type you'll require depends on the land you are building on and the state it is located in.
Planning permits (known as Development Applications in NSW) are needed in a range of situations, in particular on land that is located in a bushfire zone, in areas prone to flooding or where there are planning overlays that apply. A building permit is always required when building a home, and is in place to ensure that any structure is safe and built in accordance with the relevant building codes. For more details on permits, see the full article: What Permits Do I Need to Build a Modular Home on My Land?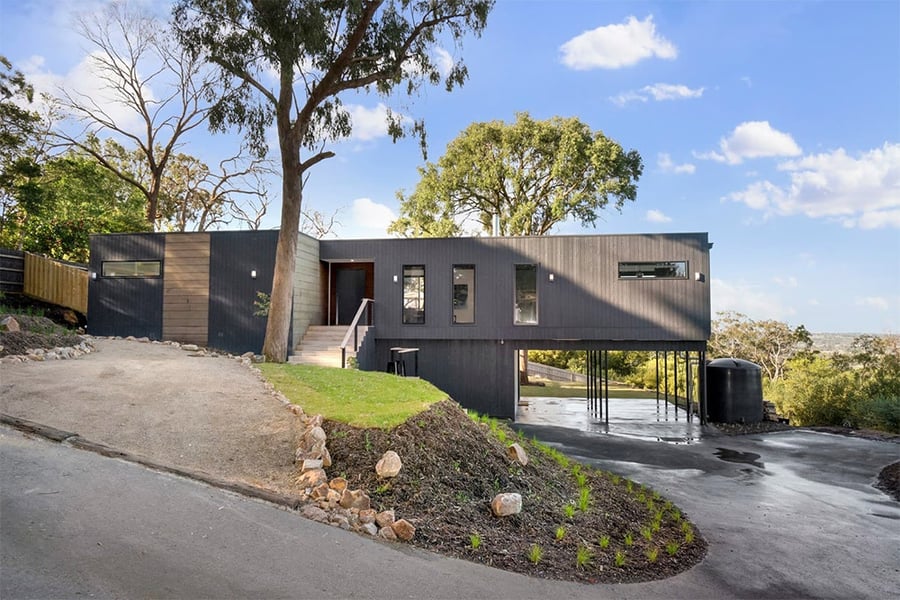 Can I Build a Modular Home on a Sloping Block?
There are many different factors to consider when searching for the perfect block – it's got to be affordable, the right size and in an ideal location. But what if you find land that ticks all these boxes and more, but it's situated on a slope. Is this a deal breaker, or can you build a modular home on a slope?
The short answer is yes – and while it can be a challenging process, building on a slope does have its positives. When you're aware of the added costs and requirements and factor that into the purchase price, it's possible to come out on top – and, when it's done right, the end result (in particular the views) can be spectacular. To find out more details on the challenges and positives of building a modular home on a sloping block, check out the full article: Can I Build a Modular Home on a Sloping Block?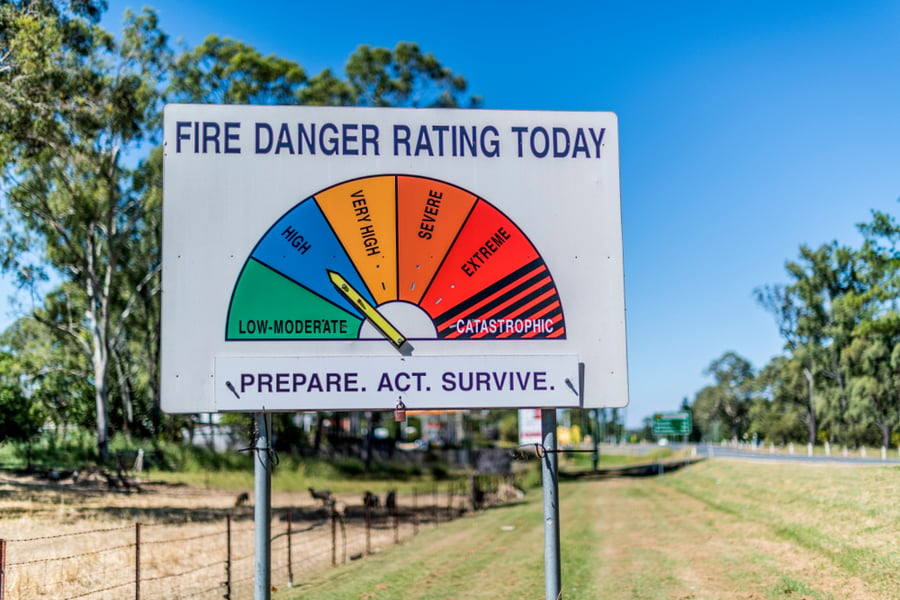 Here's What You Need to Know Before Buying in a Bushfire-Prone Area
If you're dreaming of building in a rural area, or on land surrounded by bush, it's important to understand the extra requirements and potential costs of building in a bushfire-prone area. After the tragedy of Black Saturday in 2009, many additional rules and regulations have been introduced to make homes safer, including the need to use specific materials and include fire safety measures on site. In some cases, these extra measures may increase the cost of your build to a point that it becomes unaffordable, so it's essential to be clear on exactly what will be required before you commit to buy.
Finding out if the land is located in a bushfire prone area, and if so, what the BAL rating is is the first step, followed by learning if a bushfire overlay applies. From there, you can talk to your builder about the extra costs and measures that will apply, and how this affects your plans for your dream home. To learn more, see the full article: Here's What You Need to Know Before Buying in a Bushfire-Prone Area
5 Key Ways to Make Your New Modular Home More Sustainable
These days, more and more people are incorporating sustainable features into their new home design – and with good reason. Not only will it benefit the environment, it will also save you money by reducing your energy bills.
So if you're looking to build a more sustainable home, where do you start? While it depends how far you want to go, there are some key areas that every new home can incorporate to improve sustainability without adding significant costs or extra features. These include orientation, windows, insulation, appliances and renewables. To learn more, check out the full article here: 5 Key Ways to Make Your New Modular Home More Sustainable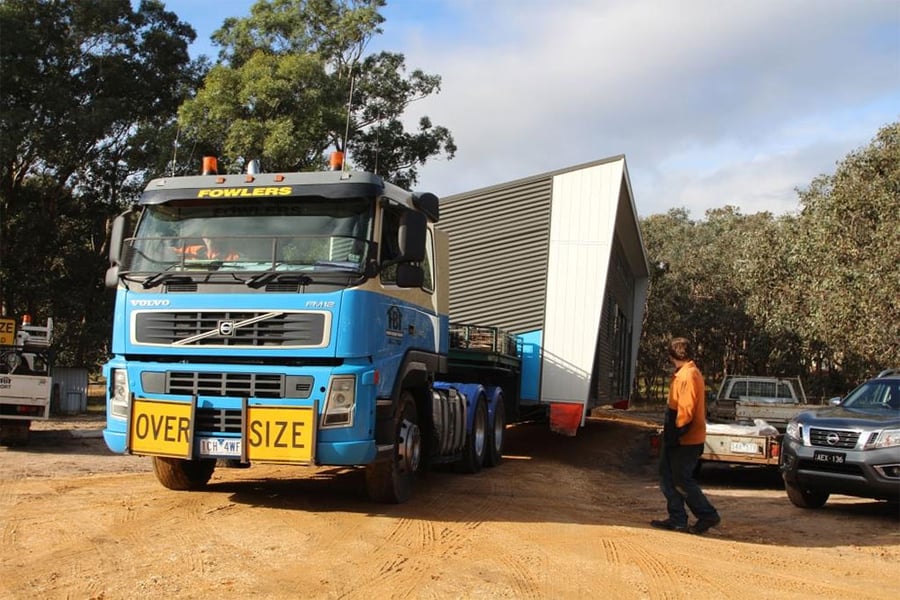 How is Your Modular Home Transported to Site?
If you're considering building a modular home for the first time, you're likely curious about how we transport your completed home to site. We're often asked about the logistics of successfully delivering a new home – from the stability of the house, to suitable road access and the challenges of installing on site.
Each project is unique, and over the years we have fine-tuned and adapted our transportation process. It takes careful planning and execution, and our clients are always thrilled to see their new home arrive and be installed with precision and care. For an overview of how our homes go from factory to sites across Victoria and NSW, see the full article here: How is Your Modular Home Transported to Site
5 Things to Consider When Building Your New Home
If you're in the process of planning to build a new home, you're likely hugely excited – and if it's your first time, you're probably a little apprehensive too. Building a house is a big project, with many decisions to make along the way. But with careful planning and the help of some expert tips, the experience can be less stressful, the process much smoother and the likelihood of your new home being the perfect fit much higher.
Over time, we have seen what works and what doesn't, as well as the potential pitfalls that can cause headaches. In our experience, it's those who understood their budget, lifestyle and future needs, and who take the time to adequately plan and seek the advice of experts, that have had the best results. Check out the full article here to learn why: 5 Things to Consider When Building Your New Home
Are you Ready to Build Your Dream Modular Home?
Building a new home is a wonderful and exciting experience, and with the right knowledge and planning in place, you can have confidence in your decisions and enjoy the process that much more.
So take the time to research the different steps involved and the many considerations and choices that you'll need to make along the way. Seek expert advice from a trusted builder and keep your vision of your dream home in mind. We can't wait to see it become a reality!
Over to You
Have a question about anything we've discussed in the article? We'd love to hear from you! Get in touch with our team on 03 5145 7110. And don't forget to download your free Everything You Need to Know About Building a Modular Home Guide by clicking here.