3 of the Best Modular Home Designs for Narrow Blocks
May 11, 2018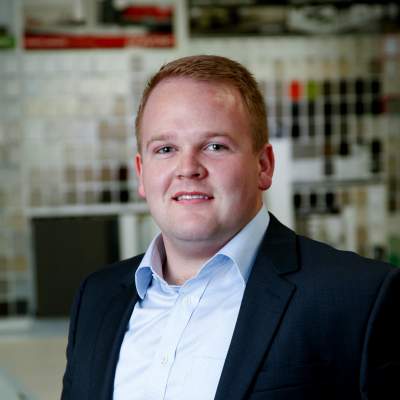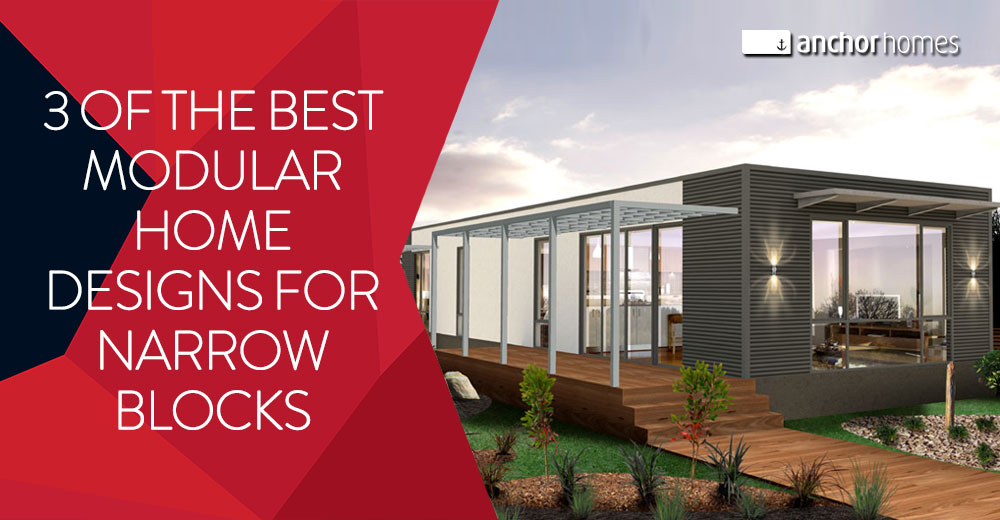 With narrow blocks becoming more and more common in the cities and suburbs, the demand for house designs that maximise space is on the rise.
If you are purchasing a narrow block, you don't have to compromise on your dream home. It's quite possible to find a design that has all the features you need, feels spacious and even includes room to enjoy the outdoors.
In this article, we've handpicked three modular home designs that are suited to a narrow block.
Each includes clever design features that allow you to make the most of your available space and enjoy some of the luxuries you'd only expect to find in a larger home.
1. Beaumaris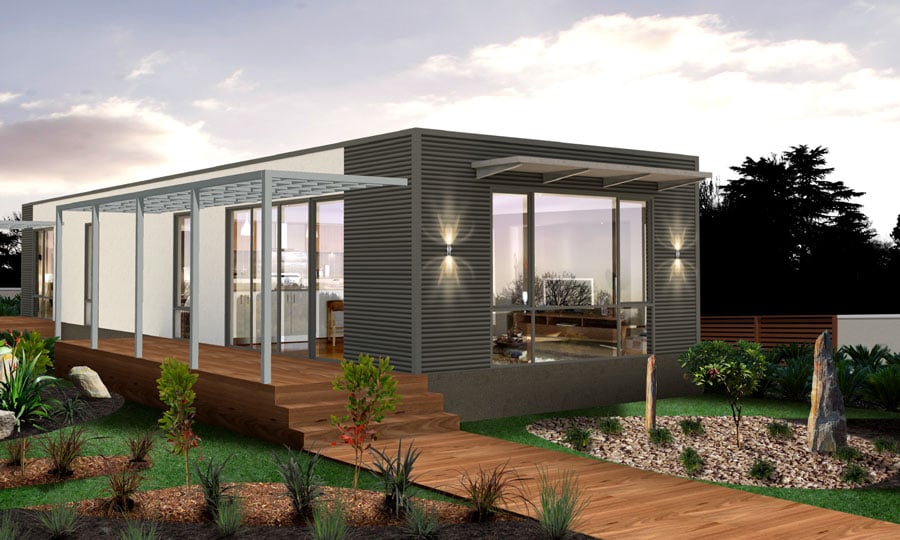 A compact home that's ideal for singles, couples, small families, or retirees, the Beaumaris is a beautifully designed two-bedroom home.
The large open-plan living area is light filled thanks to the large windows that bring the outdoors in, and the choice of a single-wall kitchen gives you plenty of options when it comes to furniture placement.
The addition of 2.7m high ceilings as standard, gives the design an added sense of space and the extra height gives each room a bright and airy feel.
Bedroom one is a good size and features a large built-in robe, plus sliding door access to an optional 1.8m deck. Bedroom two includes a built-in robe and the compact but functional bathroom and laundry are combined to save space.
The inclusion of the optional 1.8m decking off the living area gives you space to relax and enjoy the outdoors and provides a warm and welcoming entry point to this lovely home.
It has a total size of 88.8m2 and a 5.1m (excluding the decking) frontage, the Beaumaris is a great choice for narrow land in urban or coastal settings. For the base price of this design please download our current pricing list for the most up to date information.
2. Hampton 16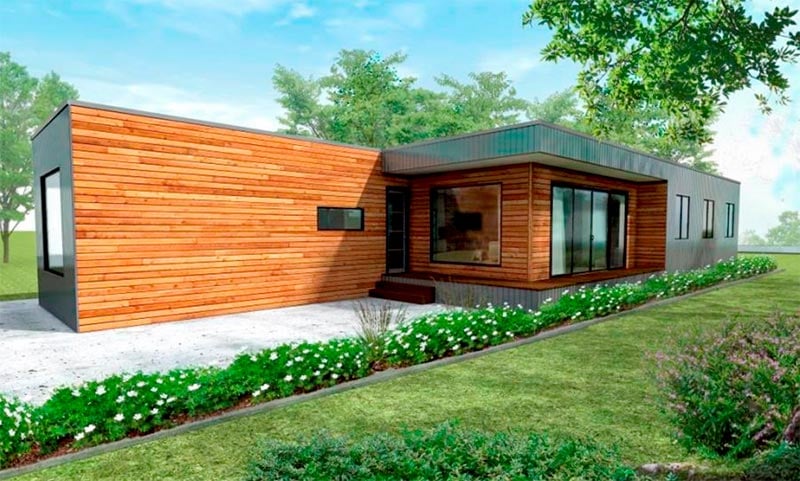 If you're looking for a family home that has all you need, the Hampton 16 is an ideal choice. With three bedrooms, two bathrooms and a large and spacious central living zone, you'll be amazed at what you can fit on your narrow block.
The design features 2.7m high ceilings as standard, which adds a sense of space throughout.
The living area is cleverly designed to allow for a well-equipped kitchen complete with a large walk-in pantry, spacious meals area, and a light and airy living area that includes sliding door access to the optional wraparound deck.
Bedroom 1 is a generous size and comes complete with a large walk-in robe and private ensuite. Bedrooms 2 and 3 are situated at the opposite end of the house for added privacy and are conveniently placed on either side of the main bathroom. Plus, there is also a separate toilet located next to the stand-alone laundry.
The Hampton 16 has an overall size of 150m2 and a frontage of just 9.3m. For the base price of this design please download our current pricing list for the most up to date information.
3. Suburban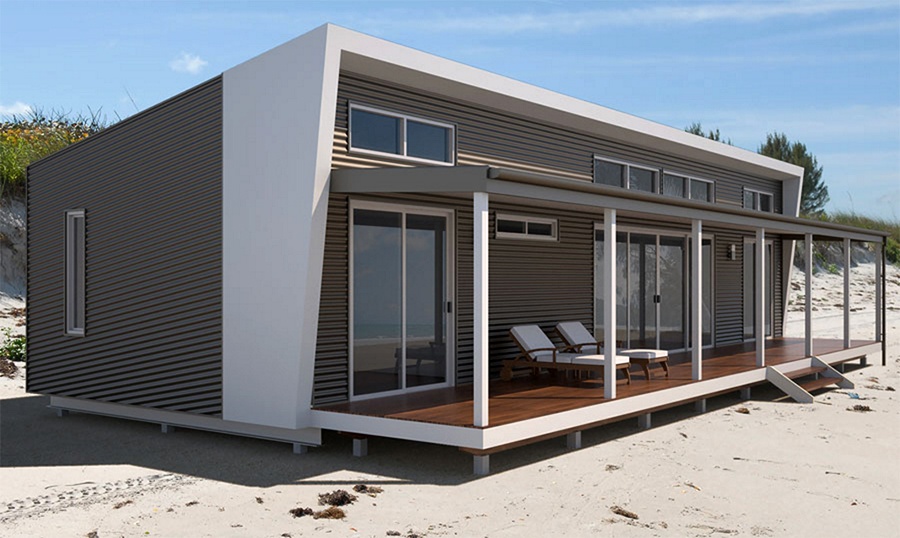 The Suburban is a beautifully appointed modern two-bedroom home, that looks right at home in any urban, coastal, or rural setting. The Single skillion facade is a real feature, bringing plenty of light and space to the design.
The central living zone opens out onto the optional 1.8m deck, providing the perfect place to relax or entertain while you take in the views.
The single-wall kitchen keeps the area open and free-flowing and includes plenty of storage space, plus splashback windows that overlook the rear yard. The raked ceiling adds a breezy element and the highlight windows let in plenty of natural light.
The two bedrooms both include large built-in robes and are situated at either end of the house for privacy.
With a compact size of 74.88m, the clever design ensures the home is well-equipped and makes great use of all available space.
With a narrow 15.6m x 4.8m area (excluding the optional decking) , t's hardly surprising that the Suburban is one of our most popular modular designs. For the base price of this design please download our current pricing list for the most up to date information.
Final Word on Choosing the Best Designs for Your Narrow Block
When it comes to building on a small or narrow block, you don't need to skimp on features. When you choose a design that lets in plenty of light, makes clever use of space and has an open-plan layout, you can create a beautiful home that is the perfect fit for your family and your narrow block.
Over to You
Do you have a question about building on a narrow block? Or do you have some design tips to share? We'd love to hear from you!