How to Bring A Sense of Space to Your New Modular Home
August 17, 2018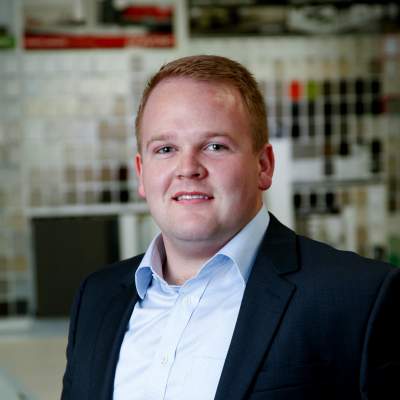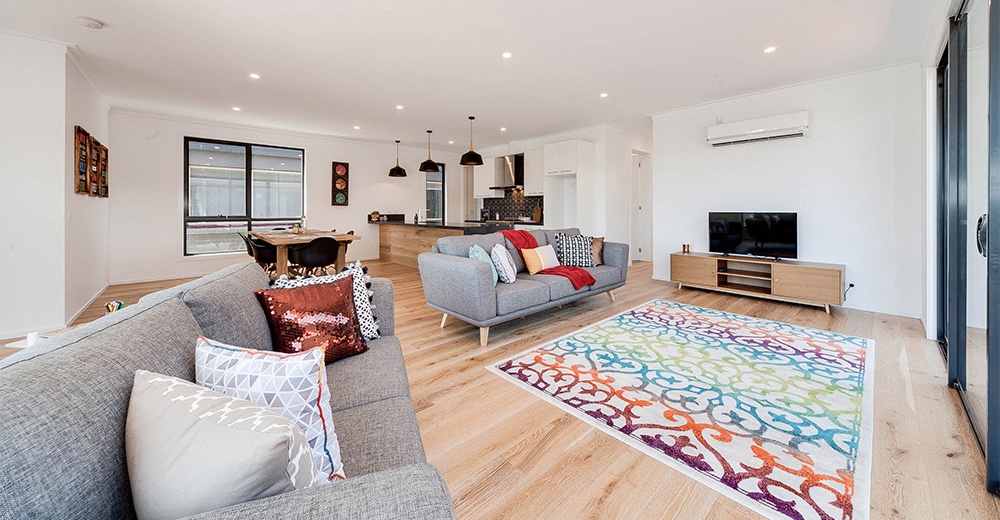 Have you ever walked into a home and been surprised by how spacious it felt? A room that is open, airy and bright is inviting and often looks and feels much bigger than it is.
So, how can you recreate this same sense of space in your own modular home?
The good news is, that you don't need to build a large house to achieve it. By adding some simple but effective design features, you can capture that modern, breezy atmosphere and sense of space in even the smallest of homes.
In this article, we'll share some simple but effective design tips that will help you make your home feel bright, breezy and spacious.
Raise the Ceiling Height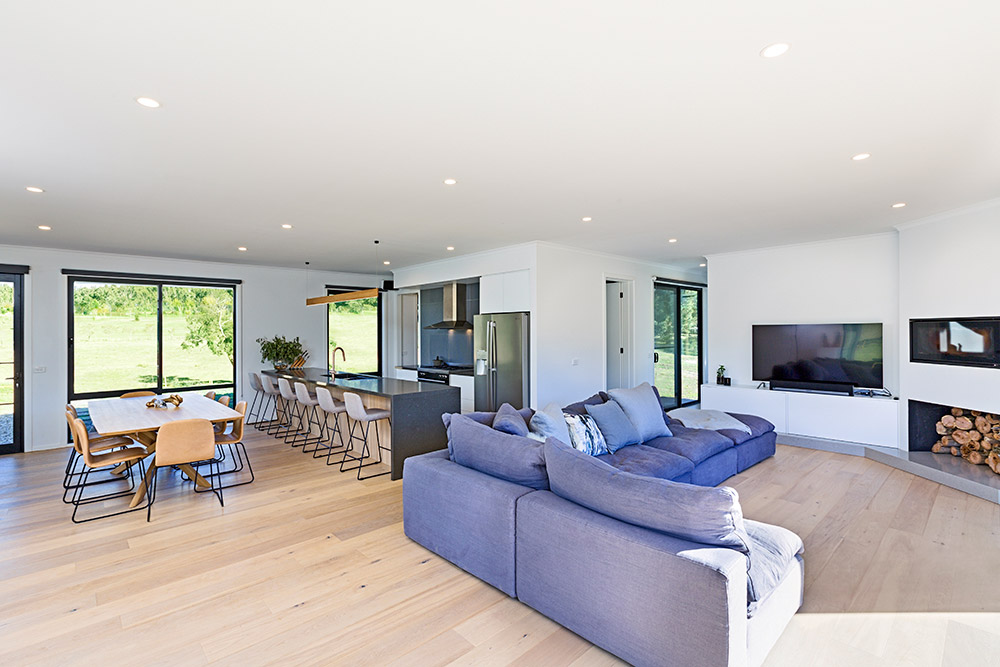 Raising your ceiling height from the standard 2.4m to 2.7m (9ft), has a huge impact on the perception of space in your new home.
Higher ceilings not only make your home seem bigger, but they also add a touch of luxury and grandness. You can also opt to increase the size of your internal doors too, which further adds to the effect.
With our Cubehaus designs, you can choose to raise the ceiling height throughout your home, or just in certain areas such as the living spaces.
Both our Buxton and Frankston projects are great examples of how higher ceilings and doors help to bring extra space and light in.
The Skillion and Split Skillion facades feature a raked ceiling which also gives you the option of highlight windows to bring in additional light, as seen in our Marysville project.
Make Sure There is Lots of Light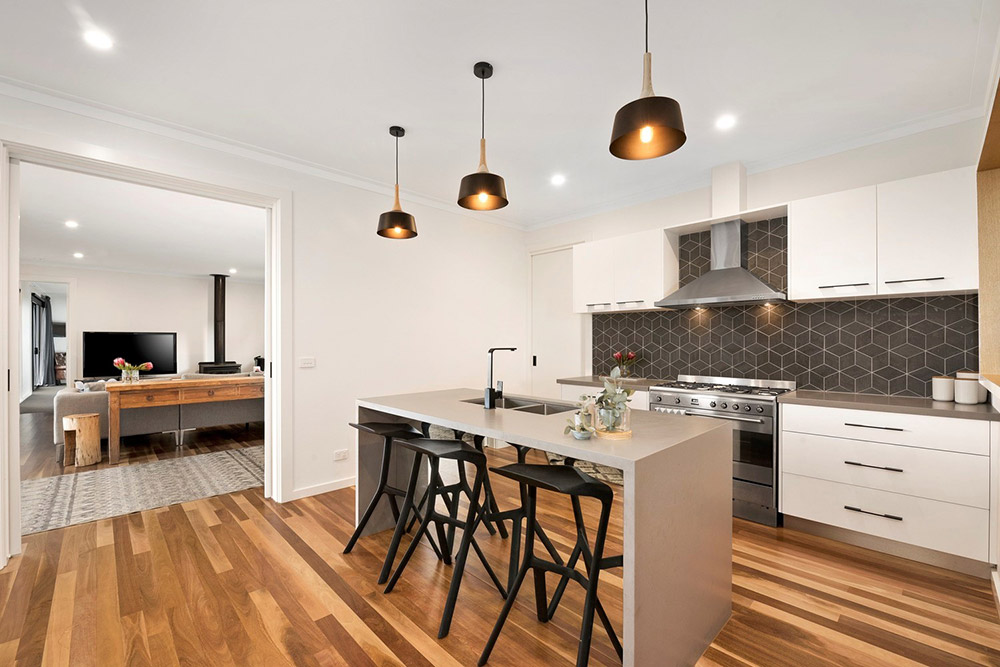 The amount of light (both natural and artificial) in your home also affects how spacious it feels. Make sure your design includes plenty of windows in every room to let the daylight in.
Pay attention to your orientation to ensure your home is well-positioned on your block to take full advantage of the sun.
Your interior lighting is important too, so put some thought into the type of lights you will use and where they will be placed. Having suitable lights fitted in the right locations is essential if you want to carry that feeling of spaciousness through both the daytime and night time hours.
Choose Bright and Light Colours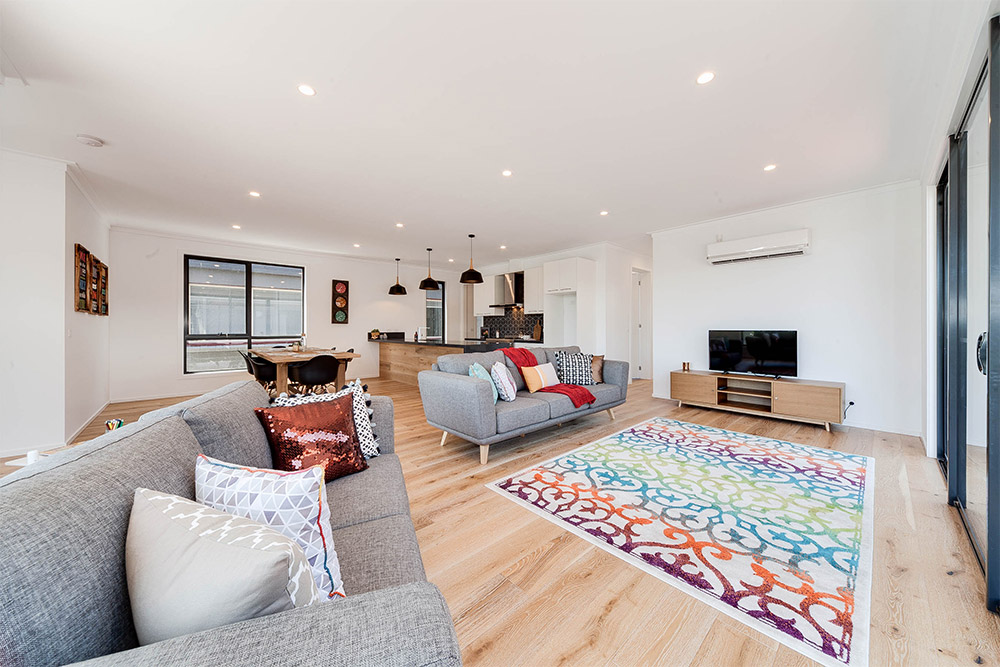 Colour also affects our perception of space. Interiors that are painted in whites and lighter shades always seem to feel bigger than those that are painted in darker colours.
When you stick to white and lighter colours on your walls, ceilings, trims and flooring, you'll create a bright and breezy atmosphere that makes your home seem roomier than it is.
This holds true with your furniture too, so if you're keen to add some dark or brighter colours, aim to do it with smaller decorative pieces like cushions and throws rather than the larger items.
Open it Up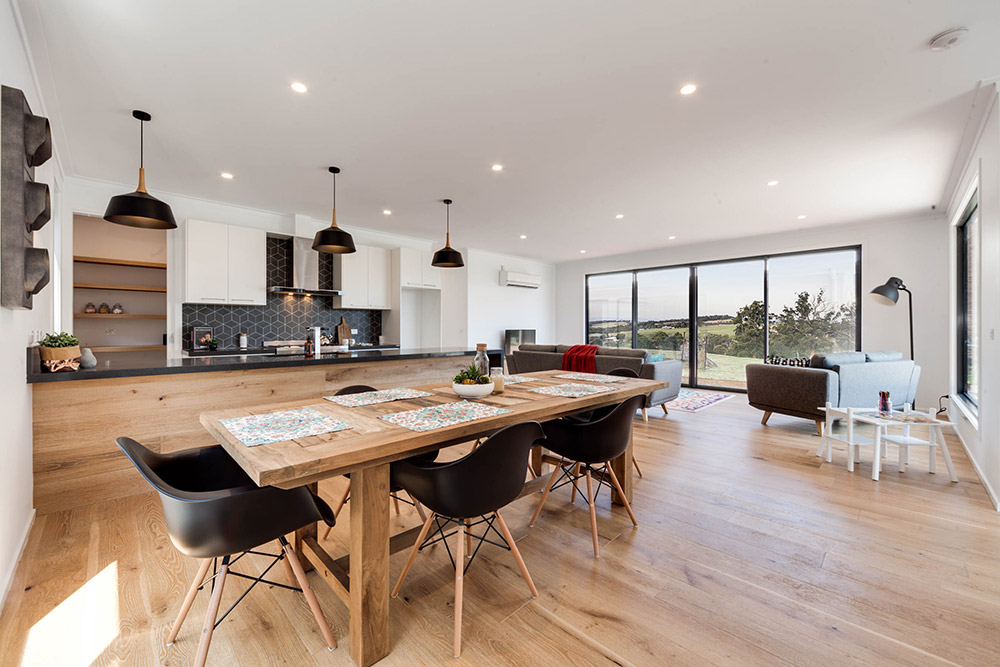 These days, most designs are open plan throughout the living areas as standard, and this is another important way to maximise the feeling of space.
An open design can be further enhanced with the addition of bi-fold doors leading out to your decking, as this blurs the lines between outside and in, increasing your space further.
Choosing a floorplan where the location of rooms is well-matched to the needs of your family means your movement around the home will easy. This creates a nice uninterrupted flow which is another essential element of a home that is spacious, bright and breezy.
Final Word on Creating a Sense of Space
If you're looking to build a home that is open, airy and has a wonderful sense of space, you don't have to build a mansion. With some clever design features, well-chosen colours and the right amount of light, your new modular homes will have plenty of space for you and your family to enjoy.
Over to You
Do you have a question about creating a sense of space in your new modular home? Or a tip to share from your own experience? We'd love to hear it!