Modular Home Design Essentials: Living Zone
April 20, 2019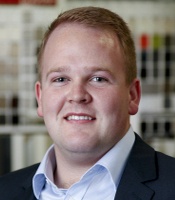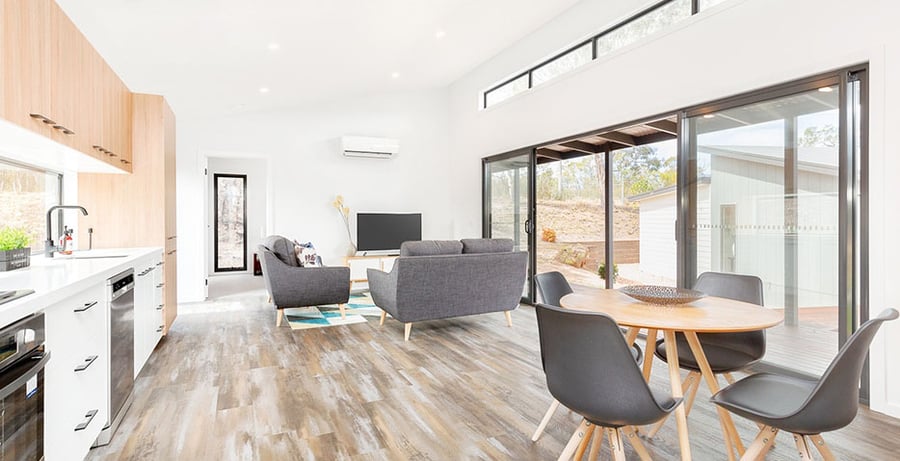 Your living space has a huge impact on your lifestyle and your family's enjoyment of your new home. So, getting it right is a must! Whether you have a clear idea of the kind of living zone you would like, or you're not sure where to start, there are certain areas you should focus on first. From the layout to the lighting, and plenty in between, considering each element carefully will result in a space that meets all your needs.
Finding the ideal balance of comfort and style in your living area is key. However, if you're like most people, you expect a lot of your living space. It needs to be a place to relax and unwind at the end of the day, but equally able to host a social gathering. For some, it must accommodate large family meals, while for others, a cosy atmosphere is a priority.
The good news is, that with careful planning, it's possible to tick all your important boxes. So, read on to learn our top tips to help you create a living zone that is the perfect fit for you and your family.
Open Plan Living is Key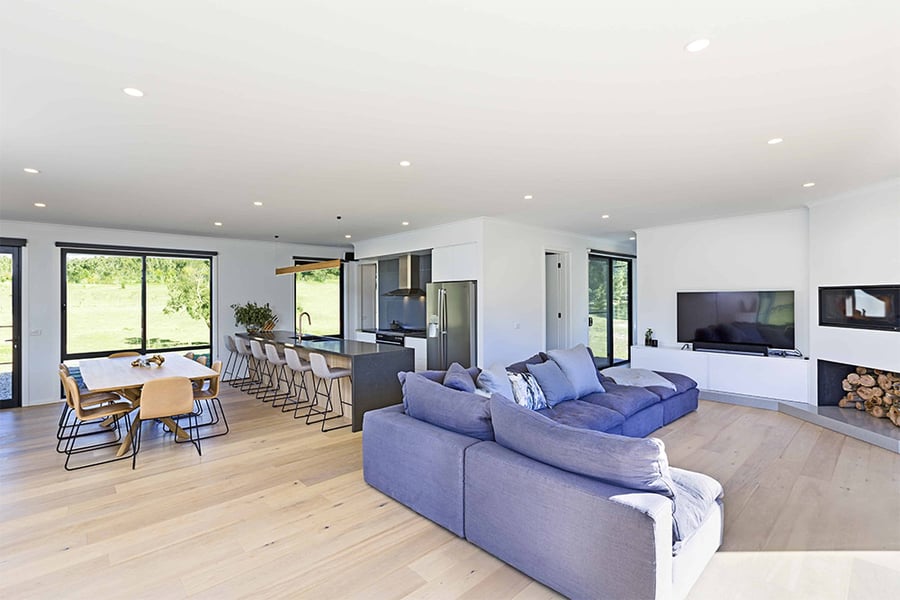 These days, it's rare to come across a new home design that doesn't include an open plan living zone, and with good reason. Combining the living, kitchen and dining spaces creates a large central area that enhances the air flow, sense of space and natural light, giving the design a bright and breezy feel.
It also creates a flexible shared space, which is a big plus in our busy modern lives. Whether you're immersed in separate activities or enjoying a meal or movie together, an open plan living zone brings the family together.
Bring the Outdoors In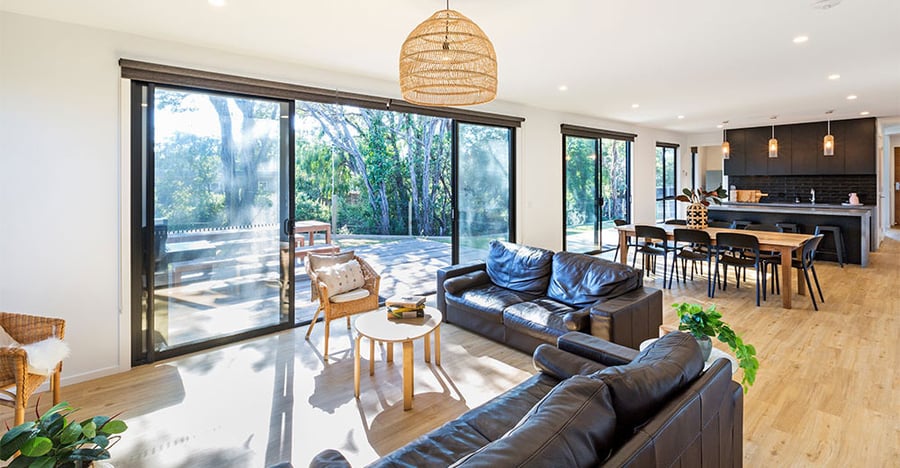 When your living zone flows naturally to your outdoor space, it creates a relaxed vibe and ambience in your home. Large sliding doors opening out to the deck allow ease of access while also capturing natural light and the surrounding views. Or, if you want to take it to the next level, bi-fold doors make a real statement, merging the indoor and outdoor zones to stunning effect.
If your home includes a deck, verandah or alfresco, you'll use it more when it's easy to access from the living area. You can pop outside to eat your breakfast in the morning or take your afternoon cuppa out and enjoy the fresh air. Plus, entertaining guests or enjoying a barbeque or meal outside is a breeze as everything you need is within easy reach.
Adapt to Suit Your Lifestyle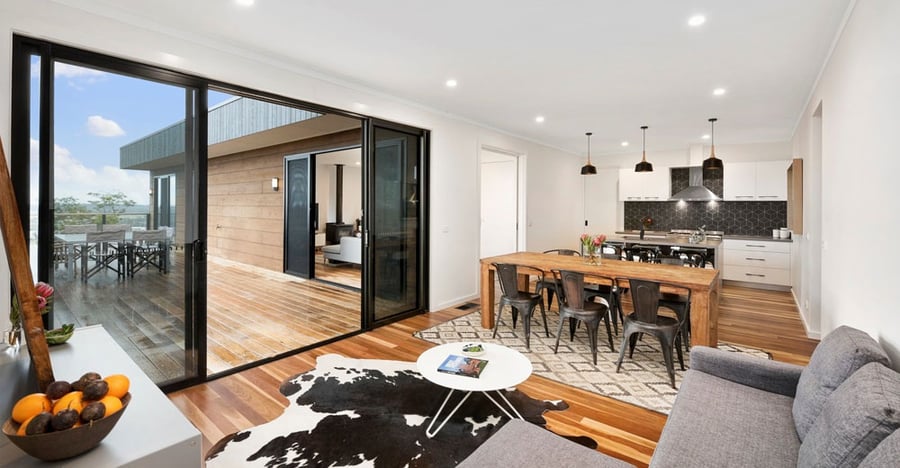 Whether you're a couple building your first home, a family who needs plenty of space, or retirees looking to downsize to a low-maintenance lifestyle, adapting your living zone to suit your current and future needs is important.
Think about how you spend your downtime now and include features that will complement or enhance it. If you have a large family, a well-designed kitchen complete with island bench and close to the dining area can make meals easier and more enjoyable. Or if your ideal evening at home is spent getting cosy on the couch and binge watching your favourite shows, a comfy space for viewing is a must.
Create Space with Light and Height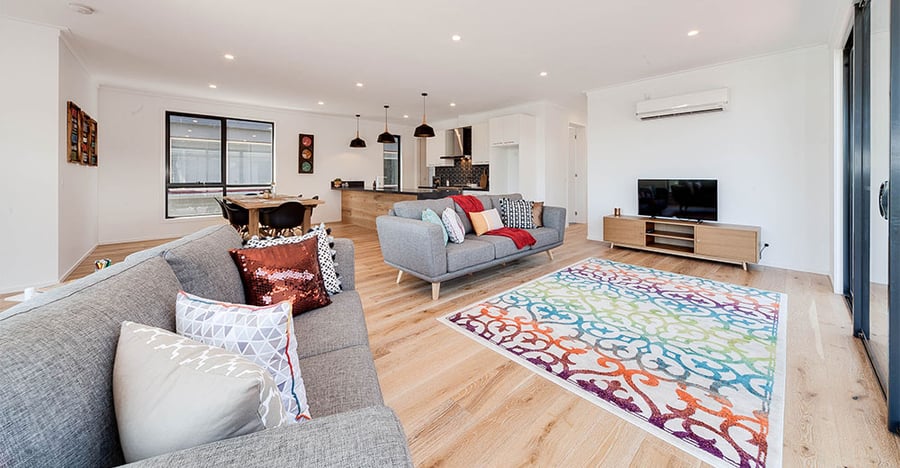 If you want to create a modern vibe and sense of space, make sure your living zone includes ample light. Pay attention to the type and size of windows, choosing them carefully to capture both natural light and the surrounding views. Your lighting should also be carefully considered, and this can be an area where a few smart upgrades can add some serious class and style without blowing your budget.
The ceiling height also has a huge impact on the size and feel of your space. When you walk into a living zone with 9ft ceilings, it instantly feels large and luxurious. When you choose a design or facade option that allows you to incorporate raised or raked ceilings, you will be amazed at the difference it makes.
Make Your Living Space Your Own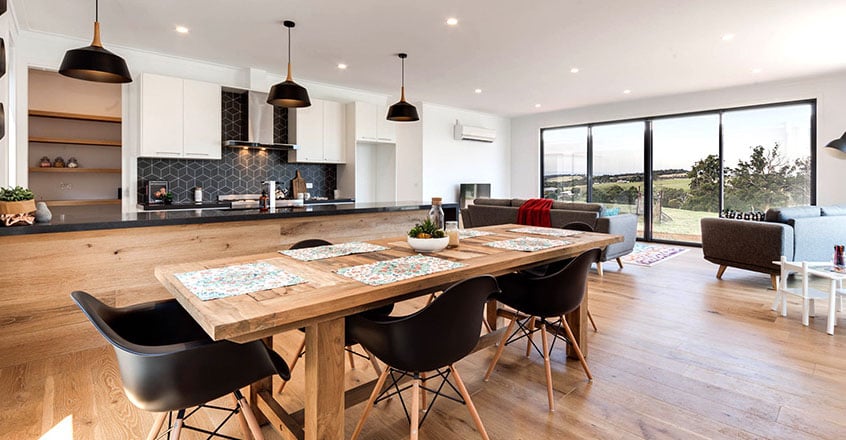 It can be hard to visualise the perfect living zone when designing your new home, but get the fundamentals right, you can't go far wrong. Focus on letting in light, creating a sense of space and including smart features that will enhance your lifestyle. Your living zone will then be a place where you can relax, enjoy yourself and have plenty of good times with family and friends for many years to come.
Over to You
Do you have a question about creating the perfect living space? Or maybe you have some advice or a tip you'd like to share? We'd love to hear from you – simply post a comment below.